Upcoming Rail Record Live Train Times Website Changes
There are a few changes being made to the Rail Record website that I thought I would share. These changes will be made live in December. Redevelopment started in June and was going to be ready for October, then November, then now it seems to be December. These pushbacks because when ever something was fixed, something else become broken.
The changes make the website a cleaner, solid design that's quicker and easier to use.
I think the most noticeable change is on the search bar on the live train times. Whilst the location and date picker boxes are still in the same place, I have made some improvements to the filters, which now use toggle switches instead of a dropdown box.
A quick summary of the additions to the search features:
Before:
All Services
ECS Services
Freight Services
STP Services Only (inc VSTP)
STP Freight Only (inc VSTP)
New:
Same options as before, but with more flexibility.
Toggle on | off to your liking
Also choose to search all day or from 24hr time onwards
Disable TRUST information on the search results page (removes live running info, so faster on slower connections)
Here's a couple of side-by-side screenshots of the old version, compared with the staging website.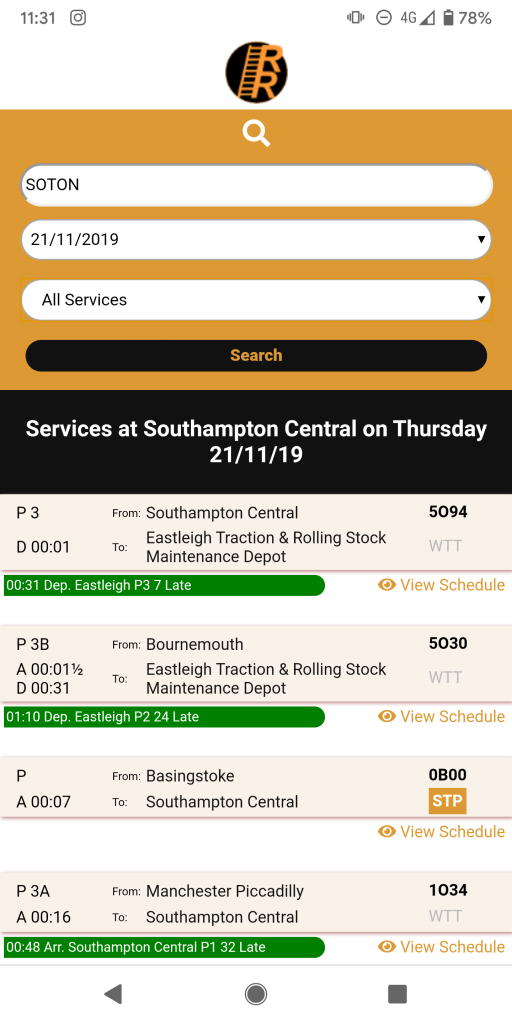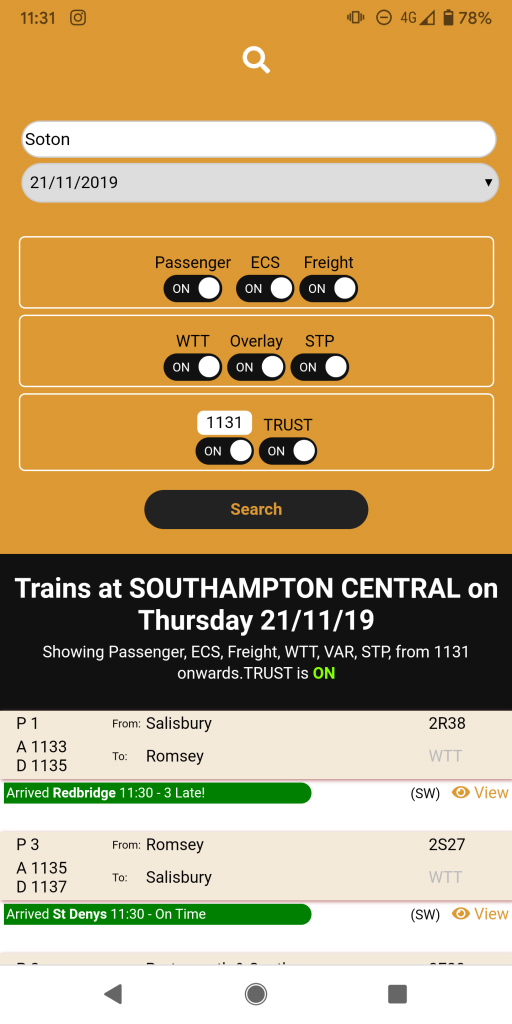 Not only can you see that I have a Instagram notification, but on the latest mobile handsets, the notification window changes to orange on the latest version of the train times search. To make this orange header more impacting, I have removed the logo because it was not necessary.
Eagle eyed folk might also notice that the train operator code has been added next to the view schedule links. (On smaller screens, "schedule" is hidden so it all fits in nicely).
There have also been some minor changes to the way the planning indicators are shown. We now include Overlay (VAR) and VSTP Overlay (VVAR). VSTP has also been fixed because before it was showing a combination of blue and orange colours. Now it shows solid blue.
There are a few other changes to the search results page, but not as important. There's also a counter at the bottom so you can see how many services there are with your search filters.
So that's the search page changes summarised, there have also been some changes to the timetable page. Please see the screenshots below.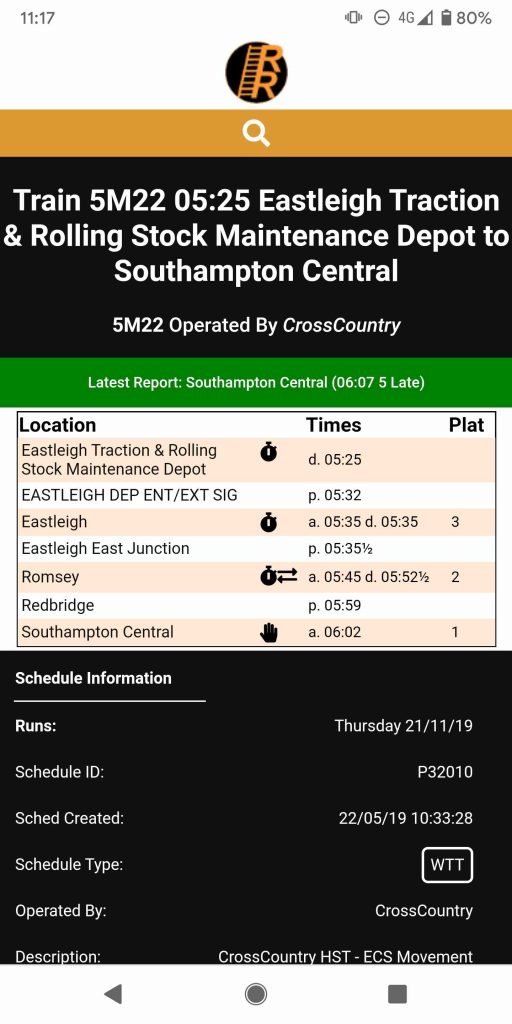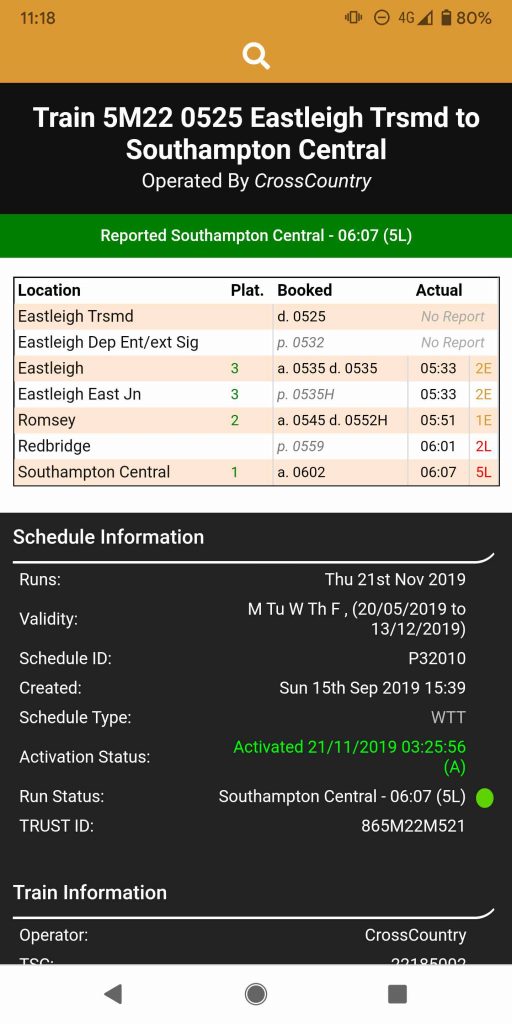 So starting from the top and working down the page, the first noticeable change is some minor modifications to the header. Repetition of the signalling ID has been removed, and words have been abbreviated. The green status bar has also had some minor changes to the way it reads.
Before:
Movement shown as green background
Activated shown as yellow background
Cape shown as red background
New:
Same as above, but in addition:
Orange header strip for a reinstated service (overturned cancellation) – can't remember if this was in the old one
Blue header strip for origin change
Blue header strip for signalling ID change
Now making way further down, it is clear that the timetable timings table has been updated.
Location names have been shortened, same as the header, and case size is consistent – no big upper case words
Platform is shown in the second column unless using a larger device , in which case, stop reason icon and path are shown in second and third columns, with platform number being 4th column along.
For services that have left their origin, their live running information is shown alongside the booked timings. This replaces the live running button at the bottom of the page.
Passes are italicised and faded.
For people with accessibility requirements, if you hover your mouse over a row, it will turn grey so you can easily follow your finger along to see the timings. Mobile users, tap once on an empty part of the row.
Additional information such as speed limit changes en route, power changes for hybrid units, and timing load changes, are also included in the table row, below the location name. Stop reasons, as above, are still available but shown as the icon as before, albeit hidden on mobile phones unless in wide view.
Because the live running information is tied to the booked timings, the schedule page no longer shows when a service is off route. But the live running information on the search results page does, so if you think its gone off route, just refresh the service listings page.
So making way further down, there are some design changes to the information section.
Row spacing has been reduced
More detailed information such as schedule validity
Bullet points continue below.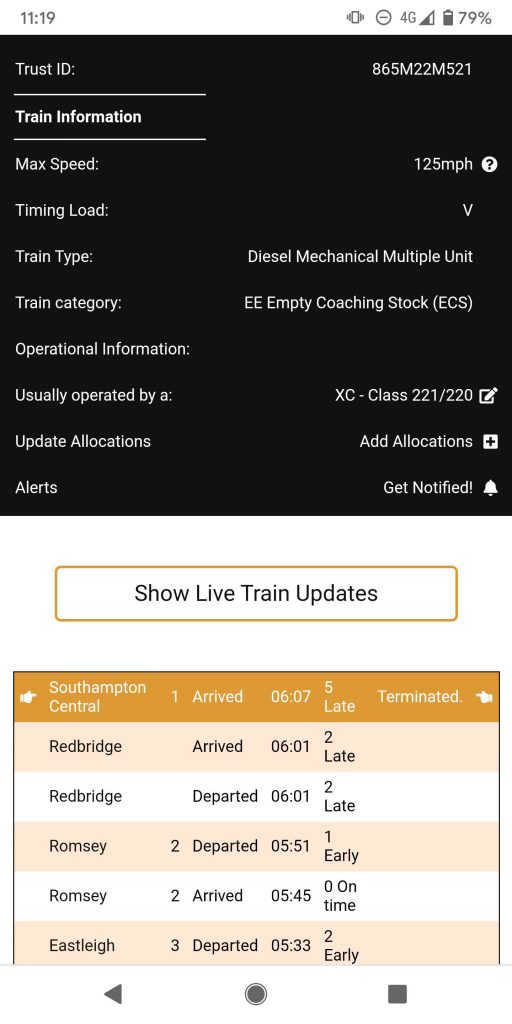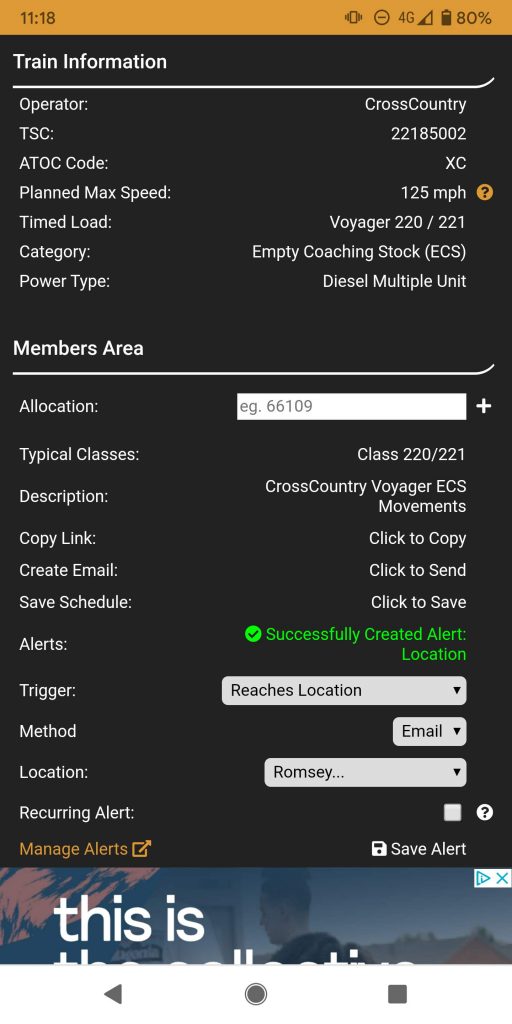 Train information uses the Timing Load field to work out what sort of train it is pathed as. This isn't assumed traction, it's what it is pathed as. Before, (left screenshot) it either showed as a letter or a number. Now, letters are replaced with their actual meaning.
ATOC code included. ATOC code may be incorrect for some services, and may not show at all (mainly VSTP).
A prominent change, is the way alerts and allocations are added.
Assuming you're logged in to a free members area account and have Javascript enabled, alerts and allocations can be added on the schedule page.
Some other, lesser important features, have also been thrown in for your enjoyment.
Typical classes: the schedule identifier EG P12345, or in the above example, P32010, is valid between a particular period of dates. So if it runs more than one day, you can infer what it's likely to be, eg a 66 or 221. So we've tied information about what a service is, based on its regular running info.
Typical class information was available before, but you now need to be logged in to see it. Otherwise you can just use the Timing Load bit.
Description: again, its just tied to the schedule number and updated based on what people seen before on the same schedule number.
Click to Copy copy the URL to clipboard…I guess you can just copy it from the address bar but in this case, one click is all you need.
Create email: generates an email template in your default email program/app with the link and subject line, so you can quickly post to gen groups etc.
Click to save: members area users can save the schedule for future access from their members area account. We only allow search up to 14 days into the past, but if you save a schedule, you can get to it for longer (or just save it to your browser favourites/bookmarks).
Alerts: same as before, but you can now set recurring alerts.

So for example if a service runs "M Tu Th Fr", and you set an alert for activation on a recurring basis, you'll get notified if it gets activated, M Tu Th and Fr.
If there is the same service, but it runs "We Sa Su" only, you won't get notified. You need to set an alert for all occurences and variations of a schedule.

Add Allocation add a sighted or educated guess, on the train working an activated service.
That's about it really for the changes on the live train times part of the website.
Data remains the same so as usual, if you're searching for freight services or fast passenger services at a particular location, they may not show. Instead, you might need to search for freight at a location a bit further down the line, for example a busier station or junction. This is because Network Rail only send us timings for major calling points. Nothing we can do about that at this stage unfortunately without major work.
The members area has also suffered some, in order to accommodate these changes. Image uploads are not going to be available for the loco/place pages until we can get a feel for how much space we'll have left and how many schedules can be held. You can still upload profile pictures. Loco pages and place pages are removed and integrated with the search page, but info still pretty much the same and can be edited in the same way (with the exception of uploading pictures). Already uploaded pictures? No problem, you'll still be able to access them.
The members area back end has been rewritten in a better optimised fashion, and uses Javascript a bit more so you do need to ensure you're using a modern browser with Javascript enabled.
Providing everything goes to plan over the next few weeks and no major bugs are spotted, the changes should be in effect at some point in December.
The VSTP schedules page may be unavailable for a short while whilst we bind the address to the new database, and carry out some URL structure changes (so links use the new URL formats). Members area will also be unavailable for short time whilst migration take place of users, allocations etc.
The new realtime train schedules site is live at the usual link, live.rail-record.co.uk – you can click live train times on the header of this website to go there.
Changes are expected to be made live during a quiet period during December, but if any problems are found, this may be pushed back. Thanks for your patience, and if you have any questions or like to see some screenshots of other things, please use the get in touch page or post in the comments below.