Steam train visits Sussex on Tuesday 26th November 2019
A special excursion train will be steaming through Kent and Sussex this month, on Tuesday, 26th November. 
The rail tour, organised by Railway Touring Company, operated by West Coast Railways, offers customers a delightful opportunity to travel behind heritage railway traction. Bookings are made in advance so unfortunately you need to have purchased a ticket from Railwaytouring.net to travel behind this train.
The steam locomotive is expected to be Black Five 45407 'The Lancashire Fusilier'.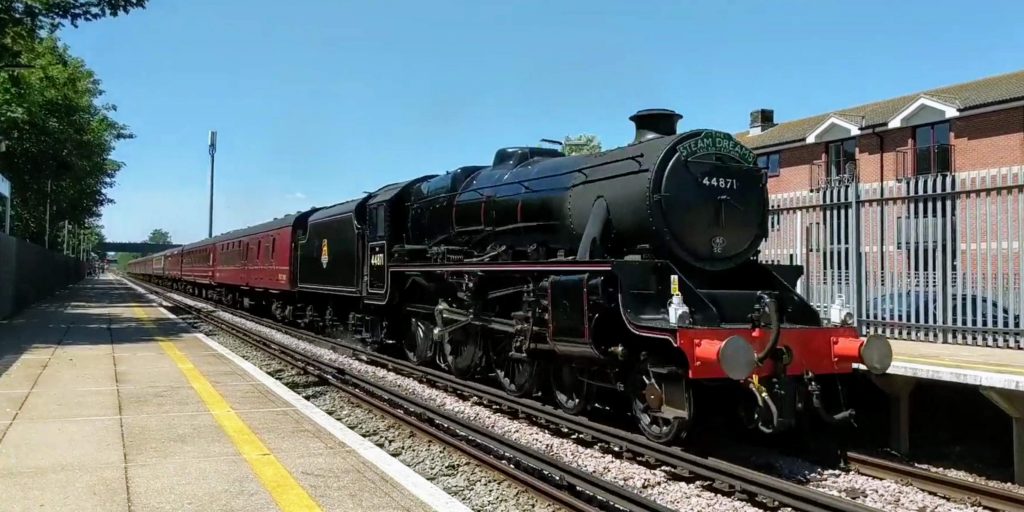 The picture above shows a Black Five steam locomotive at Polegate, also working a London Victoria to Eastbourne railtour.
Whilst steam locomotive 45407 is advertised on the railway touring company website as of 05/11/19, the engine can potentially be changed last minute if it breaks down prior to the excursion.
Should the train be cancelled, we'll update this page with as much notice as possible.
The train departs London Victoria at around 1050 following the below schedule. It's important to emphasise that the train could run earlier or later than planned if it encounters problems en route.
Steam Leading [1Z82]


https://live.rail-record.co.uk/rail/liverail/train/1593537/26/11/19

London Victoria 1050
Grosvenor Bridge Jn 1052
Stewarts Lane Jn 1056
Longhedge Jn 1059
Pouparts Jn 1107
Clapham Junction 1109
Balham 1112
Streatham North Jn 1114
Streatham Common 1115
Selhurst 1125
Windmill Bridge Jn 1127
East Croydon 1129
South Croydon 1131
Purley 1137
Stoats Nest Jn. 1138
Redhill 1152
Earlswood (Surrey) 1154
Gatwick Airport 1159
Three Bridges 1203
Balcombe Tunnel Jn 1207
Copyhold Jn 1213
Haywards Heath 1214
Keymer Jn 1219
Lewes 1235
Southerham Jn 1237
Polegate 1249
Willingdon Jn 1252
Eastbourne 1257
Passengers will get off the train at Eastbourne for a 2½ hour break.
The train rest at Eastbourne in the sidings, away from the station, until it's later departed of 1431 [5Z82].
Eastbourne is a terminus station and trains must reverse back out following arrival. Therefore, the train will be diesel hauled from Eastbourne to Hastings on the below journey in order to put the train steam first for the return working, via Tonbridge not Lewes.
Diesel Hauled [1Z83]

https://live.rail-record.co.uk/rail/liverail/train/1593539/26/11/19

Eastbourne 1431
Willingdon Jn 1436
Pevensey & Westham 1441
Bexhill 1456
Bopeep Jn S.B. 1503
Hastings 1508-1513

Then Steam Hauled back out of Hastings and below.

Bopeep Jn S.B. 1517
Mountfield Tunnel 1529
Robertsbridge 1532
Wadhurst Tunnel South 1551
Wadhurst 1554
Strawberry Hill Tunnel 1559
Tunbridge Wells 1601
Wells Tunnel Jn. 1603
Somerhill Tunnel 1608
Tonbridge 1611-1623
Sevenoaks 1639
Otford Jn 1644
Swanley 1654
St Mary Cray Jn 1701
Bickley Jn 1702
Bromley South 1707
Shortlands Jn 1710
Bellingham 1713
Nunhead 1717
Crofton Road Jn 1723
Denmark Hill 1726
Voltaire Road Jn. 1730
Factory Jn 1733
Stewarts Lane Jn 1735
Grosvenor Bridge Jn 1736
London Victoria 1742
So to summarise the train will be steam hauled from London Victoria to Eastbourne via Gatwick, Lewes etc. It will be services in Eastbourne sidings away from the station. It will then be diesel hauled Hastings with the steam engine on the back. Then the black five steam engine will haul the train to London again, but this time via Tunbridge Wells, not Lewes/Gatwick.
This steam working seems to be an annual occurrence in Sussex so if you're interested, why not check out the Railway Touring Company website at railwaytouring.net.