On Track Plant Indentification Guide
This page gives a guide to identifying on track plant and track machines on the UK rail network. Track machines in the UK are often allocated their own headcode which pairs up with their individual track machine number. The below table lists track machine numbers, and their associated headcode.
This page is useful for identifying track machines. If you have spotted a track machine and know the headcode but not the train number, or the train number and not the headcode, you can identify it here.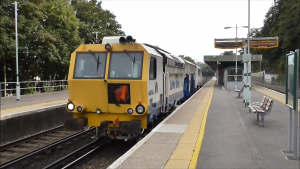 Rail Record will tell you which services are tampers, grinders etc. If it shows operator Balfour Beatty, Harsco, or has a trailing / timing load of "715 tonnes", it will probably be a track machine. Another way you can identify a Track Machine is by its service code. If you use a different website for live train times such as RTT, copy the service code and use the Rail Record list of Train Service Codes, accessible from the main menu.
The above track machine identification guide is correct as of July 2018. If you spot any mistakes or would like to recommend changes to the Rail Record track machine identification guide, please use the Get In Touch page.
Network Rail MPV Pairings
Network Rail MPV treatment train master and slave unit numbers can be found below. Semi Permanent pair numbers usually have a difference of 50 in their numbers so if you know one of the 2 numbers, add or subtract 50 to find the other.
DR98901 / DR98951
DR98902 / DR98952
DR98903 / DR98953
DR98904 / DR98954
DR98905 / DR98955
DR98906 / DR98956
DR98907 / DR98957
DR98908 / DR98958
DR98909 / DR98959
DR98910 / DR98960
DR98911 / DR98961
DR98912 / DR98962
DR98913 / DR98963
DR98914 / DR98964
DR98915 / DR98965
DR98916 / DR98966
DR98917 / DR98967
DR98918 / DR98968
DR98919 / DR98969
DR98920 / DR98970
DR98921 / DR98971
DR98922 / DR98972
DR98923 / DR98973
DR98924 / DR98974
DR98925 / DR98975
DR98926 / DR98976 (pink cab)
DR98927 / DR98977
DR98928 / DR98978
DR98929 / DR98979
DR98930 / DR98980
DR98931 / DR98981
DR98932 / DR98982