Britain's Busiest Railway Stations of 2018
As the end of 2018 draws near, we take a look at the busiest railway stations in Great Britain, period 2017 – 2018. Below are the top 20 railway stations in the UK, with the highest number of passengers entering and exiting the stations. These figures do not include pass throughs and interchanges, only people arriving and departing the station. These figures are estimated figures from the Office of Road and Rail.
20. Edinburgh
Edinburgh Railway Station saw around 23,334,430 entries/exits during 2018, making it the 20th busiest railway station in the UK. Edinburgh Waverly is served by Scotrail, LNER, CrossCountry, Virgin Trains and TransPennine, as well as the Caledonian Sleeper and future TOC, East Coast Trains.
19. London Cannon Street
Throughout 2018, 23,446,822 passengers entered/exited London Cannon Street railway station. London Cannon Street is served by SouthEastern.
18. East Croydon
East Croydon is served by Thameslink and Southern Railway. During 2018, East Croydon saw around 23,634,208 entries/exits at the station making it the 18th most busiest station in the UK. East Croydon sees train services to Uckfield and London Bridge (class 171), Brighton (class 377/700), London Victoria (class 377/387/455) and London Bridge/Bedford/Peterborough/Cambridge (class 700). Just outside the station is the Croydon Tramlink Tram station.
17. Canada Water
24,997,200 passengers entered/exited Canada Water railway station in 2018, making it the 17th busiest station in the UK this period. Located in South East London, Canada Water is served by London Overground class 378 Capitalstar units, in addition to the London Underground Jubilee line.
16. Manchester Picadilly
During 2018, around 27,724,962 passengers exited/entered the station. Manchester Picadilly is served by Arriva Trains Wales, TransPennine Express and Virgin Trains. EastMidlands Trains, CrossCountry and Northern also call here, with common traction seen being Class 221s, 323s, 158s, 390s and 175/185 units.
15. Charing Cross
London Charing Cross is served by SouthEastern, with services to South East London and Kent. Charing Cross was 2018's 15th busiest station, with an approximate total of 28,344,898 passengers entering or leaving the station.
14. Clapham Junction
Clapham Junction is Britain's busiest railway station in terms of rail traffic. Seeing between 100 and 180 services per hour during running hours, an estimated total of 29,444,714 entries/exits were made this year. Clapham Junction sees rail traffic from London Victoria and London Waterloo, with freight traffic from various locations across the South East. Trains seen here include GX Class 387/2s, Southern Class 455 and 377s, and SWR Class 442, 444, 450, 458, 455, 159 and more. Occasionally, SouthEastern Class 375 units will pass, heading to Selhurst TRSMD.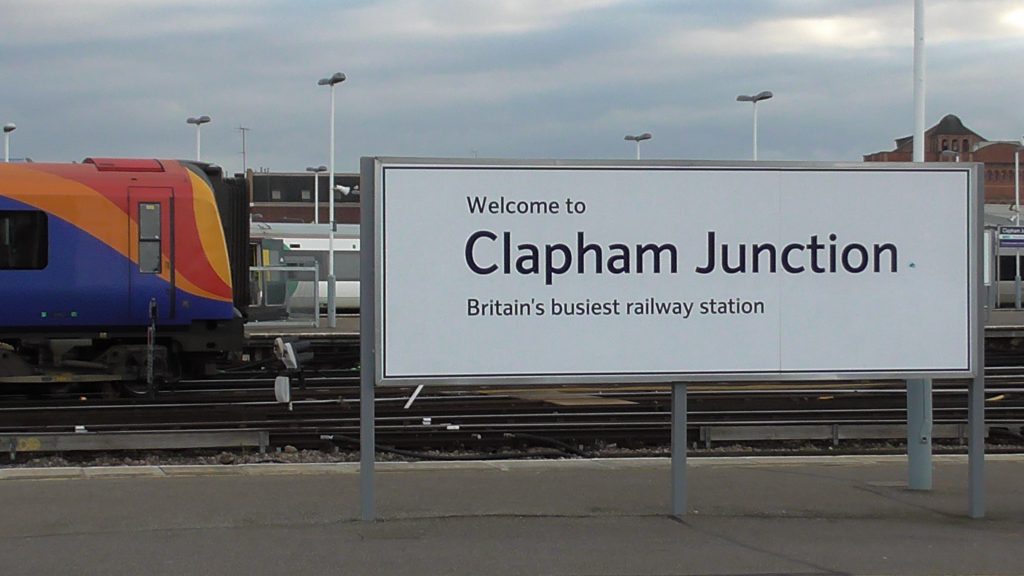 13. Highbury & Islington
Highbury & Islington sees services operated by London Overground, on the East and North London lines. A limited Great Northern services also operates, in addition to London Underground's Victoria Line. 29,507,772 passengers entered/exited Highbury & Islington in 2018, including myself.
12. Leeds
31,107,672 entered/exited Leeds in 2018. Leeds is served by CrossCountry (Class 221, 170), LNER (91, 43), TransPennine (185), Northern (Class 156) and EastMidlands Trains (Class 158, 222, 43).
11. Glasgow Central 
32,915,936 people entered/exited Glasgow Central Railway Station in 2018, making it the 11th busiest railway station in the UK. Glasgow central sees services operated by Scotrail, LNER and CrossCountry, to name but a few.
10. London King's Cross
London King's Cross is located a short walk from St Pancras International, and combined with St Pancras tube station, they form one of the country's largest transport hubs. Around 33,904,758 passengers travelled to/from London Kings Cross in 2018. In 2020, London Kings Cross is to undergo a £237 million remodelling scheme. London Kings Cross is served by LNER and Great Nothern. LNER Class 91 (pictured below) and Class 43 trains regularly visit Kings Cross, including the recently rebranded Intercity Swallow Class 91119 to commemorate 30 years in service.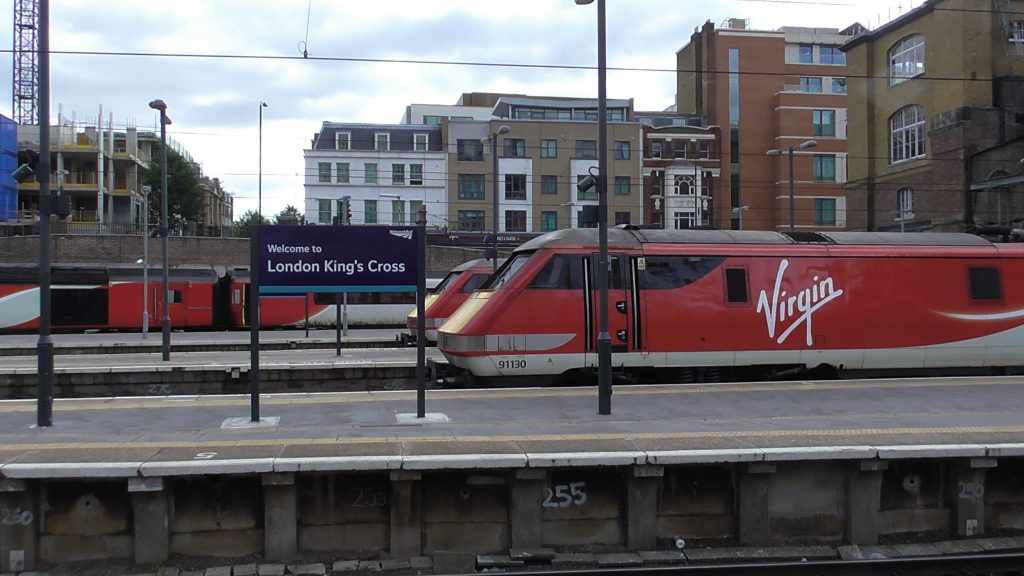 9. St. Pancras International
London St Pancras International is served by East Midlands Trains, SouthEastern High Speed, and Eurostar. 34,622,178 passengers arrived/departed St Pancras International in 2018 making it the 9th busiest railway station in the UK. Traction commonly seen here includes EMT Class 222s and Class 43s; Eurostar Class 373 and 374s, and Southeastern Class 395 Javelin units. The lower level platforms, A and B, see services to Luton, Sutton, Brighton and Bedford, operated by Thameslink Class 700s.
8. London Paddington
London Paddington is famous for its beautiful station structure designed by Isambard Kingdom Brunel. London Paddington is served by Great Western Railway, whos stock primarily consists of Class 43 and Class 800 units, with shorter distance services to Reading and surrounding, served by Class 166 DMU units. 36,578,292 people used this busy railway station in 2018.
The below photograph shows Sir Kenneth Grange Class 43002 at London Paddington in iconic Intercity 125 BR livery.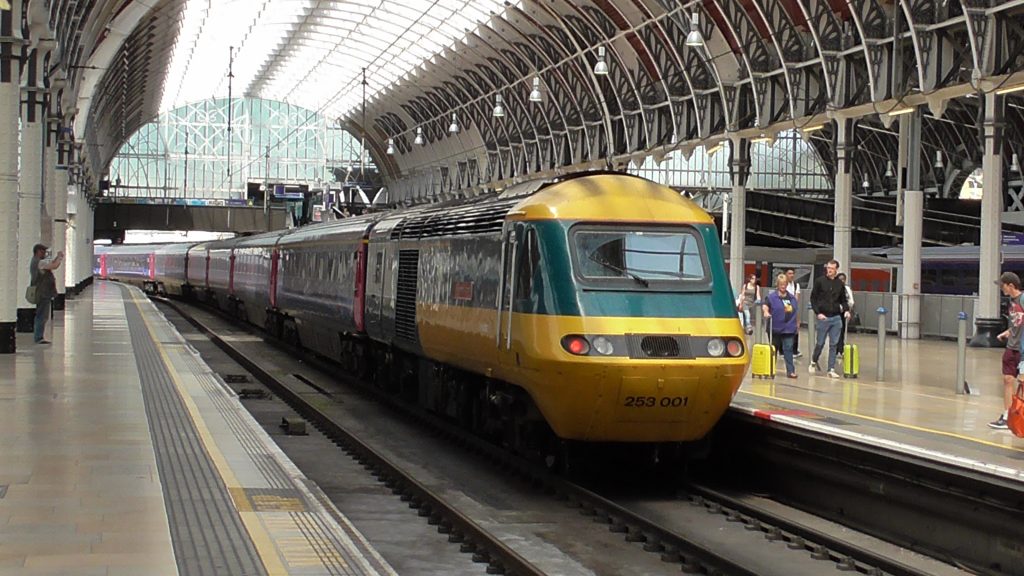 7. London Stratford
A short distance from London Liverpool Street, London Stratford is served also by Abellio Greater Anglia trains. 40,077,086 passengers entered/exited London Stratford railway station in 2018, approximately.
6. Birmingham New Street
43,741,712 passengers entered/exited Birmingham New Street in 2018, making it the 6th busiest station in the UK. Of the 3 main stations in Birmingham city center, New Street is the largest and busiest. Birmingham New Street has 13 platforms, and is served by Transport for Wales, Virgin Trains, West Midlands Trains, and CrossCountry.
5. London Euston
London Euston is served by London Overground and London Midland / West Midlands Trains. The vast majority of services are served by Virgin Trains, with most common traction being Class 390 Pendolino units. Class 220 voyager units also visit the station. In 2018, 44,745,816 passengers visited this terminus, making it the 5th busiest station in the UK!
4. London Bridge
Despite recent major redevelopment of the station, London Bridge still made it to number 4 this year with approximately 48,453,496 entries/exits at the station this year. London Bridge frequently sees Southeastern Class 375/376 and Class 465/466 units heading for Cannon Street. Southern railway services from Uckfield and London Victoria terminate here. London Bridge was once served by Gatwick Express Class 442 units to/from Eastbourne, operated by Southern. This service has been replaced by Class 377 units as the GX 442s are now with SWR.
3. London Liverpool Street
Served by Abellio Greater Anglia, London Liverpool Street saw around 66,966,512 entries/exits this year. London Liverpool Street railway station sees trains to and from Stanstead Airport, as well as many Essex destinations such as Norwich, Cambridge and Colchester. Class 90 electric locomotives are commonly seen here, as well as Class 379 and TFL 315/345 units.
2. London Victoria
London Victoria is located in south London and is a terminus of the Brighton Mainline. London Victoria saw an estimated total of 74,955,332 passengers enter/exit the station during 2018 making it the second most busiest of Britain's railway stations. London Victoria sees Southern Railway rail traffic from Portsmouth, Brighton, Ore and Southeastern Railway traffic from places in Southeast London and Kent.
1. London Waterloo
London Waterloo is Britain's busiest railway station with approximately 94,355,000 entries/exits throughout 2018. Compared to 2017, this is 5.1% less. London Waterloo saw 99,403,096 entries/exits during 2017. London Waterloo is served by South Western Railway with services to destinations such as Weymouth, Portsmouth Harbour and Exeter. Units seen here commonly include SWR Class 444, Class 442, Class 450, Class 455, Class 456 and Class 458. DMU Class 159 are also seen regularly.
You can search live train times for all of the above stations on the Rail Record Live Train Times website.