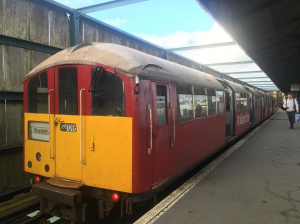 The Isle Of Wight still has its 1938 London Underground Tube Stock (Class 483) in 2019, but how do they hold up 81 years later?
The 1938 Tube stock was designed by Metro Cammell & Birmingham RC&W in the 1930s. During their long lives with London Underground, they worked services on the Bakerloo, Northern, Piccadilly, East London & Central Lines. They worked services on London Underground until 1988. After withdrawal, Network South East Purchased 28 carriages. Network South East gave the stock an extensive overhaul and had plans to use it on the Isle Of Wight to replace the existing Class 485 & 486 ex tube trains. The first unit, 001, arrived on the Isle of Wight on 5 July 1989 following an overnight ferry crossing from Portsmouth to Fishbourne. It was delivered by road to Sandown, then hauled to Ryde depot by one of the existing passenger trains. It began test running on the Island Line in the evening of 6 July, before a public launch on 13 July.
The Trains Today
The class 483, over 80 years old, still work the Island Line but due to old age they have suffered many corrosion issues over the years. Since Network South East Purchased them in 1988, only 6 remain on the Island with 4 in regular Passenger use. The rest are either used for spare parts or are only to be used as a 'rescue train'. One of Rail Records Admin Team, Dan James, had a full ride of unit 006 (483006) from Ryde Pier Head to Shanklin. Here's what he said:
'I took a full ride on unit 006 from Ryde Pier Head to Shanklin in the mid afternoon. The train wasn't too busy but did have a good amount of people on it, from what I could tell the majority of the people there were tourists. 
We trundled out of Ryde Pier head on time, and boy can you tell that these units are 80 years old! You can hear all the mechanisms working and each clatter of the rail against the wheel sets. The classic interior was just absolutely fascinating and aesthetically pleasing. Although the interior has been changed several times you can still tell that Island Line trains have kept the heritage of these units. 
We had just arrived at Ryde Esplanade and large amount of people got on and most of the bed like seats had been occupied. The clatter of the doors closing was quite loud! Was an odd time for me, as Im used to hearing that familiar beeping sound when the doors closed. No beeping present here! None of the doors in our carriage closed in sync, they all closed at different speeds, some slamming against their stoppers and others taking a few seconds to close.
Down to the Ryde Tunnel we go! Everything surrounding the windows went pitch black and every single noise got enhanced where the sounds reverberate against the narrow tunnel wall. 
We arrived at Ryde St Johns road 2 minutes late as the doors clunked open, Many people got off here and a few people got on. I know that the speed limit went from 20 to 45 after this station. The doors slammed shut and it went silent for a second. Suddenly, the train started to move. The acceleration was really good!
The suspension as we just grasped 45mph was absolutely shocking, the train was bouncing left right and centre! You can now tell that track work needs to be completed! As these trains had worked up in London they need little to no suspension at all, meaning you can feel each and every bump in the track. My back after 5 minutes was starting to suffer a little bit, I had to stand as I couldn't sit any longer. 
We passed Smallbrook Junction, since it wasn't a steam operating day we didn't need to stop there. 
We started to slow to 20mph for the approach to Brading Station. A brake squeal later and we had arrived. The train came to an abrupt stop and the doors all opened. What a nice station this was, all done up in the good old BR Green & Creme colours. It was also nice to see that the signalbox here had been restored and opened to the public. Unfortunately, I didn't have time to stop off here. 
The track between Brading & Sandown was even worse! Just a short time later, we arrived into Sandown. This was the passing point of the line where another Class 483 passed us on the opposite Platform. The unit that was heading in the other direction was 483008. The station was nice here too with a nice cafe and a tidy station. 
It was only a short time before we arrived into Lake station. This was just a singular wooden platform that had been kept nicely. Had a nice waiting shelter which looked in good condition. The platform in general looked to be kept tidy and clean. 
Shanklin was our next Stop. We came to an abrupt stop, doors opened and everyone pulled themselves off their seats. Where the driver released his master key from the keyhole (Thats all I can presume it is) there was a very loud rush of air. I got out here to take a few photos. What a nice station this was, Still remnants of Network South East in the ticket office!
I do highly recommend you take a ride on the Island Line. There is a lot of quirks and odd features about it! It almost feels like a preserved railway!'