Southern Class 455s For Scrap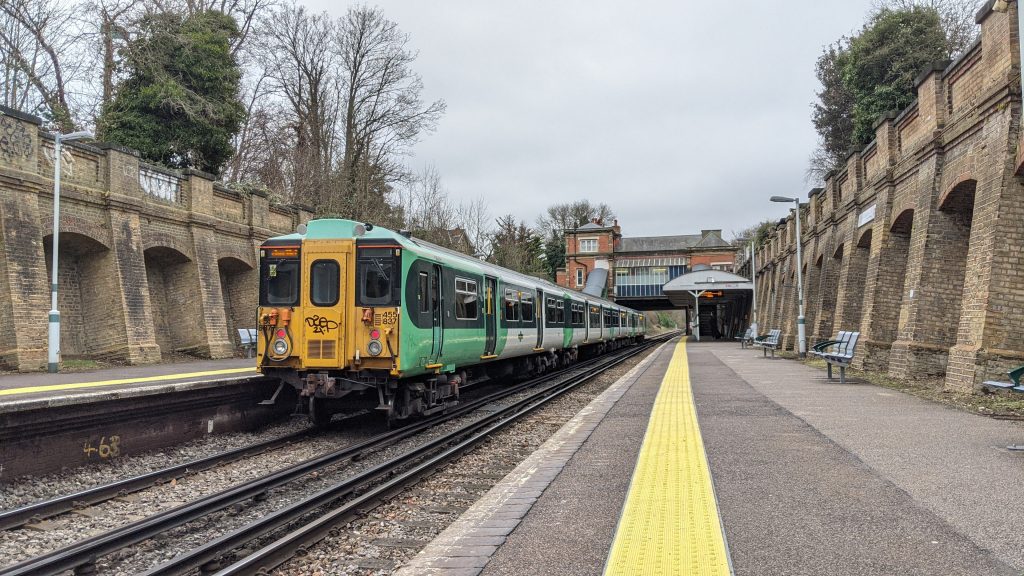 As of August 2022, all of the Southern Class 455s have now been scrapped. The first units moved to Newport Docks (Simms Group) on 4th May 2022, whilst the final drag took place on Tuesday 16th August 2022. The final two units were hauled by GBRf's new class 69 locomotive, 69001.
The class 455s are widely recognised as metro units, prevalent on the south London network. Their natural habitat being the Caterham branch, once also the Tattenham Corner branch but now only as far as Coulsdon Town. The 455s also being found on Beckenham Junction services and Epsom Downs, as well as East Croydon terminators and other all-stops services across south London. Its not unheard of for the 455s to be seen as far as Brighton, occasionally used on football extras, and once a regular service to Horsham.
No units have been preserved, but South Western Railway still retain their own class 455s for use on metro services.
Below are a list of Southern Class 455s, the date they went to Newport for deconstruction, and the locomotive that did the move.
455801 - 09/08/22 - 5Q55 Stewarts Lane to Newport (66726)
455802 - 09/06/22 - 5Q55 Stewarts Lane to Newport (66798)




455803 - 16/06/22 - 5Q55 Stewarts Lane to Newport (66793)
455804 - 16/08/22 - 5Q55 Stewarts Lane to Newport (69001) - last units
455805 - 07/06/22 - 5Q55 Stewarts Lane to Newport (66798)




455806 - 16/06/22 - 5Q55 Stewarts Lane to Newport (66793)
455807- 09/08/22 - 5Q55 Stewarts Lane to Newport (66726)
455808 - 07/06/22 - 5Q55 Stewarts Lane to Newport (66798)




455809 - 17/05/22 - 5Q55 Stewarts Lane to Newport (66793)
455810 - 10/05/22 - 5Q55 Stewarts Lane to Newport (66701)
455811 - 26/05/22 - 5Q55 Stewarts Lane to Newport (66765)
455812 - 11/08/22 - 5Q55 Stewarts Lane to Newport (66726)
455813 - 28/06/22 - 5Q55 Stewarts Lane to Newport (66763)
455814 - 12/07/22 - 5Q55 Stewarts Lane to Newport (66788)
455815 - 05/07/22 - 5Q55 Stewarts Lane to Newport (66794)
455816 - 10/05/22 - 5Q55 Stewarts Lane to Newport (66793)
455817 - 26/07/22 - 5Q55 Stewarts Lane to Newport (66734)
455818 - 01/06/22 - 5Q55 Stewarts Lane to Newport (66744)
455819 - 16/08/22 - 5Q55 Stewarts Lane to Newport (69001) - last units
455820 - 26/07/22 - 5Q55 Stewarts Lane to Newport (66734)
455821 - 30/05/22 - 5Q55 Stewarts Lane to Newport (66744)


455822 - 12/07/22 - 5Q55 Stewarts Lane to Newport (66788)
455823 - 14/07/22 - 5Q55 Stewarts Lane to Newport (66764)
455824 - 26/05/22 - 5Q55 Stewarts Lane to Newport (66765)
455825 - 10/05/22 - 5Q55 Stewarts Lane to Newport (66701)
455826 - 30/06/22 - 5Q55 Stewarts Lane to Newport (66784)
455827 - 10/05/22 - 5Q55 Stewarts Lane to Newport (66701)
455828 - 24/05/22 - 5Q55 Stewarts Lane to Newport (66765)
455829 - 09/06/22 - 5Q55 Stewarts Lane to Newport (66798)
455830 - 07/07/22 - 5Q55 Stewarts Lane to Newport (66724)
455831 - 10/05/22 - 5Q55 Stewarts Lane to Newport (66701)
455832 - 01/06/22 - 5Q55 Stewarts Lane to Newport (66744)
455833 - 28/07/22 - 5Q55 Stewarts Lane to Newport (66734)
455834 - 28/07/22 - 5Q55 Stewarts Lane to Newport (66734)
455835 - 19/05/22 - 5Q55 Stewarts Lane to Newport (66703)
455836 - 11/08/22 - 5Q55 Stewarts Lane to Newport (66726)
455837 - 07/07/22 - 5Q55 Stewarts Lane to Newport (66724)
455838 - 04/05/22 - 5Q56 Stewarts Lane to Newport (47727)
455839 - 04/05/22 - 5Q56 Stewarts Lane to Newport (47727)
455840 - 05/07/22 - 5Q55 Stewarts Lane to Newport (66794)
455841 - 19/05/22 - 5Q55 Stewarts Lane to Newport (66703)
455842 - 28/06/22 - 5Q55 Stewarts Lane to Newport (66763)


455843 - 30/06/22 - 5Q55 Stewarts Lane to Newport (66784)
455844 - 14/07/22 - 5Q55 Stewarts Lane to Newport (66764)


455845 - 30/05/22 - 5Q55 Stewarts Lane to Newport (66744)
455846 - 24/05/22 - 5Q55 Stewarts Lane to Newport (66765)