Southern Class 455s For Scrap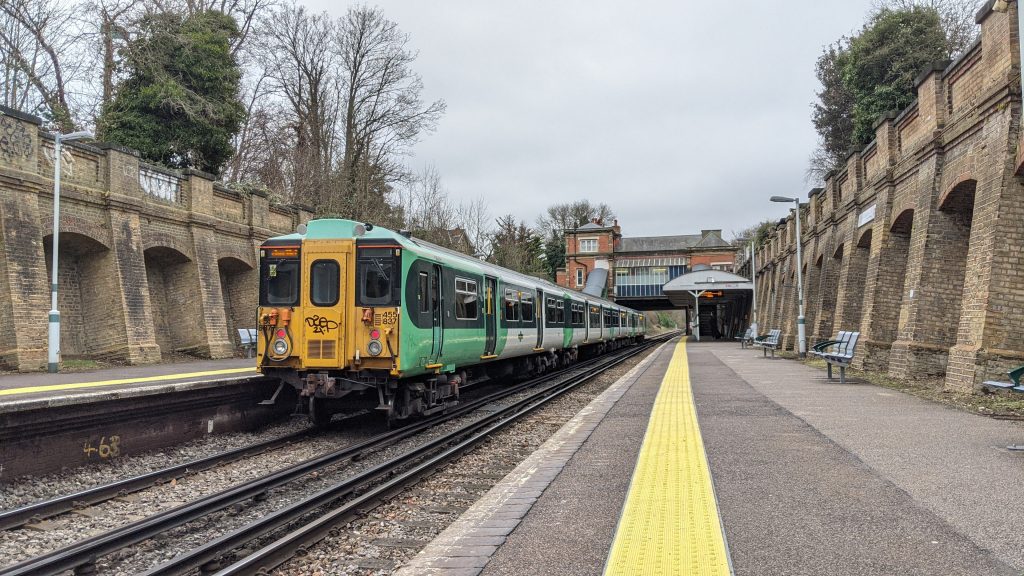 As of May 2022, the first of the Southern Class 455s are now inevitably off for scrap. The first units moved to Newport Docks (Simms Group) on 4th May 2022.
Officially, the Southern Class 455s end in service on 15th May 2022 when the bi-yearly timetable changes over, however if they're still required for capacity purposes I guess they could still be seen across the network.
The class 455s are widely recognised as metro units, prevalent on the south London network. Their natural habitat being the Caterham branch, once also the Tattenham Corner branch but now only as far as Coulsdon Town. The 455s also being found on Beckenham Junction services and Epsom Downs, as well as East Croydon terminators and other all-stops services across south London. Its not unheard of for the 455s to be seen as far as Brighton, occasionally used on football extras, and once a regular service to Horsham.
Below is a list of the class 455s and when they went for scrap. This post is purely informational based on reports and not intended to show any enthusiasm for the removal of these units which many love and many hate.
Locations Correct As Of 27/05/22, will be updated periodically as units move between the 3 depots (Stewarts Lane, Selhurst and Streatham), plus to and from storage at Hove and Horsham sidings. Scrap moves updated 17/06/22.
455801 - Stored @ Horsham 14/05/22




455802 - 09/06/22 - 5Q55 Stewarts Lane to Newport (66798)




455803 - 16/06/22 - 5Q55 Stewarts Lane to Newport (66793)


455804 - Streatham Hill


455805 - 07/06/22 - 5Q55 Stewarts Lane to Newport (66798)




455806 - 16/06/22 - 5Q55 Stewarts Lane to Newport (66793)


455807 - Streatham Hill


455808 - 07/06/22 - 5Q55 Stewarts Lane to Newport (66798)




455809 - 17/05/22 - 5Q55 Stewarts Lane to Newport (66793)
455810 - 10/05/22 - 5Q55 Stewarts Lane to Newport (66701)
455811 - 26/05/22 - 5Q55 Stewarts Lane to Newport (66765)


455812 - Stored @ Hove 28/05/22


455813 - Stewarts Lane - Planned Scrap 28/06
455814 - Stewarts Lane - Planned Scrap 12/07
455815 - Stewarts Lane - Planned Scrap 15/07


455816 - 10/05/22 - 5Q55 Stewarts Lane to Newport (66793)


455817 - Stored @ Horsham 14/05/22




455818 - 01/06/22 - 5Q55 Stewarts Lane to Newport (66744)


455819 - Streatham Hill


455820 - Stored @ Horsham 14/05/22


455821 - 30/05/22 - 5Q55 Stewarts Lane to Newport (66744)


455822 - Stewarts Lane - Planned Scrap 30/06


455823 - Stored @ Horsham 14/05/22


455824 - 26/05/22 - 5Q55 Stewarts Lane to Newport (66765)
455825 - 10/05/22 - 5Q55 Stewarts Lane to Newport (66701)




455826 - Stewarts Lane - Planned Scrap 30/06


455827 - 10/05/22 - 5Q55 Stewarts Lane to Newport (66701)
455828 - 24/05/22 - 5Q55 Stewarts Lane to Newport (66765)
455829 - 09/06/22 - 5Q55 Stewarts Lane to Newport (66798)




455830 - Stewarts Lane - Planned Scrap 07/07


455831 - 10/05/22 - 5Q55 Stewarts Lane to Newport (66701)
455832 - 01/06/22 - 5Q55 Stewarts Lane to Newport (66744)


455833 - Stored @ Hove 15/05/22
455834 - Stored @ Hove 15/05/22




455835 - 19/05/22 - 5Q55 Stewarts Lane to Newport (66703)


455836 - Stored @ Hove 15/05/22


455837 - Stewarts Lane - Planned Scrap 07/07


455838 - 04/05/22 - 5Q56 Stewarts Lane to Newport (47727)
455839 - 04/05/22 - 5Q56 Stewarts Lane to Newport (47727)


455840 - Stewarts Lane - Planned Scrap 15/07


455841 - 19/05/22 - 5Q55 Stewarts Lane to Newport (66703)


455842 - Stewarts Lane - Planned Scrap 28/06


455843 - Stewarts Lane - Planned Scrap 30/06


455844 - Stored @ Horsham 14/05/22


455845 - 30/05/22 - 5Q55 Stewarts Lane to Newport (66744)
455846 - 24/05/22 - 5Q55 Stewarts Lane to Newport (66765)