Searching Rail Replacement Bus Times with Rail Record Live Train Times
With the recent Brighton Mainline engineering work last week causing chaos for commuters including smashed rail replacement buses hit by trees, and news of upcoming closures on the Seaford branch due to resignalling, here's how you can search rail replacement bus times on Rail Record. In addition to providing live train times for train services, Rail Record can also be used to find rail replacement bus service schedules. Search rail replacement bus times with Rail Record.
Searching Rail Replacement Bus Times
Searching for bus times on Rail Record is very easy. First you need to go to the live train times section of the website, which can be found on the top navigation menu.
Then, find your rail replacement bus stop, by entering the location name. If it exists, you should receive a drop down list of stations or bus stops. The below example shows a search for London Road train station, in Brighton. You get the option of the train station (Brighton London Road), but you also get the option for Brighton London Road (Ditchling Rise).
If a rail replacement bus stop location right outside the station premises, then there may not be a sperate location for the rail replacement bus stop. In this case, just search for services at the train station, and it will show a combination of both buses and running train services. Otherwise, bus stops that are a short walk away from the station will be listed seperately, like the below example.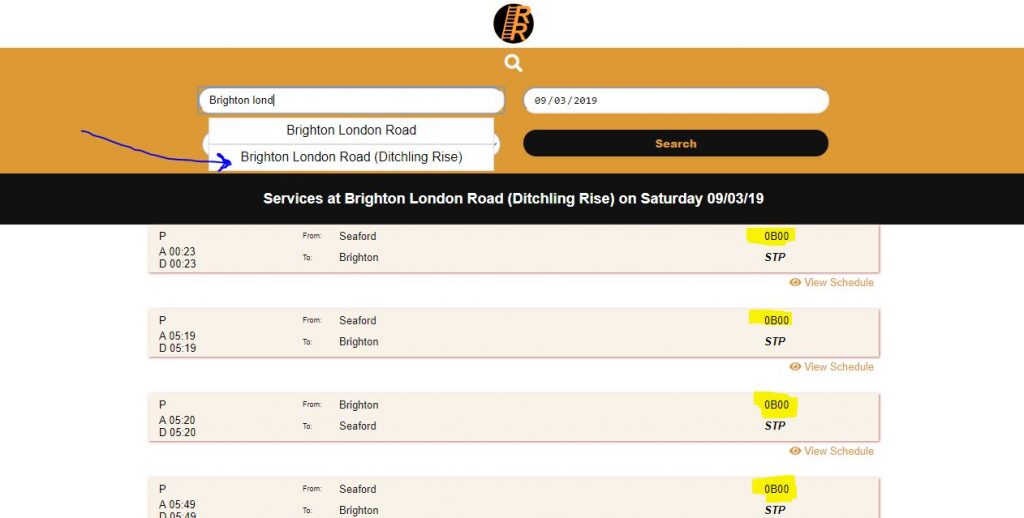 Rail Replacement Bus Times Information
It's easy to spot a rail replacement bus service because they will show a 0B00 at the right side column.
Click the 'View Schedule' link below a result. This will then take you to the replacement bus service's timetable.
A soon time later, you'll be taken to the bus' schedule, example below.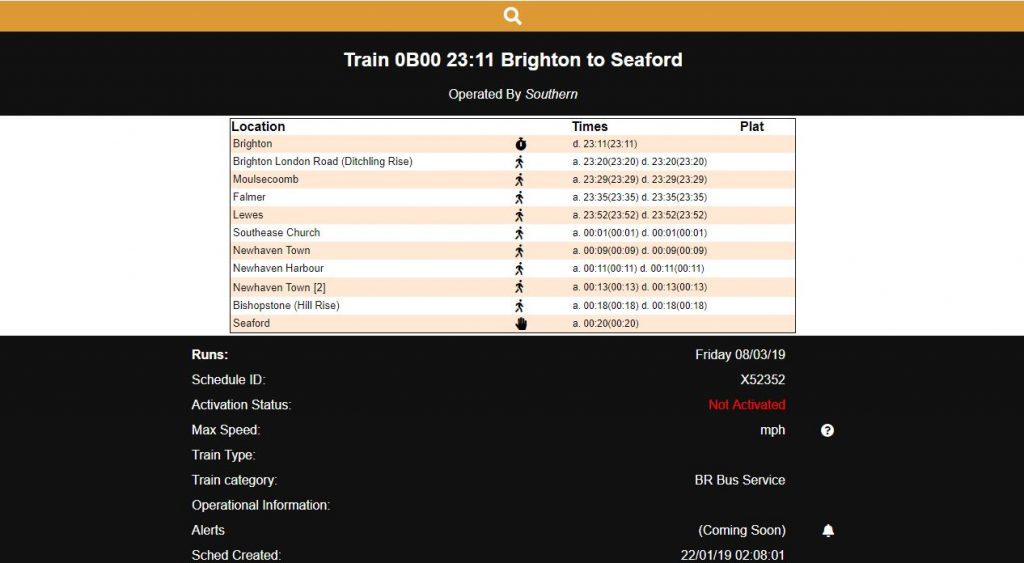 You can see that the train category is shown as a Bus Service, and a number of stops in the schedule are roads where the railreplacement bus stop location is a short walk away from the train station.
Some other types of buses are also shown on Rail Record. For example, airport bus links to and from Stanstead. In addition, ships are also shown. These are marked with 0S00.
We hope this guide will help you become familiar with searching for bus services during times of railway engineering works.
You can search live train times with Rail Record by clicking Live Train Times on the menu at the top.