Passenger Trains Return to Okehampton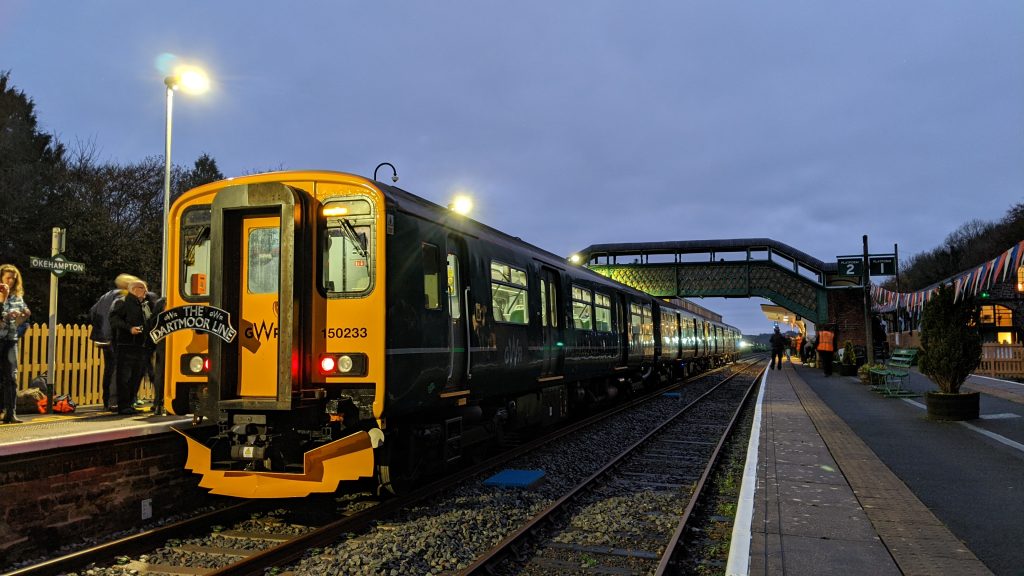 To the delight of many residents of Okehampton, Great Western Railway have resumed operating trains to the town's station, following a major track renewal operation carried out over the past few months.
Whilst the Dartmoor Railway heritage line no longer operates, and the rolling stock has been sold, Okehampton is now served by a regular service throughout the week Monday to Sunday.
Saturday 20th November 2021 saw many residents gather to see the 0710 arrival from Exeter St David's, calling at Crediton and Okehampton. The station was very kindly done up by the Dartmoor Railway supporters and GWR, with flags flying to commemorate the event. Staff very kindly served a buffet of rolls and drinks, whilst platform 2 was open for visitors to browse the Dartmoor Railway shop of memorabilia and books.
The first train also carried a headboard The Dartmoor Line.
Crowd control was in place with barriers on platform 3 (GWR service platform), but everyone had a great time, and platform 2 was completely accessible for anyone looking to photograph the trains on their new timetables.