Merseyrail Class 777 Delivery Log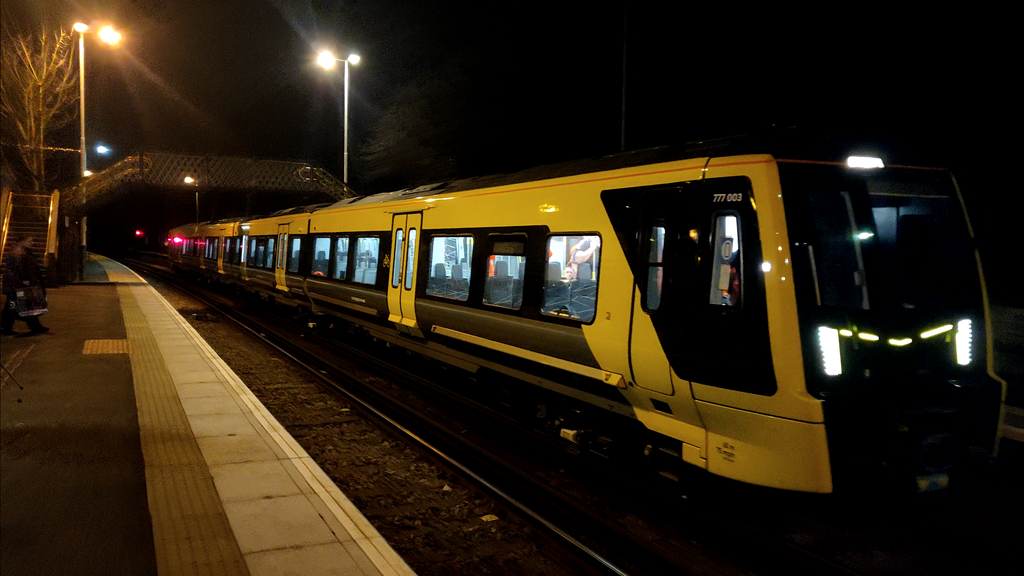 Purchased by Merseytravel and leased to Merseyrail, the new class 777 METRO EMU units replace the existing, ageing class 507 and 508 fleet.
Constructed abroad, Merseyrail class 777s have been arriving into the UK via Channel Tunnel from France, into Dollands Moor yard in Folkestone. The first unit was delivered on 9th January 2020.
Mainline testing began 16th March on the Merseyrail network.
The new units are based at Kirkdale CS and Birkenhead TMD. Similarly to the Siemens Desiro trains, the Stadler 777s have articulated carriage ajoinments instead of partition doors.
Merseyrail Class 777 Delivery Dates
Built by Stadler Rail, 52 trains are being delivered into the UK in total. Following delivery to Dollands Moor, they're hauled by a class 66 locomotive operated by GBRF, to Kirkdale.
Below, you can find the full list of class 777 deliveries, along with the date they were delivered and which unit operated the move. Numbers in brackets indicate the order which they arrived into the UK.
777001	 - (8) Arrived Crewe from Dollands Moor 16/12/20 (66741)
777002	 - (9) Left Dollands Moor to Kirkdale 05/05/21 (66731)
777003	 - (1) Dollands Moor 09/01/20, Kirkdale 16/01/20 (66788 + 66744)
777004	 - (2) Dollands Moor 12/05/20, Kirkdale 13/05/20 (66768 + 66765)
777005	 - (4) Kirkdale 08/07/20 (66730 + 66769)
777006	 - (5) Tonbridge WY 23/07/20 (73128 + 73213), Kirkdale 27/07/20 (66773 + 66739)
777007	 - (3) Kirkdale 21/05/20 (66715 + 66708)
777008	 - (6) Kirkdale 19/08/20 (66756 + 66776)
777009	 - (4) Kirkdale 08/07/20 (66730 + 66769)
777010	 - (6) Kirkdale 19/08/20 (66756 + 66776)
777011	 - Not Yet Delivered
777012	 - (7) Kirkdale 22/10/20 (66783 + 66704)
777013	 - Arrived Crewe from Dollands Moor 16/3/22 (6X59)
777014   - (7) Kirkdale 22/10/20 (66783 + 66704)
777015	 - Arrived Crewe from Dollands Moor 16/3/22 (6X59)
777016	 - (8) Arrived Crewe from Dollands Moor 16/12/20 (66741)
777017	 - Not Yet Delivered
777018	 - (8) Arrived Crewe from Dollands Moor 16/12/20 (66741)
777019	 - Not Yet Delivered
777020	 - Not Yet Delivered
777021	 - Not Yet Delivered
777022	 - Not Yet Delivered
777023	 - Not Yet Delivered
777024	 - Not Yet Delivered
777025	 - Not Yet Delivered
777026	 - Not Yet Delivered
777027	 - Not Yet Delivered
777028	 - Not Yet Delivered
777029	 - Not Yet Delivered
777030	 - Not Yet Delivered
777031	 - Not Yet Delivered
777032	 - Not Yet Delivered
777033	 - Not Yet Delivered
777034	 - Not Yet Delivered
777035	 - Not Yet Delivered
777036	 - Not Yet Delivered
777037	 - Not Yet Delivered
777038	 - Not Yet Delivered
777039	 - Not Yet Delivered
777040	 - Not Yet Delivered
777041	 - Not Yet Delivered
777042	 - Not Yet Delivered
777043	 - Not Yet Delivered
777044	 - Not Yet Delivered
777045	 - Not Yet Delivered
777046	 - Not Yet Delivered
777047	 - Not Yet Delivered
777048	 - Not Yet Delivered
777049	 - Arrived Crewe from Dollands Moor 16/3/22 (6X59)
777050	 - Not Yet Delivered
777051	 - Not Yet Delivered
777052	 - Not Yet Delivered