How to tick off trains and stations
Last week we checked out how you can add information to stations and other railway locations. This week, we'll take a look at how to mark these stations as 'visited' in addition to marking trains as sighted.
These features will be useful for anyone looking to visit all stations in England Scotland and Wales. It will be equally as useful for anyone looking to see all available types of train in mainland UK.
Rail Record members area launches 1st June 2019. The features described below will be available then
This article assumes that you have a Rail Record Members Area account, which is free to join from 1st June 2019 9am onwards.
Rail Record gives you the opportunity to mark stations and TIPLOCs as "visited", whilst you can mark individual trains as "copped" or "bashed". Refer to our handy glossary of railway terms if you don't know what these mean.
Marking Locations as Visited
Marking locations as visited is easy enough. Similarly to last week's guide, you need to search for locations on the live train times page, or scroll to the very bottom of the live train times page, and click on the search link in the bottom. If you're going the way of live train times, search for train services at a location, and click on the location name at the top as identified below.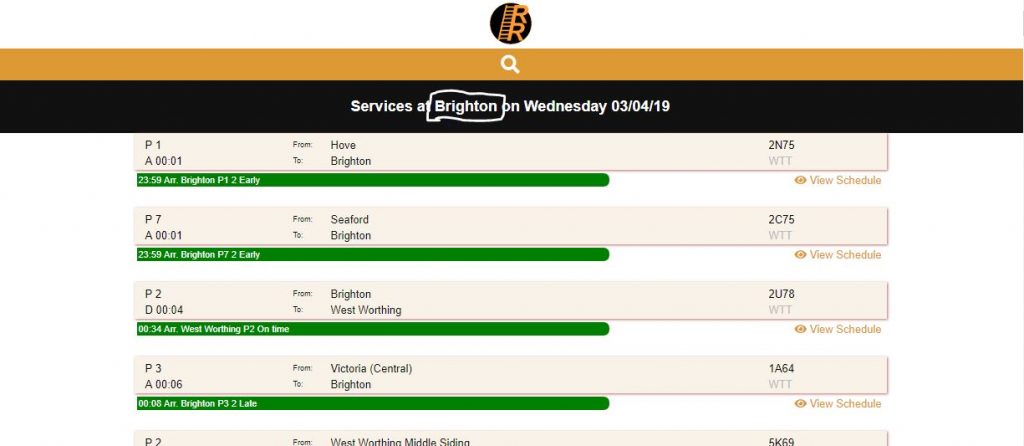 Should you go down the route of using the search page, simply search for the location you're after. If you don't know the full name, just the start, or midsection of the name, will do. Then click the eye button next to the search result you're after.
Then, when you're on the location page, simply mark as visited in the top right corner. You will need to be logged in to do this.
Ticking off trains
Similarly to marking locations as visited, there are two ways to go about ticking off trains. Again, you can use the search page to find a train. Please note that only trains that have either: been previously allocated to a train service, OR, have had information added to the train information page, can be found by using a search. This ensures that only valid trains that can be found in the wild, can be ticked off as copped/bashed.
If a train isn't listed when you search for it, you'll have the option to update its information.
The second method, is to click on an allocation of that train. For example, you might find on a schedule that someone has allocated it. If is allocated to a schedule, click the train number and you'll be taken to its information page. Alternatively, go to the homepage of the members area, there can be found a list of recent allocations.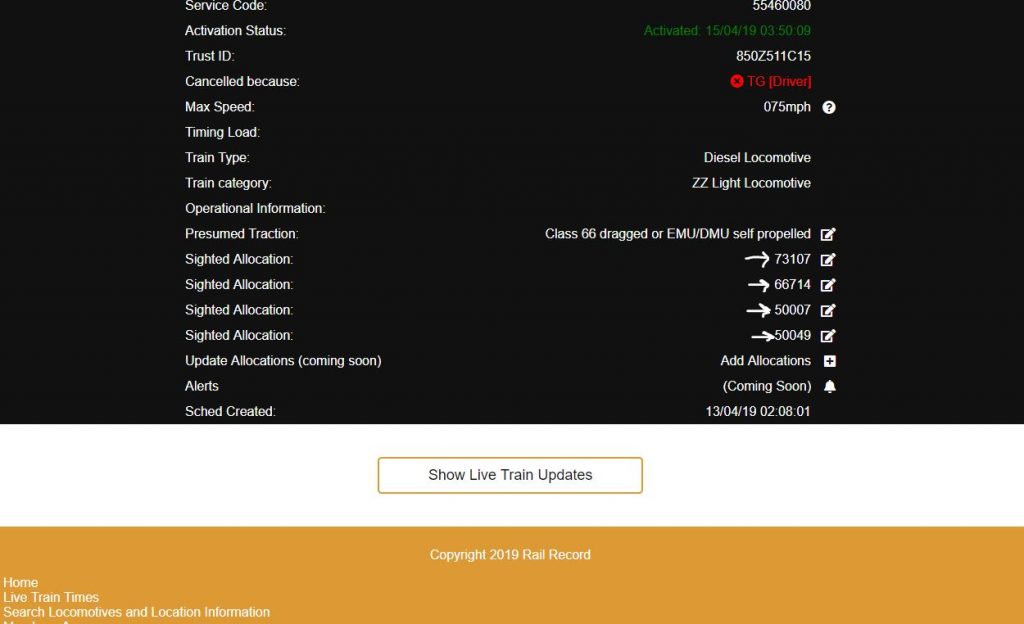 The above photo shows a train schedule with user sighted allocations made. Click on the number to be taken to the train information page. The little pencil and paper to the right, takes you to the edit allocation page where you can add more allocations, or delete them.
On the train information page, use the top buttons at the top to either mark them as copped or bashed.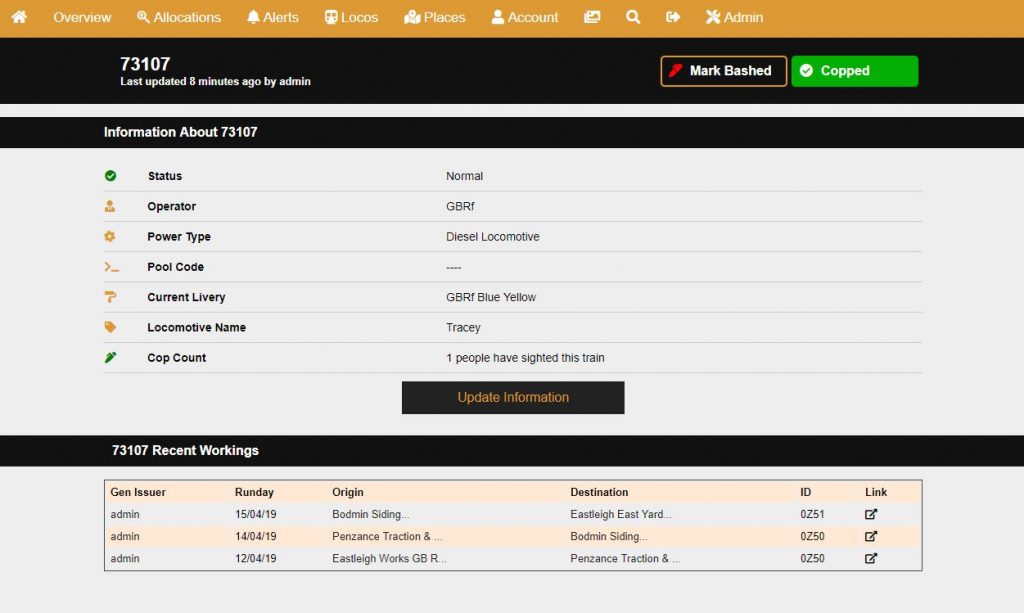 In addition to the above methods of marking off trains and locations, Rail Record enables you to view all trains and locations that could possibly be marked off. In the above screen shot, you will see two items on the main menu: "locos" and "places". These two links will take you to a list of all trains / locations that other people have visited/seen. Similarly to before on the search, only items that have already been visited by other users can be marked off. To add elements to these lists, you need to update their relevant information pages by means listed above.
Please find below a screenshot of the train ticklist. Each of the classes are automatically seperated, and inside each one can be found the numbers of each train. Similarly to before, it is possible to click on the red pen and mark as copped / bashed. Along with this, a date will be stored of the day you visited / copped or bashed.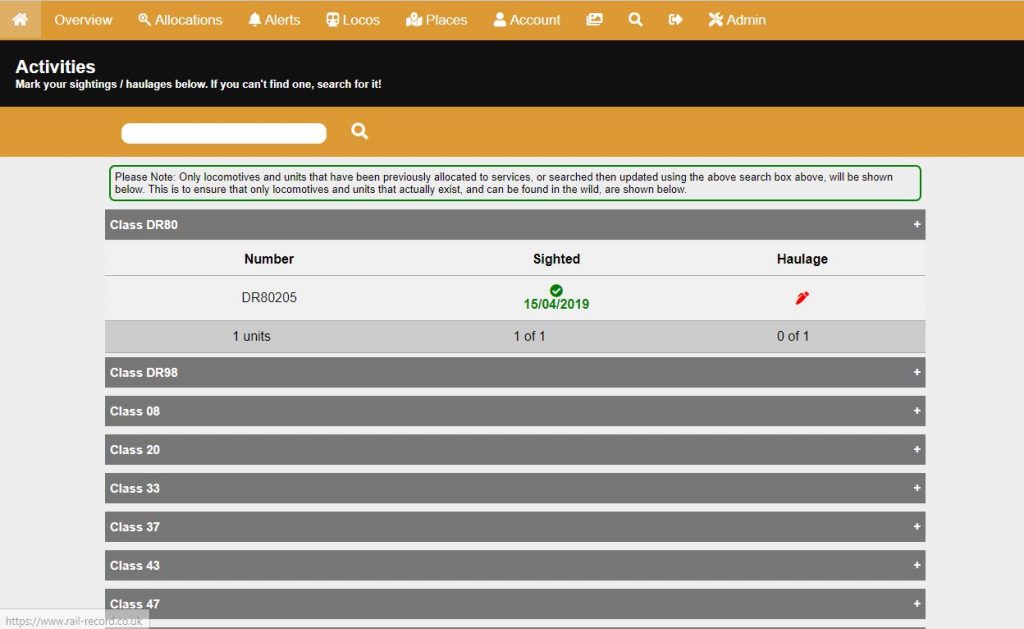 Upon clicking on the class number, a section will open up revealing the list of trains in this class that have previously been allocated to services.
We hope that this information will be of use to you in the future. Rail Record members area launches 1st June 2019. Until then, we hope you look forward to our services.