Guide to Network Rail Test Trains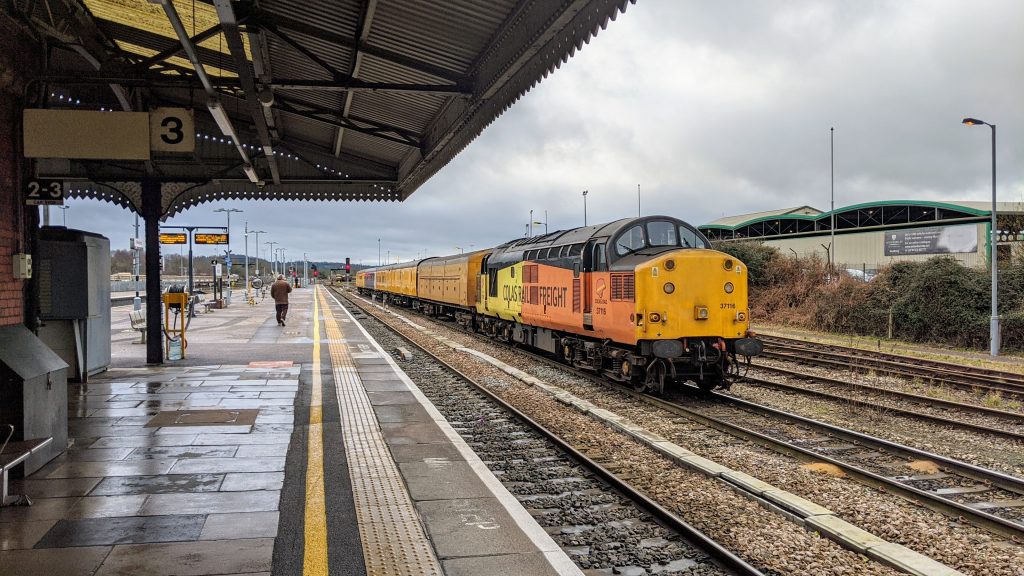 Ever wondered how Network Rail manage and maintain the thousands of miles of railway line that make up the UK rail network? Thankfully, the majority of inspections of railway lines are carried out by specialist trains called test trains, reducing the need for walked inspections. Test trains are noticeable by the yellow-liveried coaches that their fleet wears. This article will share some information about test trains.
Test Train Operations
Test trains are operated by the team at Colas Rail who often use their own locomotives to pull the test train coaches. Not all test trains use colas locomotives, sometimes engines supplied by Direct Rail Services and GB Railfreight are used. Additionally, Network Rail also have their own locomotives and trains to haul their kitted out coaches, such as the Network Rail Class 97 and Class 43 NMT. The coaches used are fitted with on board computers and lasers to analyse the track's geometry, clearance between lineside objects, and cants on curves for any anomalies or defects. Staff on board the test train analyse the data recorded and can identify areas where potential problems might occur in future, so it is possible to send out teams to inspect and mitigate before disaster strikes which is why engineering work takes place at busy locations during quiet periods such as the recent Battersea Pier Junction Engineering Works. Test trains usually run on a monthly basis, doing a different route each day, then the next month it will do the same routes again.
Types of Test Trains
PLPR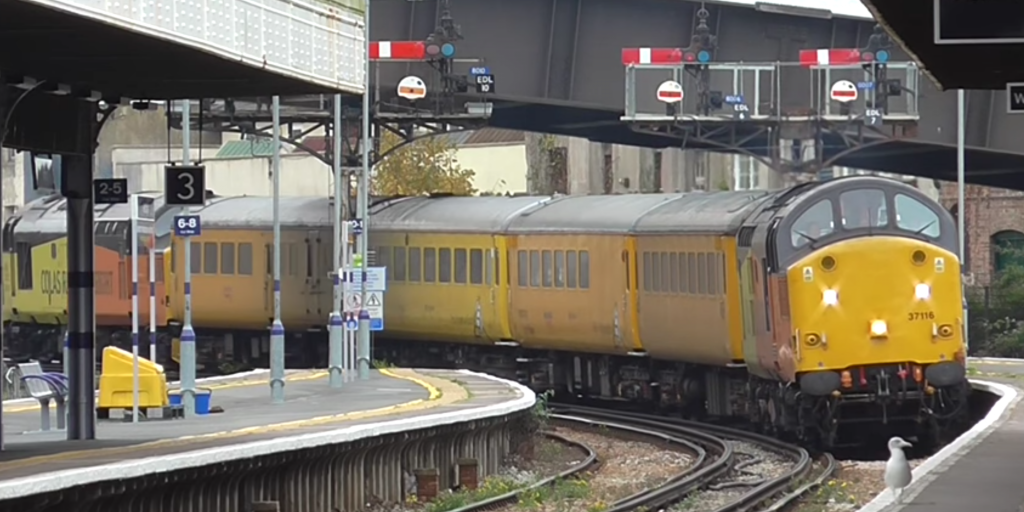 Plain Line Pattern Recognition uses a variety of tools to measure and detect defects and potential problems that might arise in track condition. PLPR uses equipment such as: 4 foot camera used to check the track condition, thermal imaging to check rail temperature, fasteners are checked with diagonal and top down cameras. The various cameras used store HD laser scanned images which show different angles and planes of the track and rails. PLPR was initially rolled out on the NMT measurement train, but has since been fitted to Network Rail's coaches and can be seen across the UK rail network. The coaches on the PLPR may also by fitted with Radio Survey equipment, for testing of NRN, CSR and GSM-R communication systems.
PLPR trains often use class 1 headcode, 1Qxx. If you use Rail Record live train times, it will show you that it is a test train in the service description once activated. If you use RTT, you can check the train service code against our list of known service codes here. The train service code for PLPR is usually 52495111 or 52495113.
UTU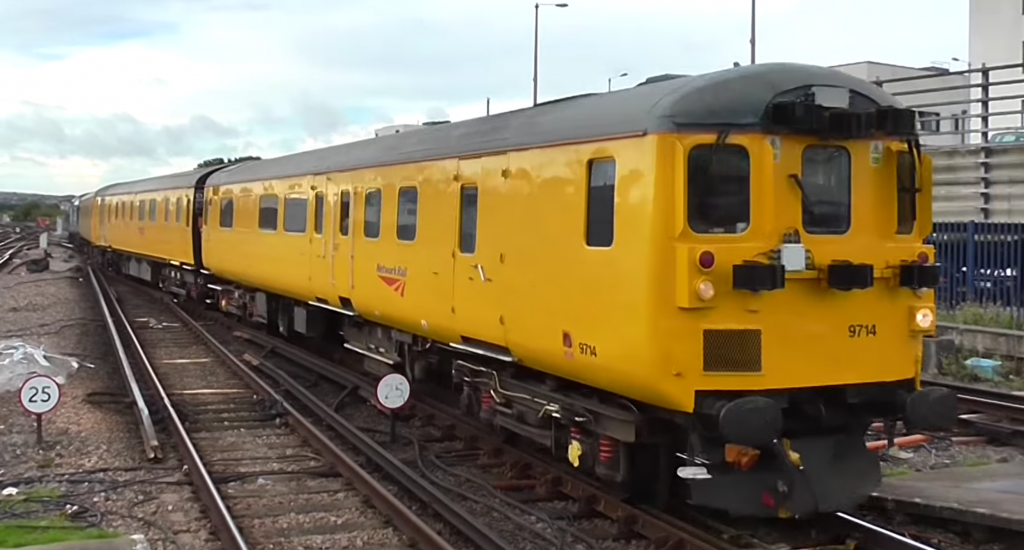 Ultrasonic Testing Unit trains usually have 1 locomotive at one end, and a DBSO (Driving Brake Standard Open) at the other. The DBSO controls the locomotive at the other end. UTU trains have ground-penetrating radar systems to detect voids and deformations up to 2 meters into the ballast and earth. Similarly to on PLPR test trains, UTU trains use rail profile scanners to help identify problems or degradation in track profile, comparing it to a template of an ideal track.
UTU trains tend to run under 3Qxx or 3Zxx headcodes. The train service code for UTU trains is often 52495112.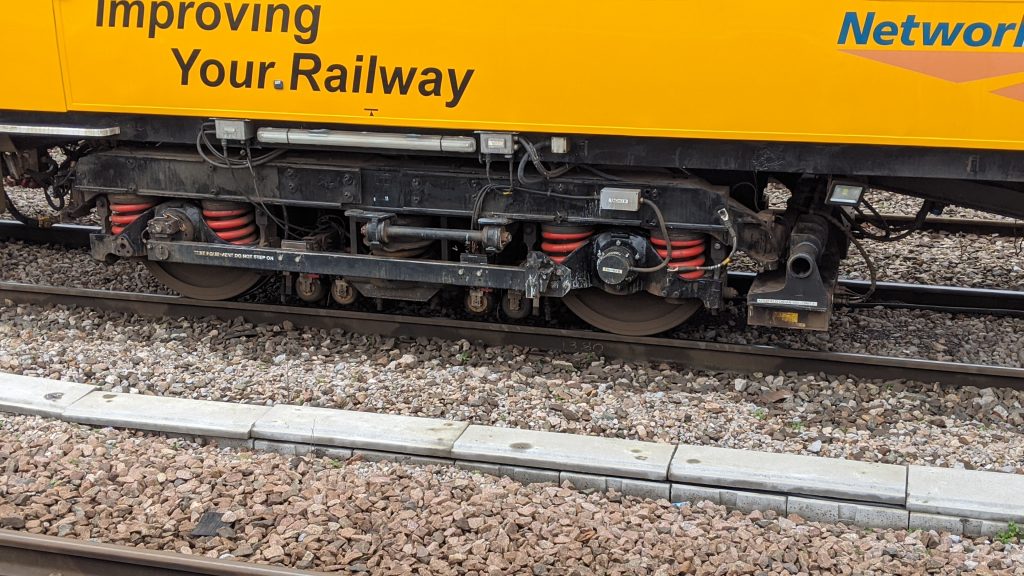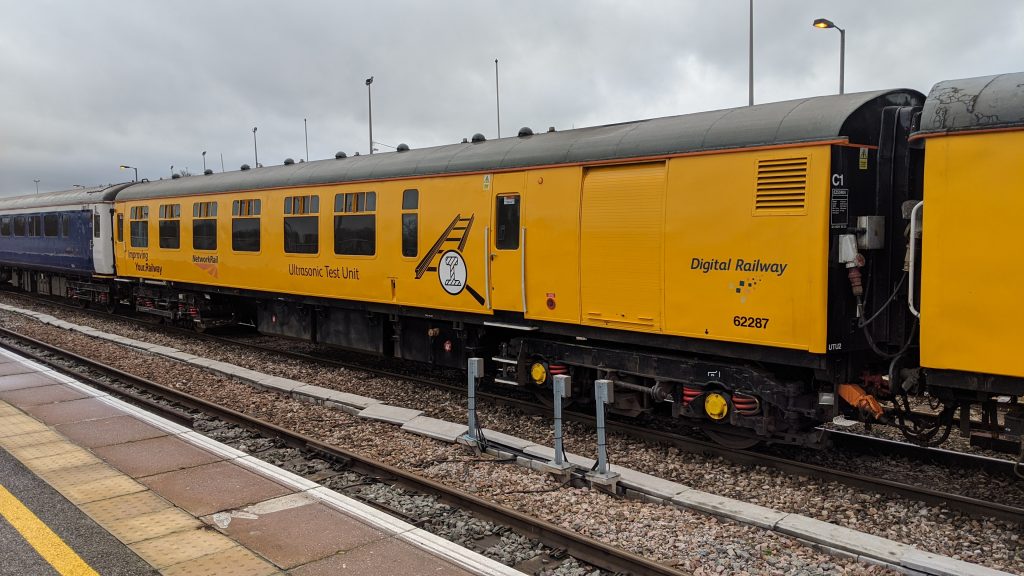 Track Recording Unit
Network Rail own a converted class 150 DMU, numbered 950001. It is primarily used on lines where DMU stock operates, that heavier test trains cannot easily traverse. It tends to run under the headcode of 2Q08, and train service code 52495110.
ERTMS Testing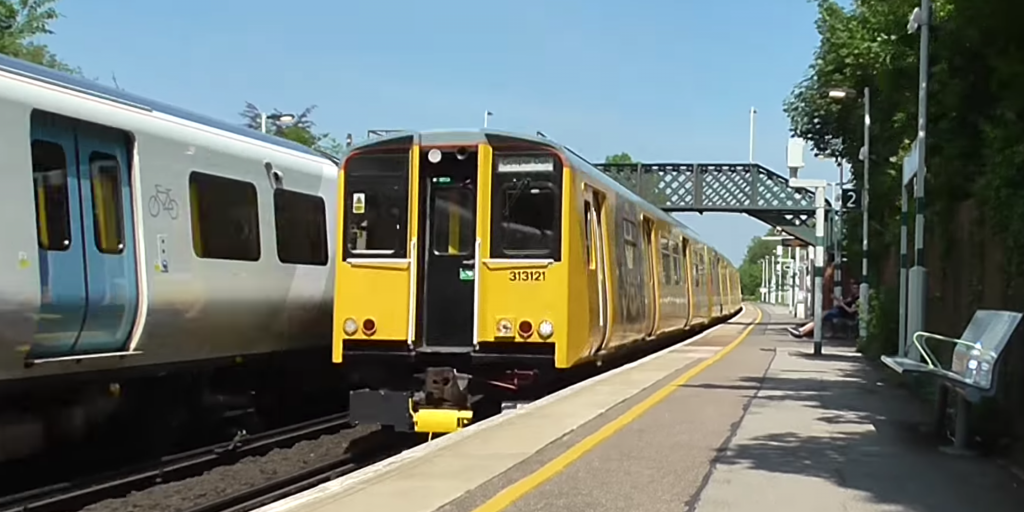 Network Rail used a Class 313 numbered 313121 for ERTMS testing and testing of in-cab signalling systems which use ETCS. 313121 now resides at Eastleigh, because it is no longer needed for testing purposes.
MENTOR – Ovehead Line Test Train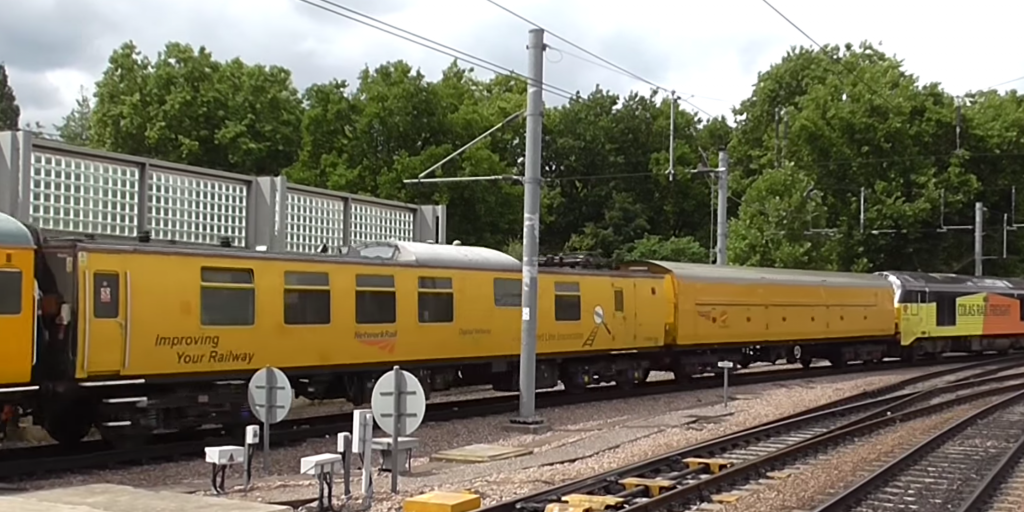 MENTOR test trains test overhead line equipment. MENTOR stands for Mobile Electric Network Testing Observation and Recording (source: testtraining). The above photo shows a Colas Rail class 67 leading a MENTOR test train out of St Pancras International. The MENTOR coach is fitted with a pantograph to test the overhead line. 52495115 is the service code which the overhead line test train operates under.
New Measurement Train NMT Class 43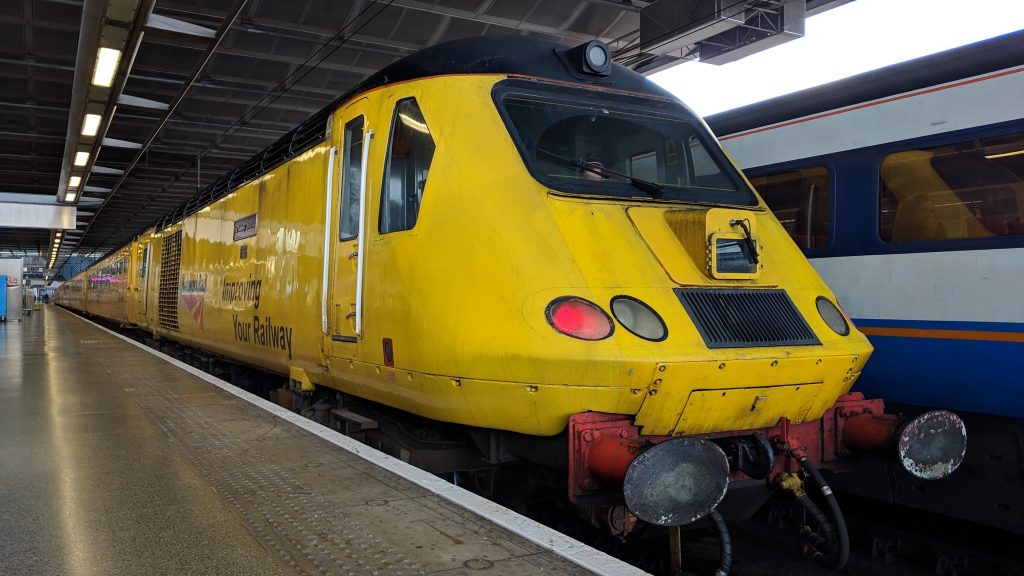 The Network Rail Measurement Train uses a class 43 HST set which operates on most mainlines around the East Midlands and West, out of Derby RTC to locations such as Penzance and Crewe and for maintenance in Heaton, Newcastle. The NMT has the full monty of on board railway testing equipment, from lasers and cameras to overhead testing and gauging. Radios on board can be used to test equipment such as GSM-R, and non-contact monitoring systems can detect wear on the overhead cables, along with their position in relation to the rails the train is travelling on (source: Wikipedia).
The NMT usually runs under 1Qxx test trains, and timed/pathed as a HST on Rail Record live train times. The service code for the NMT is often 52495117.
Other Test Trains
The below photo shows Network Rail's DR98008 camera and geometry recording train which often runs under headcode 3Z07. Sometimes, locomotives from various freight operating companies (usually a Class 37 or 66) will have geometry equipment fitted to analyse the trackside clearance.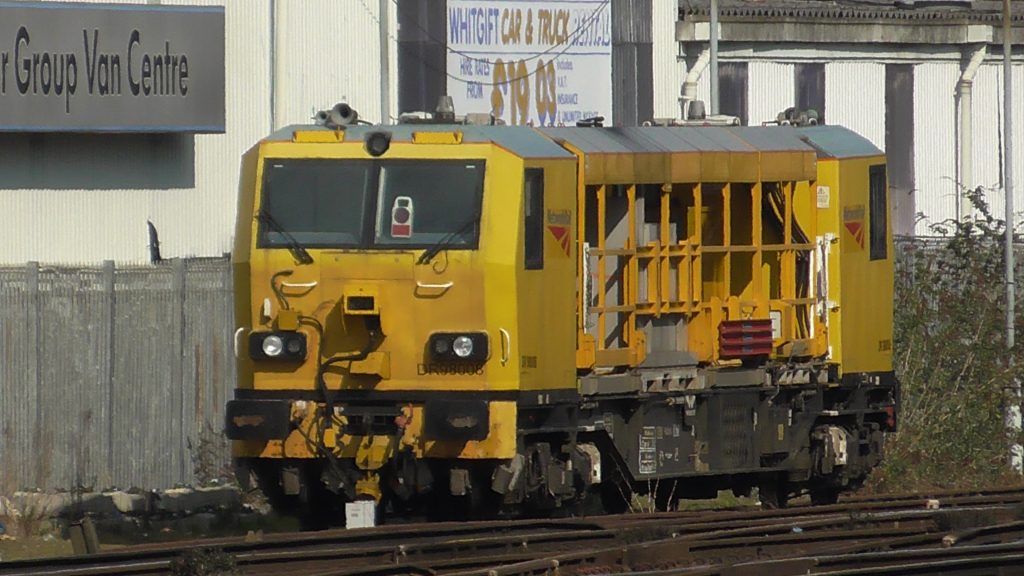 Photo: DR98008 Camera Train at East Croydon Sidings.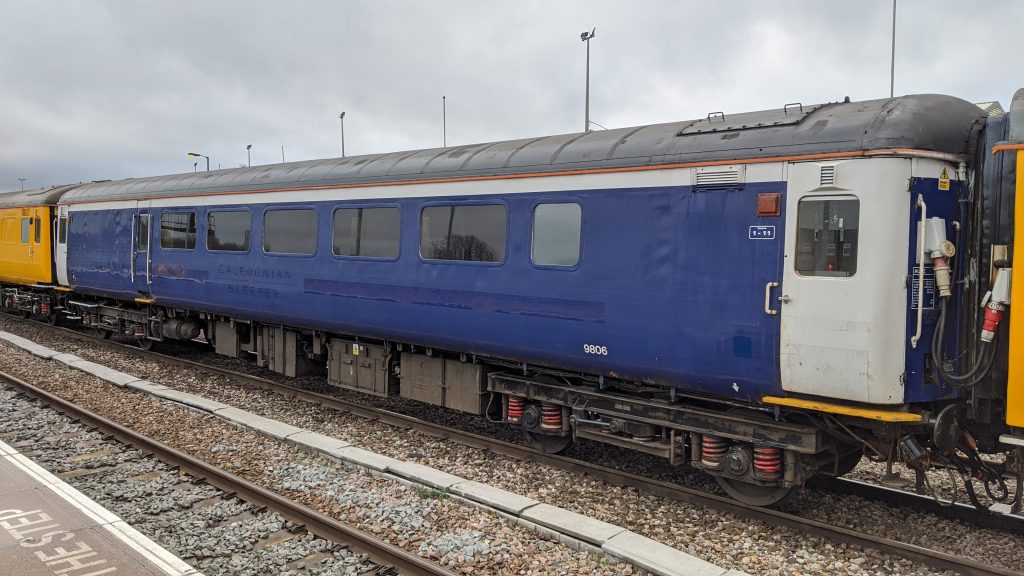 There are a variety of other test trains used on the Great British Rail Network, although the above ones are the most commonly seen today. We hope this guide has been useful to you.