A quick trip to London on Monday 13th May 2019
Took a quick trip to London today to see the new London Overground class 710 on test, and Colas Rail's 56302 making a rare appearance in the South East. Also saw 37601 and various 66s. It started like this …
Having parked at Three Bridges to catch the train from there (being quicker and cheaper than getting a train from my local). I noted that when I left, 6L39 Bridgend to Dagenham with 56302 was running nearly an hour early. I wouldn't have made it if I had waited until after 9 for an off peak travel card, so I opted for a Thameslink Only peak travelcard to get me into London in time. It wasn't until after I purchased the peak travel card that 6L39 killed time near Swindon in a goods loop so after all, I didn't do too badly for time.
Started off with 9R16 0822 Horsham to Bedford, boarding the train at Three Bridges. Unit was 700148, arriving at 0946 into St Pancras Low Level. For future reference, coaches 6 and 7 are closest to the escalator up to street level, where you can then take another escalator down to Kings Cross London Underground station.
Following arrival at St Pancras and Kings Cross tube station, the journey to see 6L39 with 56302 "PECO" began. Colas class 56s are very rarely seen in London and the South East, so seeing this was a big tick. So I caught a Victoria line train from Kings Cross St Pancras tube station to Blackhorse Road, where I then caught an Overground class 378 'Capitalstar' to South Tottenham – where I saw 6L39.
6L39 Bridgend Ford Sidings to Dagenham Dock Reception Live Train Times
Direct Rail Services 66427 passed with a Tilbury to Daventry intermodal.
In addition to this, 66057 passed shortly afterwards working 6Z35 Wembley European Freight Operations Centre to Dagenham Dock Reception. This was a rake of car wagons with 1 axle/2 wheels at each end of the wagons. The rear wagons had high sided walls and were presumably double deckers. I am unsure of their wagon code but they had SNCF written on.
South Tottenham is a great place to get some shots.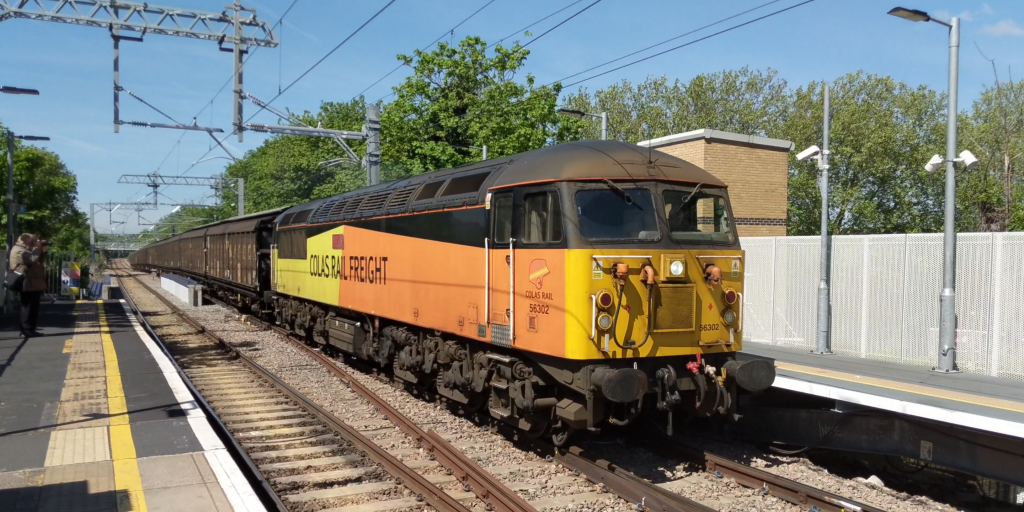 So all was done at South Tottenham. I didn't bother getting any photos of the signal box as the sun was behind it. At this point, I was stuck for things to do. 6X02 with 3x GBRf class 66s, working Marks Tey to Tonbridge West Yard with a milling machine, hadn't left at this point and seemed like a non runner. So instead I decided to head to the Chilterns to see some class 68s.
It wasn't until I got to Crouch Hill that I saw a 3Z03 path from Willesden to Barking. Assuming this was a new class 710 –  which it was, coupled by the fact 37601 left straight after it passed, I opted to see it at Upper Holloway.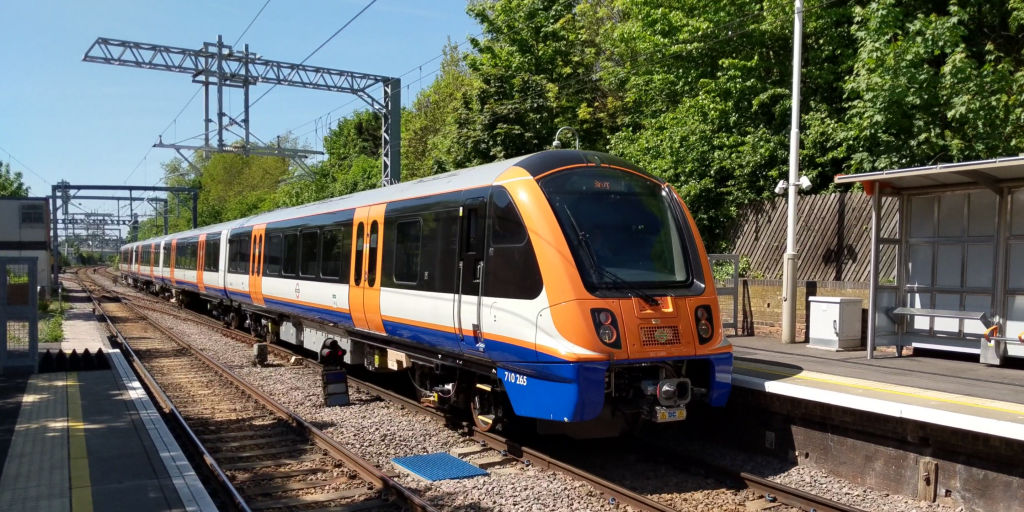 Following 37601's rather thrashy, rather claggy departure from being held on a red, I walked to Archway tube station. During this walk, I stopped off at Sainsbury's to get some lunch – probably the only place in London you'll get a decent sandwich, crisps and a refreshing drink all for £3 – and get nectar points as well.
Following this unplanned visit to Upper Holloway, I caught a Southbound Northern line train at Archway, changing at Warren Street. Whilst Gospel Oak is usually good for spotting, I opted not to bother this time round as the class 378s now take up the whole platform, unlike the previous 2 car class 170s.
The plan at this point was to see some Chiltern class 68s. Changed at Warren Street for a Victoria Line service to Oxford Circus, for a Bakerloo line train to Marylebone. I was thinking of maybe doing South Ruislip for the 68s. Upon a somewhat out-of-breath arrival at Marylebone, following the huge escalator climb, I decided against going to South Ruislip after discovering the infrequency of Chiltern services to this station. I couldn't be bothered to go and get a central line train, I quite simply did not have the time. So I saw the Chiltern 68 at Marylebone.
Direct Rail Services 68009 "Titan" provided the power for 1H33 Birmingham to Marylebone, arriving 1243, then 1R33 back to Birmingham, 1310 out.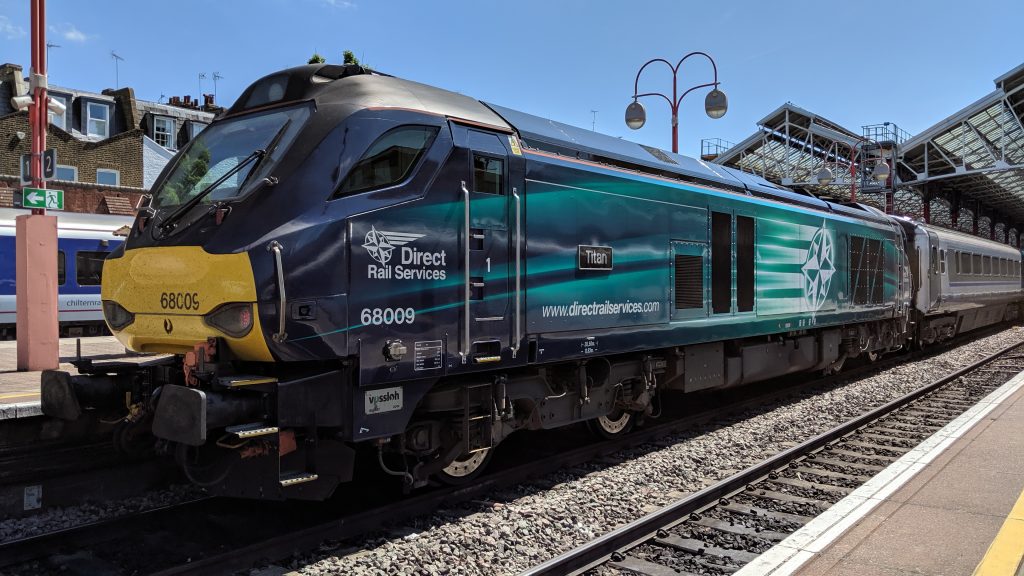 The next class 68 worked diagram wasn't until 1443 so I went to Ealing Broadway. Route taken was a simple one, just a Bakerloo line train to Paddington calling at Edgware Road and Paddington only.
After a brief break at Ealing Broadway (where I met a friendly gentleman spotting the new class 802s and 800s), I left, passing 60019 in Acton Terminal Complex (along with various other locomotives) on the way. I left Ealing Broadway at around 1420 and somehow managed to make it back to Marylebone in time for the 1443 Chiltern livery class 68 which was running a few minutes late. Ealing Broadway wasn't anything to shout about – most of my shots were bowled by class 387s and 345s but I managed to catch 59201…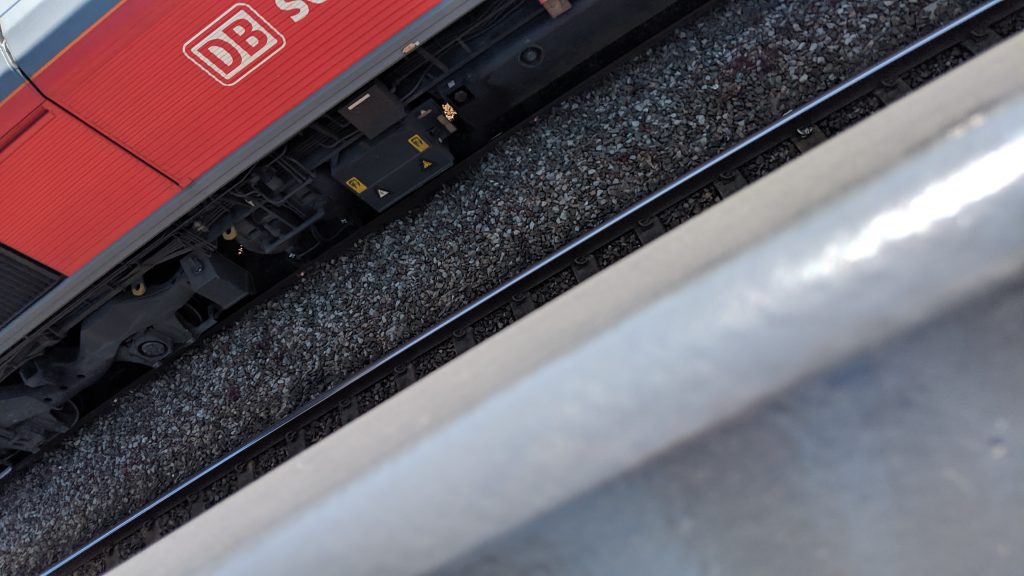 Then after seeing Chiltern livery 68014 at Marylebone, somewhat reminding me of the time Wrexham and Shropshire ran 67s to Marylebone, it was time to go home. I couldn't see anything else of particular interest, and I was quite tired by this point. The return trip consisted of a Bakerloo line train to Baker Street, then a Hammersmith and City line train to Farringdon where I caught 700123 back to Three Bridges, arriving at about 1642 platform 5.
66127 was sighted in Crawley Foster Yeoman yard at around 1640. 59206 remained at Newhaven Day Aggregates over night.