Southampton Eastern Docks Freight Only Branch Line
The Southampton Eastern Docks branch is a freight only line in Southampton. From St Denys, the 4 lines split in to 2 adjacent to Northam Train Depot that go to Southampton Central station, and 2 that continue south. 2 sidings next to the football stadium are used to store South Western Railway class 444 and class 450 units, whilst a single line runs down to the docks.
Expecting more than I actually saw at St Denys station, I decided to take a walk down to Southampton Eastern Dock gates where the freight only line terminates. A short walk south of St Denys station, you come to a road bridge which offers reasonable photos of the 4-line track which runs up to St Denys. As you're looking south, the sun isn't usually in your favour. Just before you do come to that bridge, there is a pathway that runs alongside the railway line, passing the Southampton Up Yard, which tends to see stabled intermodal flat wagons and occasionally an aggregate train.
Continuing south through an industrial estate and past Northam Traincare depot, you can walk alongside the SWR stabling sidings next to the football ground via the Melbourne Street, soon coming to the first level crossing on the Southampton Eastern Docks branch which is on Chapel Road.
Instead of crossing at Chapel Road, continuing further south through Nelson Street and Glebe Road you Chantry Road, which has a public bridge. The mesh walls of the bridge have small holes in which you can get a very small lens through, perhaps that of a mobile phone or small digital camera, probably nothing larger than that.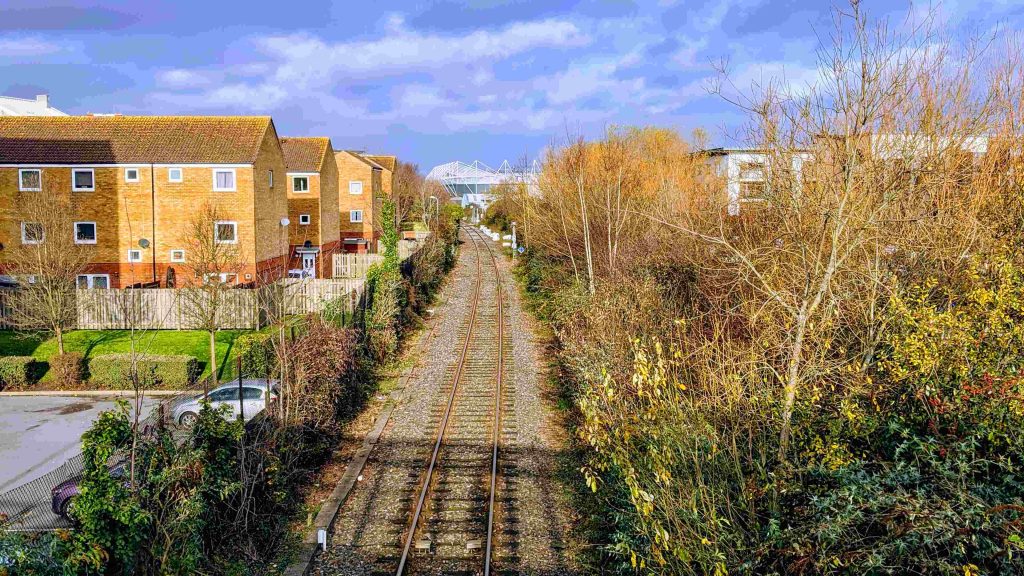 I did not stop at Central Bridge, as the route I was taking went under it but with a short detour, Google Maps suggests you can also get some good photos from this busy road bridge.
Instead continuing south through Royal Cres Road, I come to the popular Canute Road, which has the final publicly accessible level crossing and vantage point of the line. Canute Road is popular with videos on YouTube of car trains entering the eastern docks. Both sides of Canute Road level crossing have gates which are shut until the train is due, when a workman opens them. Canute Road doesn't have any level crossing barriers, unlike Chapel Road which has half barriers.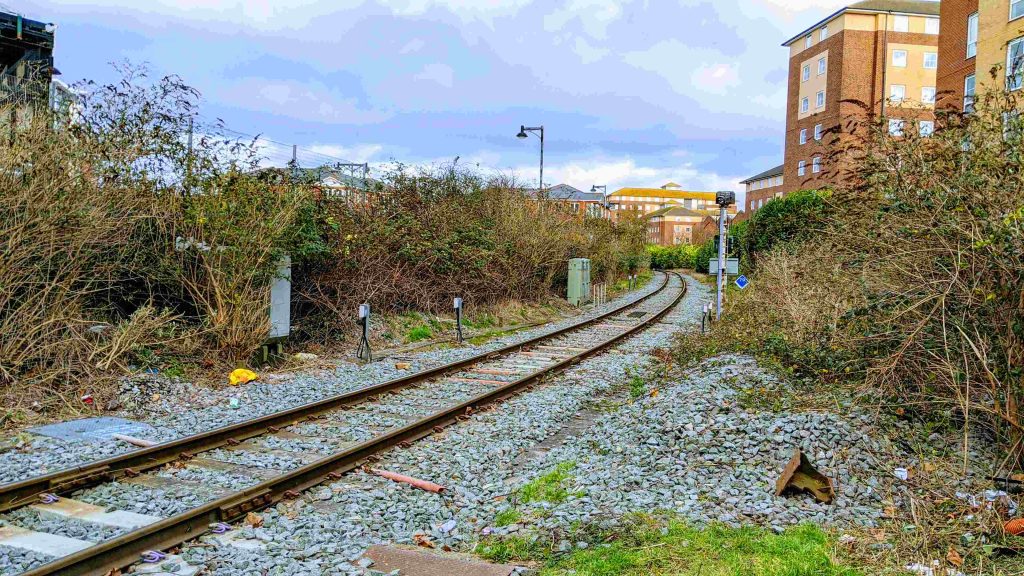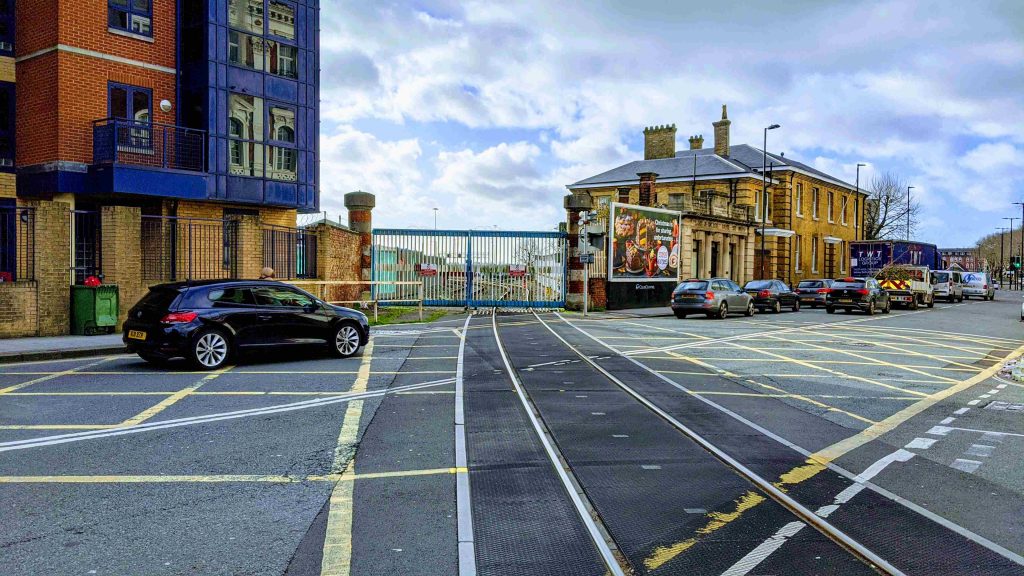 To my disappointment, there was engineering work on the Southampton Eastern Docks branch on the weekday that I went, so I don't have any photos of the trains but you can watch a video below at Canute Road level crossing.
All rail traffic to Southampton Eastern Docks is automotive, intermodal traffic uses the Southampton Western Docks at Millbrook. Cars come from 3 different places to Southampton. These are:
Halewood Jaguar Cars trains which usually use IPA cartic wagons either with or without the hood bits.
Castle Bromwich Jaguar car trains which also use IPA cartics.
Morris Cowley car trains which use WIA flat wagons with blue hoods.
The car trains typically run Monday through to Saturday and all workings are operated by DB Cargo, using class 66 trains. There is also occasionally a light engine from the docks to Eastleigh, usually off the Halewood train.
Below, a YouTube video of a train arriving into Southampton Eastern Docks via the Canute Road level crossing.
This branch is definitely on my my list of things to do again, hopefully there will be a train or two running the next time!