Review of the Kernow Model Centre D600 Warship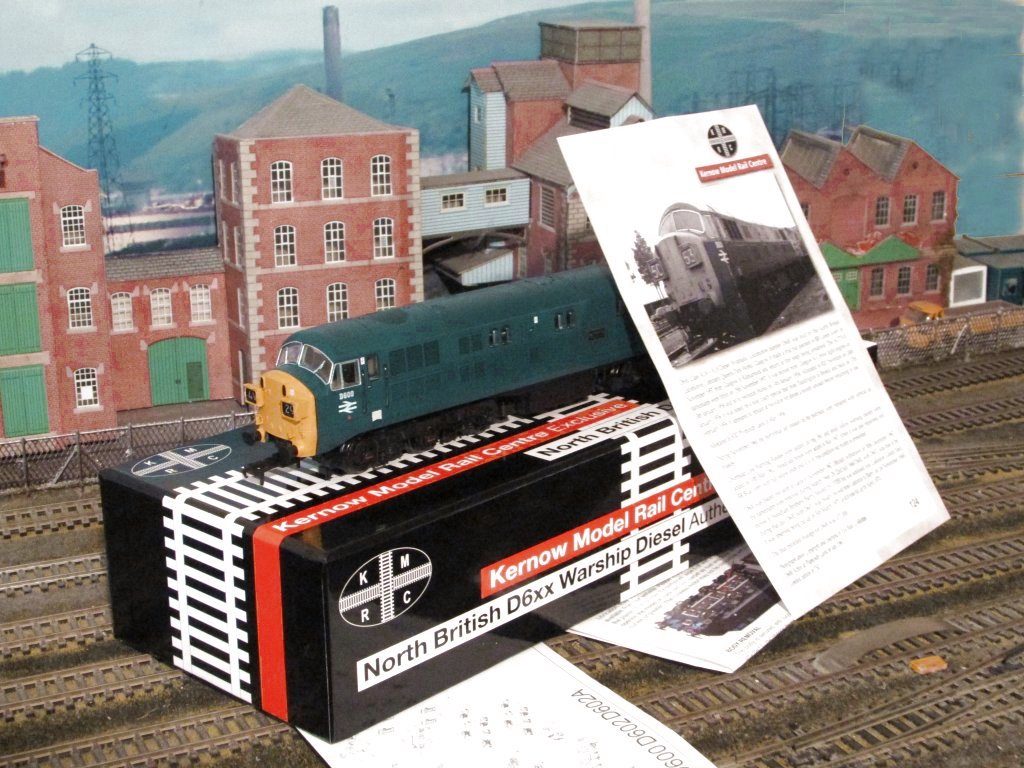 Introduction
The D600 "Warship" class is one of a growing number of products commissioned exclusively for Kurnow Model Centre under their own branding, manufactured by Dapol. The model features all the attributes we would now expect from a top-notch product. This is very much aimed at the premium end of the market catering for the discerning modeller who wants the very best that the ready to run makers have to offer an eager and often demanding customer base. This variant represents the only member of the class to make it into full; corporate blue livery with yellow cab ends; Number D600 named "Active". Limited with certificate to 750 pieces this is no. 124.
Built by the North British company in the late 1950s this class of just five engines did not enjoy a long life span. By end of the 1960s they had all been stored and eventually scrapped. Although brave attempts were made to preserve one, it lingered on in the scrap yard until about 1980. D600 entered service in 1957 with a trial run between Glasgow and Kilmarnock subsequently making it's way to Swindon and so to Laira, the major depot serving Plymouth. The engine gained the corporate blue livery in 1967 ware it also received head code boxes. However the writing was on the wall. Later the same year it was stored and officially withdrawn from service in the December. Nameplates were removed in spring 1968. In the July along with sister engine D601 sent for scrap at Barry. A more detailed description of these unusual engines is supplied in the enclosed certificate
What's in the box?
The sturdy outer box and internal packaging are the same used for general releases with the exception that it appears in the black, red and white branding of Kernow Model Centre. The contents consist of the engine contained in a press stud style ice cube holder held in place with a thick outer sleeve. A wallet of detailing parts and coupling hooks along with relevant paperwork and numbered certificate are also included.
To the Warship
From the original announcement several years ago to opening the box it was immediately obvious this is an exquisite model offering everything that could be expected from smooth running to individual body details and colour schemes.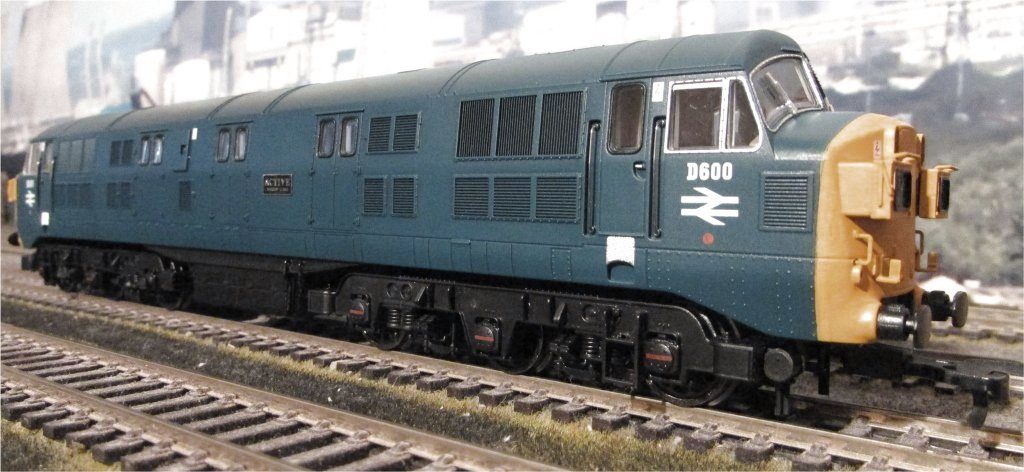 A centrally mounted motor powers drive shafts to both bogies via a complex drive chain ensuring a great feel with smooth running. If you wonder why only 4 wheels receive power on each bogie this is because the prototype was an A-1-A A-1-A configuration. Control for cab and external lighting is offered on this model with controls mounted under the base. This feature is of particular use to DC users. It goes without saying this model is designed very much with DCC operation in mind
Taking a look at the roof it is possible to see the separately mounted cooling fans nestling below the etched covers at each end representing the twin diesel hydraulic engines along with other ports and panels. Looking directly above the model at each end it is clear that attention to profiling as been carried out to an amazing standard, this particularly noticeable above the cabs.
If body side grills are your thing you will not be disappointed with well over 40 in total! There are also six pairs of engine room access doors (three on each side) with flush glazing, as are those of the cab. Window frames receive a simulated silver surround with suitably applied rivets on both sides and front. The tumblehome is also subtly represented with numerous panels whilst the upper body is slightly tapered inwards. Care should be taken with windscreen wipers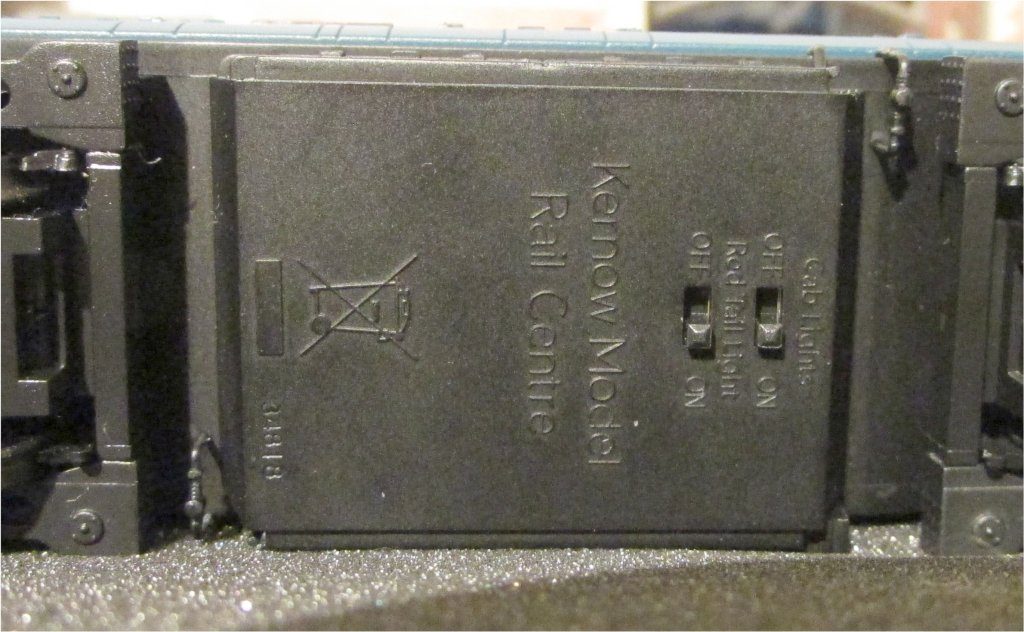 Decoration although plain is prototypical and to a good standard with numbers, OHLE flashes and relevant marking clearly visible. Metal handrails are applied to cab doors whilst metal nameplates are pre fitted. A criticism often levelled a Dapol is the lemon looking yellow seen on many of their releases. However a far more prototypical colour appears to have been used here.
The yellow nose ends have a wealth of detail. Perhaps the most notable feature are the distinctive head code boxes fitted towards the end of their lives. If you have long fingernails, extreme care should be taken when handling these as there are tiny grab rails above each box that could be easily caught. The pre fitted head codes read 4M85 and 4V29 respectively. Interestingly enough a separate sheet of alternative head codes was offered by the maker for their class 22. Below the boxes are some more vertically mounted grab rails. Lamp irons in yellow are also separately attached.
Spring-loaded oval buffers are made from black plastic. The self-centring NEM pockets are independent of the body and bogies. The bogies are well made with yet more detail including a fitted speedometer cable. Care should again be taken here is it may not be immediately noticeable. Take a closer look at the wheels and you will see they are of the spoked type, something the North British company were known for.
Personal view
Based well and truly in Western Region territory Kernow model Centre were well placed to offer a precision model of this overlooked class. With most of the larger classes represented in one form or another over the years retailers have been looking to the pioneers and prototypes to tempt the modeller. A brave attempt to produce this model appeared several years ago offered by Silver Fox models albeit a very basic offering. It was offered asa kit or asa ready to run model.
With no prototype to work from, this special commission has had to be designed from the ground up. from plans, photographs through CAD and so to tooling, production and retail. So the asking price seams not unreasonable for a model of this calibre. However at a price point a little short of £180 for the DC model I suspect it is not going to be for the casual modeller, more likely appealing to those with an interest in WR operations or perhaps the modeller with a special interest in the traction of the early modernisation plan.