Northam Depot Open Day 2019 Pictures
A few photographs from the Siemens Rail Week Northam Depot open day, in Southampton. Northam Depot was opened to a small number of visitors on Saturday 28th September with a variety of things to see and do. A free shuttle bus service provided easy access to the depot running every 15 minutes between Southampton Central station and Northam Depot. It's worth mentioning that this is the first time the depot has been open to the general public in 6 years. Thanks to the team at Northam for opening it up today.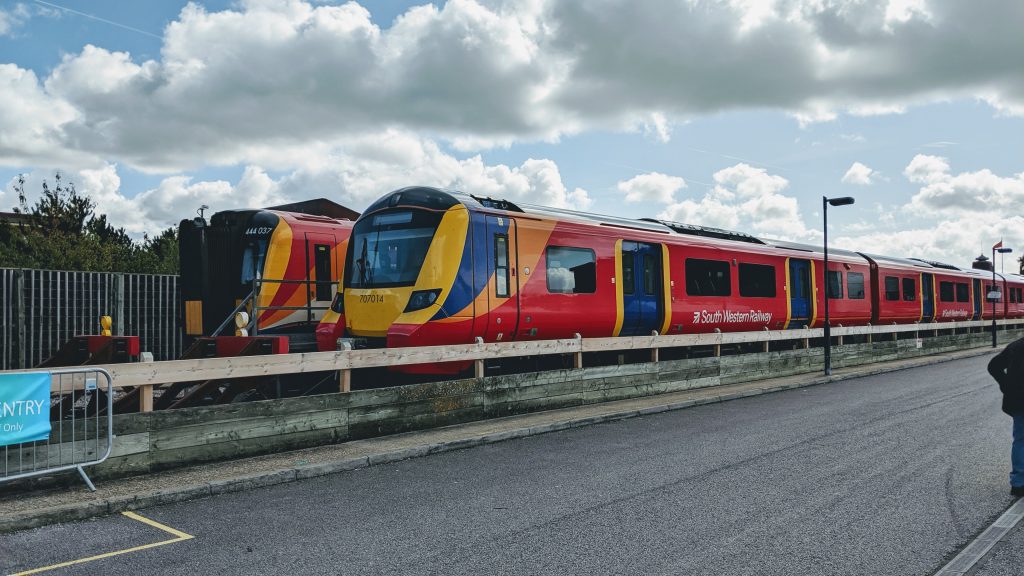 Upon entry, visitors pass the unmissable SWR class 707 number 707014, which was stabled beside the entrance. 707014 later worked 5Z07 Northam CSD to Wimbledon depot via Havant, a route which class 707s are rarely seen on.
Train 5Z07 runs SO from 28/09/19 to 28/09/19
Type STP   EMU   Timed at 100mph
Operator SW  (24676004) Vehicle 707014

Northam C.S.D. 2024
Northam Sig. E842 2030-2036
Northam Jn 2037
St Denys 2040
Fareham 2056
Cosham 2105
Cosham Jn 2106
Farlington Jn 2109
Havant 2116-2117
Petersfield 2129
Haslemere 2140
Farncombe 2149
Shalford Jn 2151
Guildford 2153
Woking Jn 2202
Woking 2206
Hampton Court Jn. 2213
Surbiton 2219
New Malden 2222
Raynes Park 2223
Wimbledon 2225
Wimbledon Park C.S.D. 2227-2227
Wimbledon Park Depot Sdgs 2239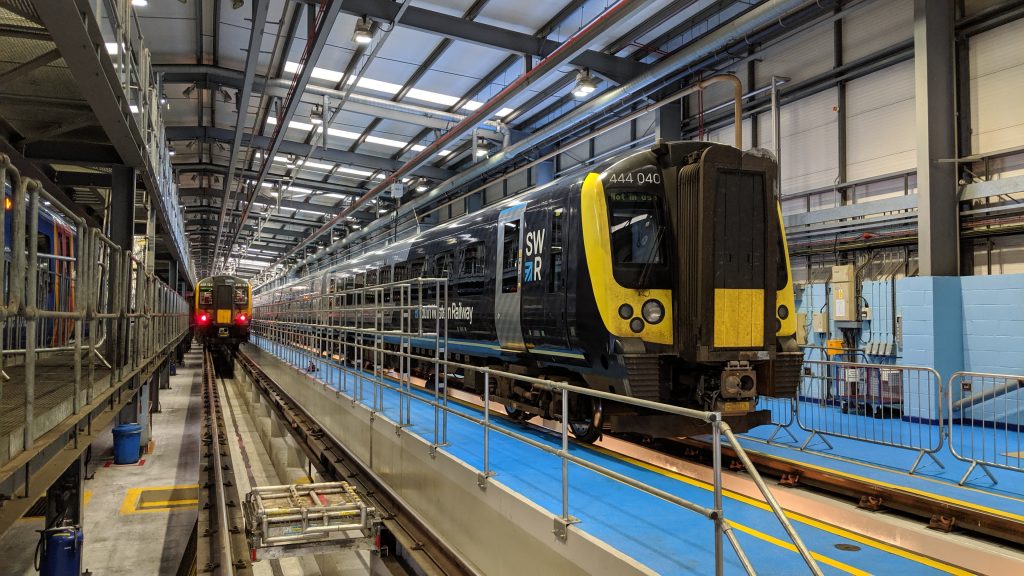 Inside the Northam Depot, 444040 was stabled alongside several other units. The general public also had the opportunity to write their name on the front of the unit's PIS, at the expense of a 30 minute wait. Due to multiple freight trains passing, we decided to give it a miss and was worth it: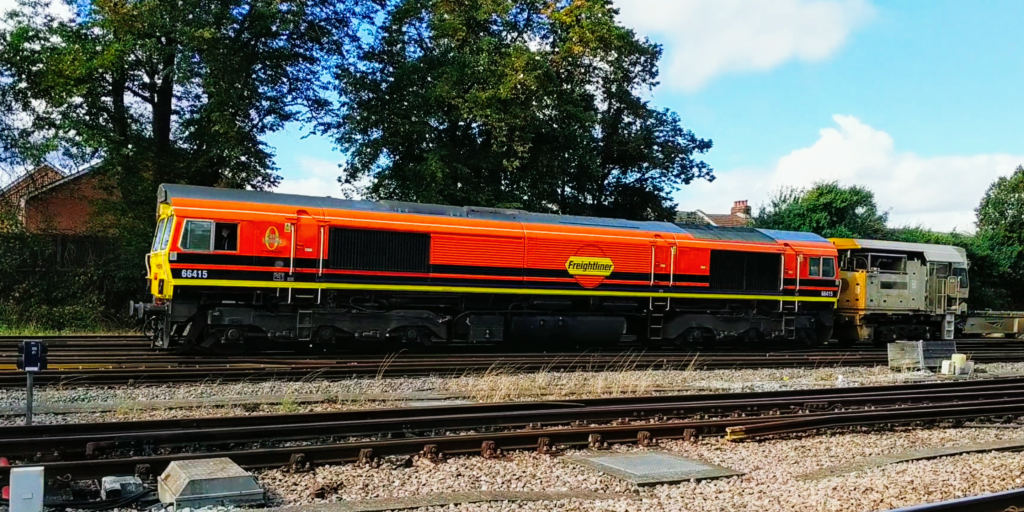 Freightliner's G&W orange livery class 66 number 66415 passed the Northam Depot, working 6Z97 Eastleigh East Yard to Westbury yard, hauling a continuous welded rail train. Not the best shot as there was a class 450 stabled to the right, cropped out of the above photo.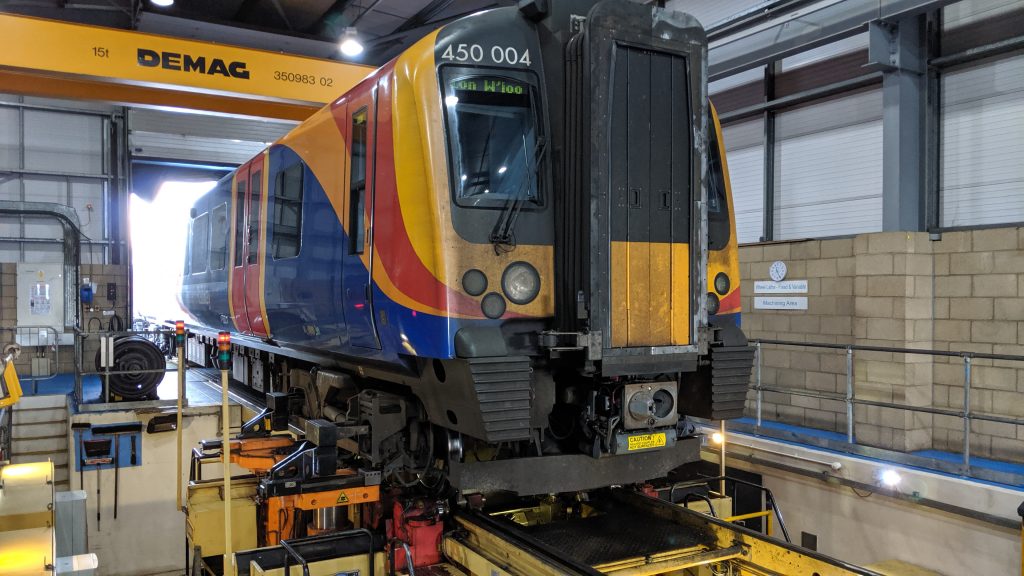 Back inside the depot, 450004 recieved some attention on the wheel lathe. Dragging brakes and train slipping due to poor rail head conditions, can lead to flat spots on the wheels. These flat spots, called wheel flats, make a banging sound and over time, can fracture the wheels shortening the life expectancy of the wheel. The wheel lathe gradually cuts the wheel into the correct profile.
Video of the class 450 being turned on the wheel lathe: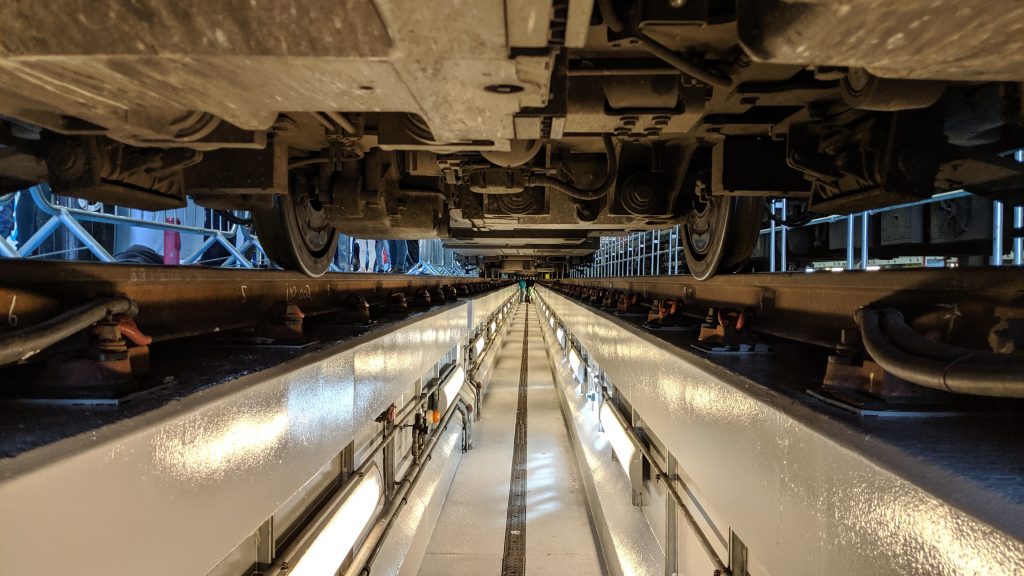 Similarly to the Three Bridges Thameslink openday several years ago, general public had the opportunity to explore the pits inside the depot, receiving some education about the components under the train. Various other activities were available during the open day, such as a chance to drive a train on a simulator, and have your face painted.
That about sums up the Northam Depot open day. Thanky for reading.