Heljan B Class Tank Wagon Review
Review of Heljan B class tank wagon, Part number 1105 – No. ADB999041, black livery.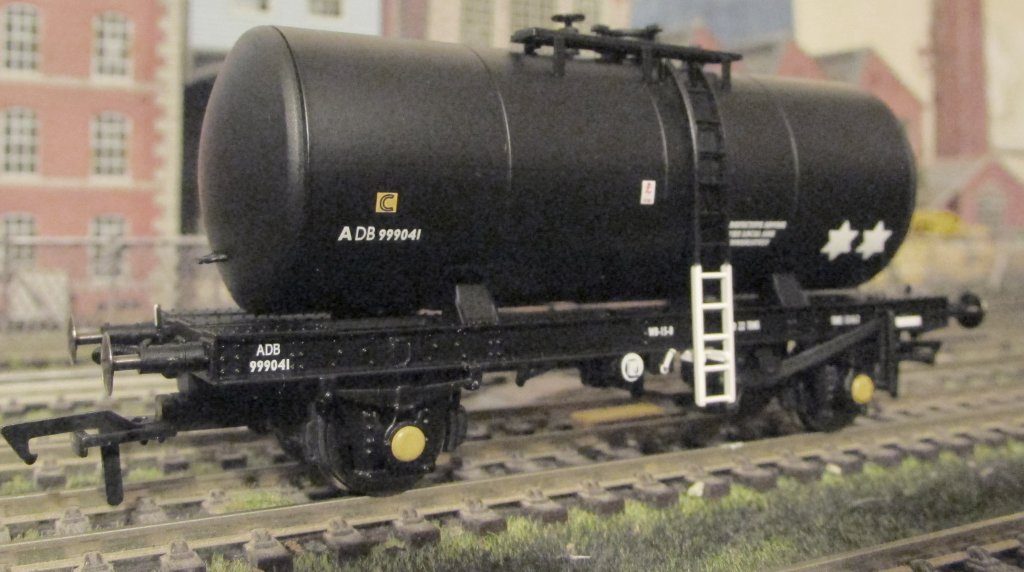 The Danish maker Heljan has very recently released a long waited and popular model of the British Railways B class tank wagon. With the proliferation of motor traffic in the 1950s there was a growing demand for the movement of bulk petroleum products. As a part of the 1955 modernisation plan Charles Roberts and Co. designed and built both A and B class tank wagons. They could be seen in both block and mixed formations. From the early 1960s a modified suspension was introduced, extending the life of these vehicles into the 1990s giving a life span of some 35 years.
The wagons appear in several prototypical liveries including the model in this article representing internal user ADB999041, the prototype of witch is available to view at Paul Bartlett's superb wagon site. I would like to take this opportunity to thank Paul personally for helping me to identify the correct TOPS code for this vehicle; ZRV, as it was not displayed on the picture. Follow the link at the bottom of this item to view the prototype seen at Margam in 1986.
Model Packaging and Detailing
The model is presented in a tray style box that pulls out from sleeve revealing two part moulded plastic holder that keeps the model safe, preventing it from becoming damaged in storage. There is also a transparent wrapper. A tiny bag contains two standard NEM style tension-lock couplings that are supplied for fitting by the owner.
I would sound a word of caution here. It may just have been a faulty moulding. As I attempted to insert one of the couplings the NEM pocket broke off. Fortunately this is a standardised design meaning within a very short time I found a spare and was able to proceed.
From my initial view of this model I was immediately impressed by the attention to detail. Comparing the model to the prototype it was clear to me at least much research had gone into producing this product.
As the model is almost entirely black I must apologise for the quality of some of the pictures. I have attempted to enhance several of these to show specific areas of detail.
Starting at the very top there are a pair of gratings for maintenance staff, these are superbly rendered as is the inspection port and a valve wheel. From each side of the gratings is a ladder leading just below soul bar level At the base of the barrel on one end there is a separately moulded grab rail as well as a lamp bracket at each end.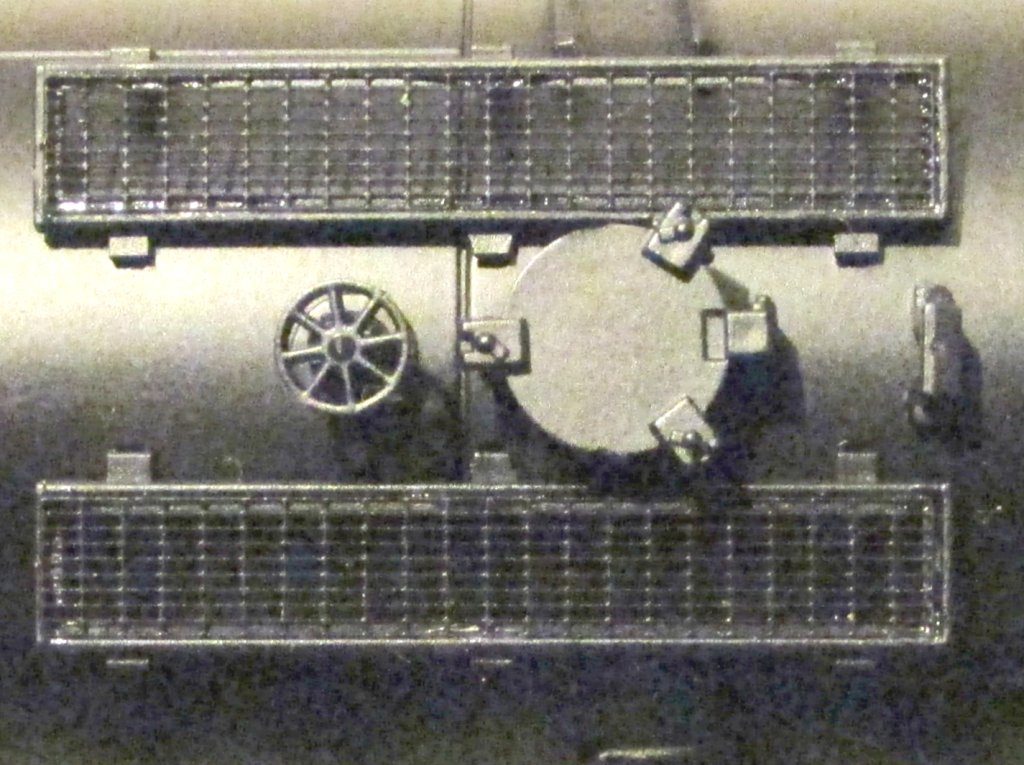 The floor of the wagon is not as you might expect completely flat, but is relieved by roes of suitably mounted rivets, clearly seen in the pictures. The brake leavers are again separately moulded. The brake gear is a delight to see. Vacuumed cylinders are clearly visible, attached to rigging and brake shoes that line up with the three whole metal wheels. I re-gauged these as a matter of course. In my view, this level of detail gives the impression of genuine working equipment rather than a generic chassis. The very shiny buffers are of metal and sprung on this occasion and mounted on long shanks.
As can be seen from the pictures this model is almost completely black, However, this is relieved by clearly printed operating instructions, twin white stars and numbering. The brake leavers are painted white at the ends as are the bottom of the ladders, lamp brackets and controls on the under frame. The axel boxes are picked out in yellow.

Personal observations
It is quite some time since a quality 4-tank wagon has been produced as a completely new release. Haljan have made a wise move in producing something that is going to appeal to a wide demographic of modellers. From the dawn of diesels to early sectorisation these wagons have seen all kinds of service. From classic mixed freight to the block train synonymous with the corporate era not forgetting trips and depot supplies. They will find a welcome home on many a layout. They are well constructed with enough detail to satisfy without the feeling they will disintegrate if handled by mere mortals! With the amount of detailing I feel the asking price of around £20 is not unreasonable within the present climate.
Link to photos of the tank wagon: http://paulbartlett.zenfolio.com/essobtankwagonvb/h1887FDD9#h1887fdd9
Whilst Rail Record is primarily about Live Train Times, we feel we shouldn't leave out our own model railways that give us joy in between days out. You can read all of our Model Railway Reviews.