Getting Started with Updating Train Information Pages
This guide will explain how to add information to a train information page. Rail Record members area launches on June 1st so our user guides such as this one will help familiarise you before it goes live.
Last week we explained how to add allocations to train services. This week we will discover how you can add information to these trains which have been allocated. Rail Record allows you to update train information, such as livery, names and pool codes. Train information pages are automatically updated with their recent workings and allocations.
Train information pages are live and in testing. You may see allocations on some train services already on the website. If you click on them you'll be taken to the information page. There is also a search button on the menu of these pages to search for other ones too!
To add or update train information, you'll need to have a members account. This is free and you'll be able to register on June 1st. To add information, click on a train / locomotive number on the live train times, or members area, sections of the website. By clicking a train's number you will be taken to its information page. Train numbers can be searched on the members area search page, or they can be found at the bottom of a schedule – if an allocation has been added.
Once on the train's information page, you'll see something like the below. The below shows you the information page for Network Rail NMT power car 43062. No information has previously been added, other than user uploaded allocations. To add information about a train, click the Update Information button. If you're not already logged in, you will not see this button. Instead, login using the main menu.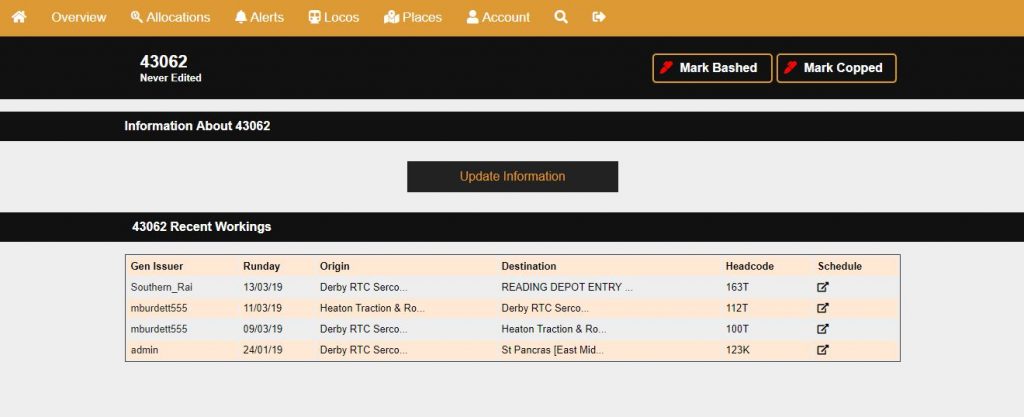 When you arrive at the information update page, you'll have the choice to update a number of elements such as:
Train Picture – add a photo of this train. Rail Record is not an alternative to Flickr, and other users can replace previous photos.
TOPS Pool Code – POOL codes are 4 letter codes which can be found on TOPS lists. They have details of the train.
Livery – it is possible to add some information about the train's current livery.
Train Name – if the train has a name, it is also possible to add it.
Power Type – you can update the train's power type, ie diesel, EMU, etc.
TOC – there is also a list of TOC and FOC companies which you can select as the train's operator.
The update page looks like the below. At the top, you can upload an image. Once uploaded, a thumbnail will be shown. Click the thumbnail on the train information page to see a larger version.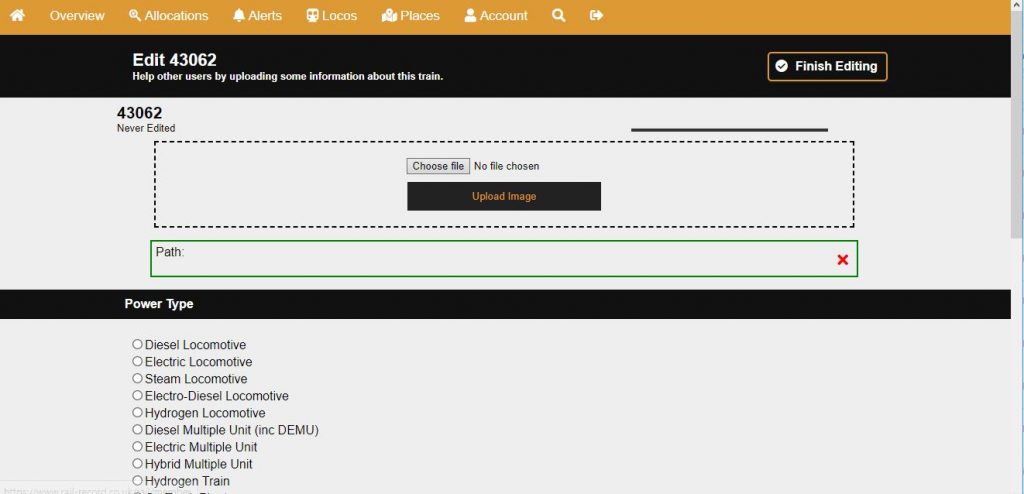 If you've finished editing train information, press Finish Editing, or Update Information at the bottom, and your changes will be saved.
You'll then be taken to the public page where your information will be shown. If you're logged in, you can also mark as Bashed (had for haulage), or Copped (sighted in general, photographed, spotted etc).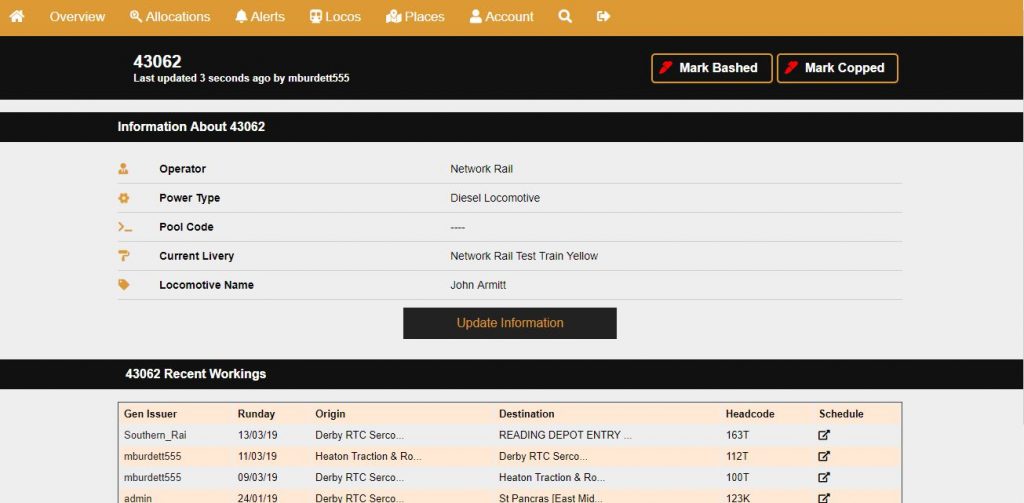 We hope that this information has been useful to you prior to the launch of the Rail Record members area on June 1st. If you do have any queries, do not hesitate to use the Get In Touch link at the top of this page.
Join us next week as we look at how you can update location information pages.