Getting Started with Rail Record Members Area
Over the next few weeks, we'll be publishing some guides on using the new Rail Record members area. The members area will be launching on June 1st. In the lead up to this time, you can read these guides to find out more about each of the different features, and see some screenshots. The members area is very nearly complete, and is already available to a small number of people for testing.
This week's guide will give an insight on registering and logging in to the Rail Record members area. 
Registration for the members area is free, although SMS alerts will require purchase of SMS alerts credits. Credits won't cost a fortune. To register, you will need to go to https://www.rail-record.co.uk/rail/register, and choose a username and password. Until June 1st arrives, the registration form is disabled but until then, this is how you go about registering.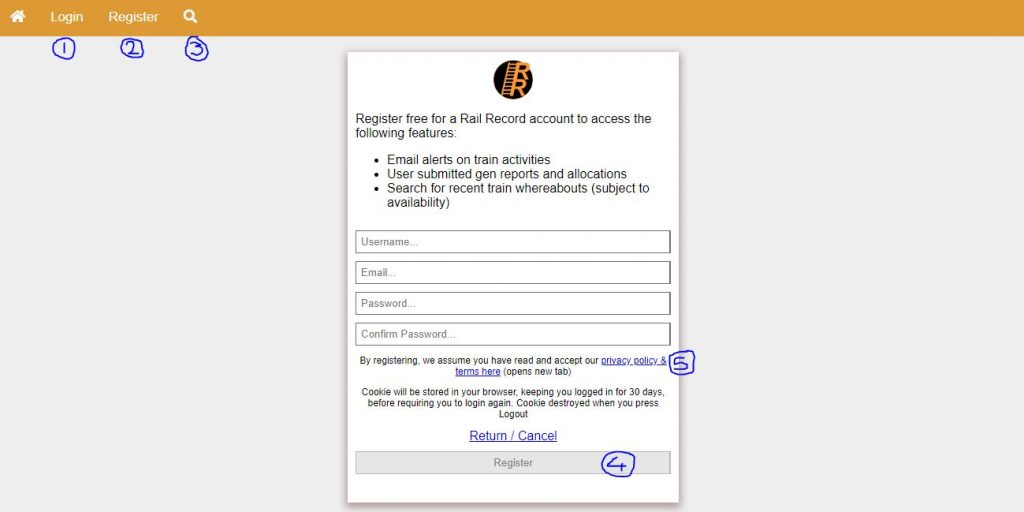 Enter your username, email and desired password and click the Register button to create an account.
Number 1 on the above diagram is the login button. If you're logged out, you can press this to be taken to the Rail Record login page.
Number 2 on the diagram is a link to the registration page, if you find yourself on the login page but don't already have an account.
Number 3 takes you to the search page. If you want to use this feature, you don't need to be logged in. You can search places, trains and users.
4 submits the registration form and creates you an account. If any fields are invalid, you'll be asked to correct them.
It is important that you read our privacy policy. We don't share your information with anyone, but your username will be visible to people so it's important not to use personal information in this.
That wraps it up for the registration page. Once you've registered for an account, you'll receive an email with an activation token. You'll need to copy this activation token, and paste it in the unlock account page. This measure is to prevent spam accounts from registering. The activation email may go to your spam folder, so be sure to check there if you can't find it.

Enter the token received in your account activation email, and press the padlock. Having completed this, you will then be taken to the login page where you can login. Following a successful login, you will be taken to the Rail Record account overview page. The account overview page will show latest train allocations made by users, latest rail news, and a FAQ of the members area.
That is it for this week's getting started guide. Next week's getting started guide, we will show you how to get SMS and Email Alerts for train services.