DB Cargo have announced a partnership with Maritime to increase rail freight operations between the two companies.
DB Cargo have liveried two of their locomotives into Maritime livery, similar to that of GB Railfreight's 66727, seen below.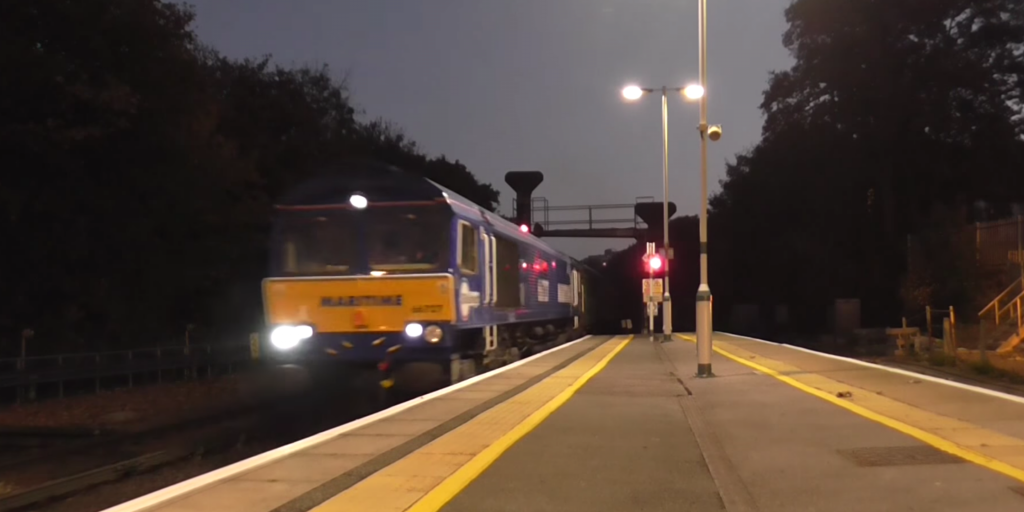 DB Cargo will be contracted to run Maritime's rail operations out of Felixstowe and Southampton intermodal rail ports.
Maritime Intermodal will take on responsibility for DB Cargo UK's terminals in Trafford Park, Manchester and Wakefield in West Yorkshire, thus strengthening the road haulier's national network of strategic hubs.
29/03/19 – 66135 hauled Maritime livery 66005 and 66047 on 0Z66 Toton TMD to Wakefield Eurport this morning, having been repainted at Toton paint shop.
https://www.rail-record.co.uk/rail/liverail/train/1700460/29/03/19
Train 0Z66 runs FO from 29/03/19 to 29/03/19
Type STP   Diesel Loco   Timed at 075mph
Sector 5   Train service code 50520220

Toton T.M.D. 0540
Stapleford & Sandiacre 0541
Trowell Jn 0546
Langley Mill 0550
Ironville Junction 0554
Alfreton 0558
Clay Cross North Jn 0605
Chesterfield South Jn 0607
Chesterfield 0608
Tapton Jn 0611
Barrow Hill North Jn 0614
Beighton Jn 0620
Treeton Jn 0622
Masborough Jn 0629-0645
Aldwarke Jn 0649
Swinton (S.Yorks) 0652
Moorthorpe 0659
South Kirkby Jn 0701
Hare Park Junction 0712
Crofton West Jn 0715
Calder Bridge Jn 0717
Turners Lane Jn. 0720-0729
Altofts Jn 0739
Wakefield Europort 0743
Railfreight operations between the two leading companies will begin on April 1st 2019.
This may have something to do with 67029 working Kings Cross to Normanton Wakefield Europort today, perhaps for a partnership unveiling?
67029 will work Kings Cross to Wakefield Europort with the DB Cargo managers train which arrived at Kings Cross ECS earlier today.
https://www.rail-record.co.uk/rail/liverail/train/1528940/29/03/19
Train 1Z80 runs FO from 29/03/19 to 29/03/19
Type STP   Electric Loco   Timed at 110mph
Sector 4   Train service code 72033027

London Kings Cross 0858
Belle Isle 0900
Holloway Sth. Jn. 0902
Finsbury Park 0907
Alexandra Palace 0909
Potters Bar 0914
Welwyn Garden City 0918
Woolmer Green Jn. 0920
Stevenage 0923
Hitchin 0925
Biggleswade 0930
Sandy 0932
Huntingdon 0940
Holme Jn. 0946
Fletton Jn. 0949
Peterborough 0952-0955
Tallington Jn. 1002
Stoke Jn. 1011
Grantham 1014
Claypole Loop 1024-1036
Newark North Gate 1040
Newark F.C. 1041
Retford 1053-1105
Loversall Carr Jn 1115
Doncaster 1119-1121
Adwick 1125
Adwick Jn 1125
South Kirkby Jn 1129
Hare Park Junction 1135
Crofton West Jn 1138
Calder Bridge Jn 1142
Turners Lane Jn. 1143
Altofts Jn 1151
Wakefield Europort 1203
Following a trip to Wakefield Europort, the managers train will run back to Peterborough. Were guessing there will be an unveiling at Wakefield Europort?
https://www.rail-record.co.uk/rail/liverail/train/1528941/29/03/19
Train 1Z81 runs FO from 29/03/19 to 29/03/19
Type STP   Electric Loco   Timed at 110mph
Sector 4   Train service code 72033027

Wakefield Europort 1420
Altofts Jn 1423
Turners Lane Jn. 1428
Calder Bridge Jn 1431
Crofton West Jn 1434
Hare Park Junction 1437
South Kirkby Jn 1442
Adwick Jn 1445
Adwick 1446
Doncaster 1450-1452
Potteric Carr Jn. 1455
Black Carr Jn (Doncaster) 1456
Loversall Carr Jn 1458-1503
Retford 1513
Newark F.C. 1525
Newark North Gate 1526
Claypole Loop 1530
Grantham 1537
Stoke Jn. 1542
Tallington Jn. 1550
Peterborough 1557
Then back to Toton Traction Maintenance Depot ECS
https://www.rail-record.co.uk/rail/liverail/train/1528942/29/03/19
Train 5Z81 runs FO from 29/03/19 to 29/03/19
Type STP   Diesel Loco   Timed at 095mph
Sector 4   Train service code 72033027

Peterborough 1603
Helpston Jn. 1613
Uffington Sb (Lincs) 1620
Ketton S.B. 1627
Luffenham 1632
Manton Jn 1638
Oakham 1641
Langham Jn. 1642
Ashwell L.C. 1644
Whissendine L.C. 1647
Melton Mowbray 1654
Frisby 1657
Syston East Jn 1703
Syston North Jn 1704
Sileby Jn 1708
Loughborough 1715
Ratcliffe Jn 1725
Trent South Jn 1726
Meadow Lane Jn 1729
Toton Jn. 1731
Toton Centre 1732
Stapleford & Sandiacre 1737-1742
Toton T.M.D. 1747