975025 `Caroline` Visits Kent & Sussex This Thursday 04/04/19
Southern Region manager's Saloon 975025 will visit Kent and Sussex this Thursday 4th April 2019.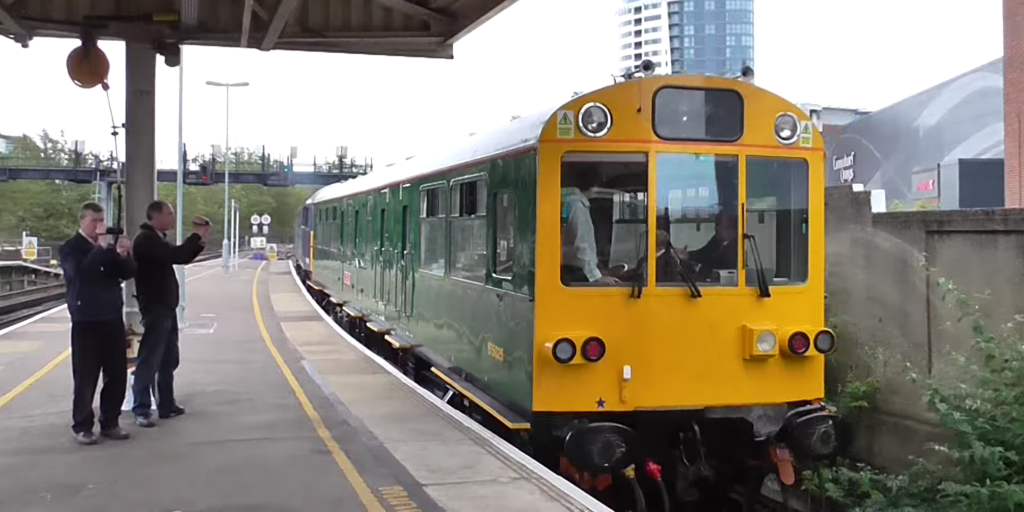 The ex-Southern Region manager's track inspection coach will work Kensington Olympia to Kensington Olympia 'via the world', ie a circular run around Sussex and Kent covering a few hundred miles.
975025, given the nameplate 'Caroline', is a coach which has driving controls and a forward-facing window which enables it to control the locomotive which is pushing it. 975025 isn't self propelled, but the controls operate a locomotive on the rear.
Confirmed allocation: DRS 37409 + 975025 'Caroline'
Today, and for the past few years, Caroline has been used for private outings by railway staff for retirement parties etc. A selection of sandwiches and refreshments are served to the employees onboard the staff jolly.
The private, single coach + 1 locomotive charter, often uses a Direct Rail Services class 37; however it has been seen to use a DRS Class 47 or 68. The below video shows 975025 Caroline at Portsmouth Harbour.
Caroline is not in public use and not available for passenger service. You can see the timings for Caroline this Thursday, below.
https://www.rail-record.co.uk/rail/liverail/train/1718945/04/04/19
Train 2Z02 runs THO from 04/04/19 to 04/04/19
Type STP Diesel Loco Timed at 075mph
Sector 97 Train service code 95998290

Kensington (Olympia) 0904
Latchmere Jn 0910
Clapham Junction 0912
Balham 0918
Streatham North Jn 0920
Streatham South Jn 0922
Wimbledon 0932
St Helier 0942
West Sutton 0947-0956
Sutton (Surrey) 1000
Wallington 1004
West Croydon 1012-1018
Gloucester Road Junction 1021
Selhurst 1022
Streatham Common 1030
Streatham North Jn 1032
Balham 1036
Clapham Junction 1043
Latchmere Jn 1045-1053
Kensington (Olympia) 1102-1107
Latchmere Jn 1113
Longhedge Jn 1115
Factory Jn 1116
Voltaire Road Jn. 1117
Denmark Hill 1121
Crofton Road Jn 1122
Nunhead 1128
Lewisham Vale Junction 1138
Lewisham 1139
Parks Bridge Jn 1141
Hither Green 1145
Grove Park 1147
Chislehurst 1149
Petts Wood Jn 1150
Orpington 1152
Sevenoaks 1201
Tonbridge 1212-1217
Godstone 1231
Redhill 1245-1252
Earlswood (Surrey) 1255
Gatwick Airport 1301
Three Bridges 1303
Balcombe Tunnel Jn 1305
Copyhold Jn 1310
Haywards Heath 1315
Keymer Jn 1318
Lewes 1332
Southerham Jn 1335
Polegate 1349
Willingdon Jn 1400
Eastbourne 1406-1452
Willingdon Jn 1457
Pevensey & Westham 1503
Bexhill 1519
Bopeep Jn S.B. 1524
St Leonards Warrior Sq 1526
Hastings 1534
Hastings Park Sidings 1538-1546
Hastings 1550
Bopeep Jn S.B. 1556
West St Leonards 1556-1600
Mountfield Tunnel 1611
Robertsbridge 1614
Wadhurst Tunnel South 1628
Wadhurst 1630
Strawberry Hill Tunnel 1638
Tunbridge Wells 1643
Wells Tunnel Jn. 1644
Somerhill Tunnel 1652
Tonbridge 1654
Sevenoaks 1702
Orpington 1711
Petts Wood Jn 1713
Chislehurst 1714
Grove Park 1716
Hither Green 1718
Parks Bridge Jn 1722
Lewisham 1724-1727
Lewisham Vale Junction 1729
Nunhead 1735
Crofton Road Jn 1739
Denmark Hill 1740
Voltaire Road Jn. 1744
Factory Jn 1745
Longhedge Jn 1747
Latchmere Jn 1749-1756
Kensington (Olympia) 1804