HNRC Class 37610 Visits Brighton Wall Siding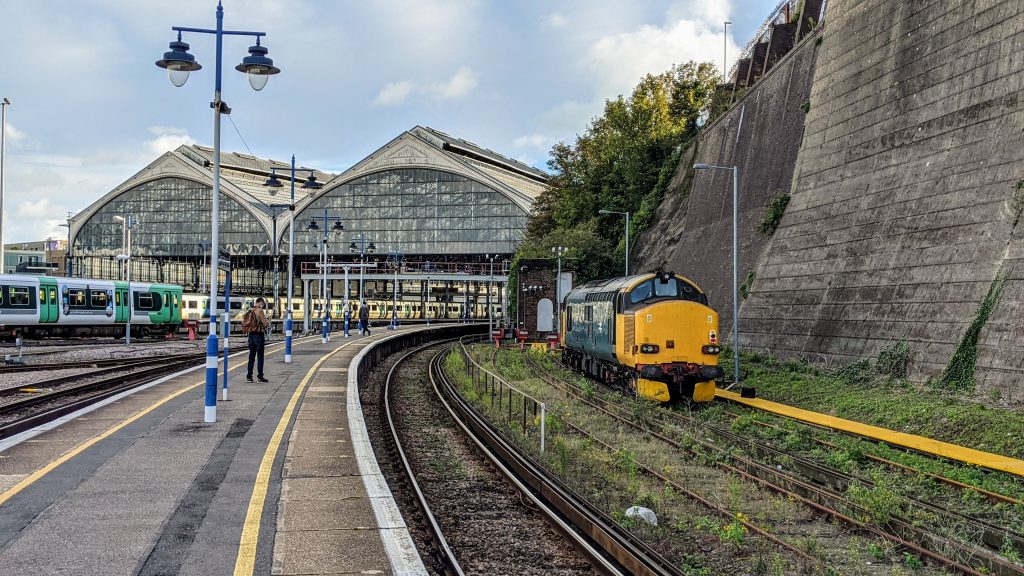 It's not rare to see diesel locomotives at Brighton Station. At the very least, you'll have two occasions where a diesel locomotive visits Brighton, more so during the autumn and winter months. However, most locomotive visits to Brighton are by newer built locomotives, typically class 66s or class 73s. Rebuilt locomotives, the class 73/9s, are becoming a more common sight on test trains. I'm fact only a few months ago, GBRf tested the use of class 66 locomotives on a test train. Up until only a few years ago, class 37s on test trains were a common sight, now, fading away into the history books quicker by the day. There are two types of test trains usually operated in and out of Brighton, which are PLPR (plain line pattern recognition), and UTU (ultrasonic test unit). The UTU typically works during the late night, early morning, visiting Brighton anywhere between 10pm and 3am depending on the timetable. These late night runs are typically operated at as slow as 30mph on parts of the network, so are run at night to prevent holding up passenger traffic. Unfortunately, the UTU late night trains are operated by class 37s, like the one that visited Brighton today, so not easy to see without soaring dedication. PLPR tends to run during the daylight hours – but is operated by newer locomotives like the rebuilt 73/9s.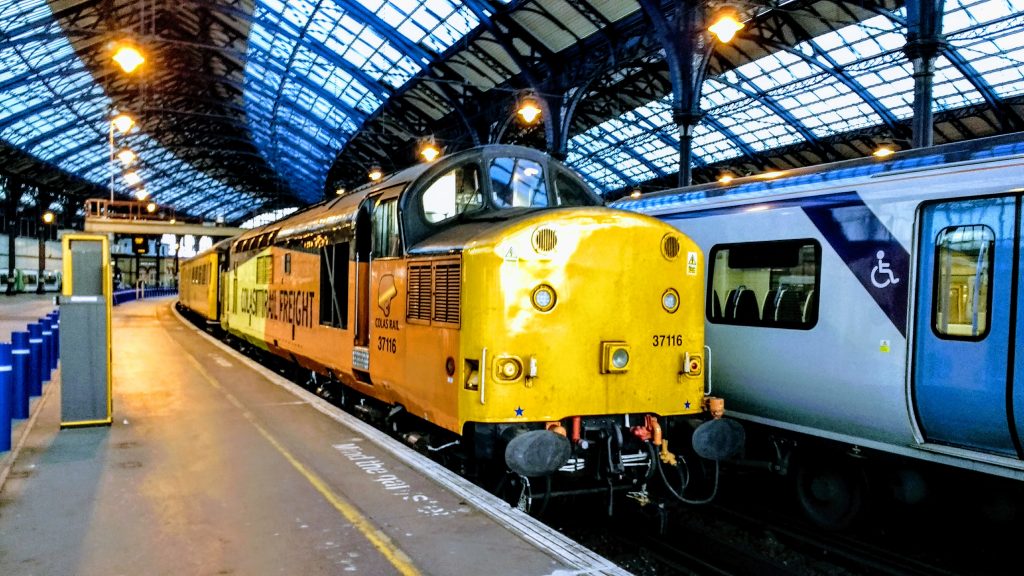 Today, Saturday 3rd October 2020, an older locomotive – the BR class 37, made a daylight appearance at Brighton, whilst bringing back a few memories as it makes a rare appearance in the Brighton Wall Siding, adjacent to platform 1. Brighton Wall Siding has a past of where many diesel locomotives were once stabled. As earlier mentioned, 20 years ago many services out of Brighton were operated by diesel locomotives and so seeing Fragonset or Dutch livery locomotives like class 33 and 73 locomotives in the siding opposite platform 1, wasn't uncommon.
Though there hasn't been any need to stable locomotives in Brighton Wall Siding in the past decade or two. Because just up the line from Brighton, is Lovers Walk depot. Lovers Walk certainly sees it's fair share of locomotives and trains of interest. Shunter 09026 was based at lovers walk until only a few years ago, before it was rehomed to the Spa Valley Railway in Tunbridge Wells.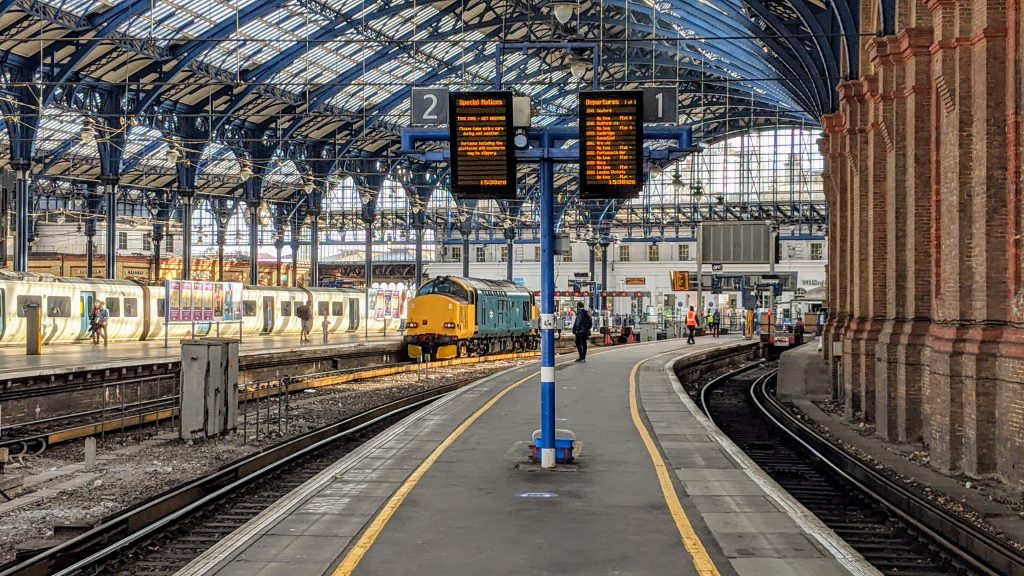 37610, operated by Colas Rail, yet on lease from Harry Needle Railroad Company, worked 0Z37 Derby RTC to Brighton Wall Siding via Brighton. It most likely isn't its first visit to Brighton, because as I mentioned above, UTU test trains usually visit once or twice a month and these tend to be operated by 37s.
The purpose of the locomotive's visit to Brighton, was a positioning move prior to a week ahead consisting of route learning. UTU test train drivers require good knowledge of the routes that they work which is why drivers are able to refresh their understanding of the routes that they'll be working.
From running down the Brighton mainline, the train arrived into Brighton platform 3. Without requiring traversal of the Montpellier sidings and lovers walk depot (which is also possible to/from Brighton Platform 2), platform 3 is the only platform at Brighton from which trains can reverse from the Brighton Mainline, onto the West Coastway. Of course, many trains which come off the Brighton Mainline and onto the West Coastway (which runs to Shoreham, Barnham and Portsmouth), don't serve Brighton and instead go via Clifton tunnel which connects Preston Park to Hove. Brighton platform 3 can fit a class 377 in 4 car formation at the most, with the signaller able to choose between either the west Coastway or Brighton mainline. Platform 3 at Brighton is the only platform, which can access all 3 lines out of Brighton – the Brighton Mainline, and both East and West Coastway.
Succeeding it's arrival into Brighton around 5 minutes behind schedule (1337), the locomotive promptly followed the 1332 1N22 Brighton to Southampton Central service, onto the West Coastway as far as Hove Tunnel. It's late running erased any worries of being photo bombed by the 1332 for the spotters positioned on platform 2. Reversing at signal 1280 just outside of Brighton, 37610 made its way into Brighton Wall Siding ending it's 170-odd mile journey via the Midland Mainline and Barnes, around 7 minutes late, which is good considering it initially left derby 28 minutes down. Before it's trip to the seaside, it had only had a quick rest and refuel at Derby, because just a few hours beforehand, it worked a test train back from Reading with 37612!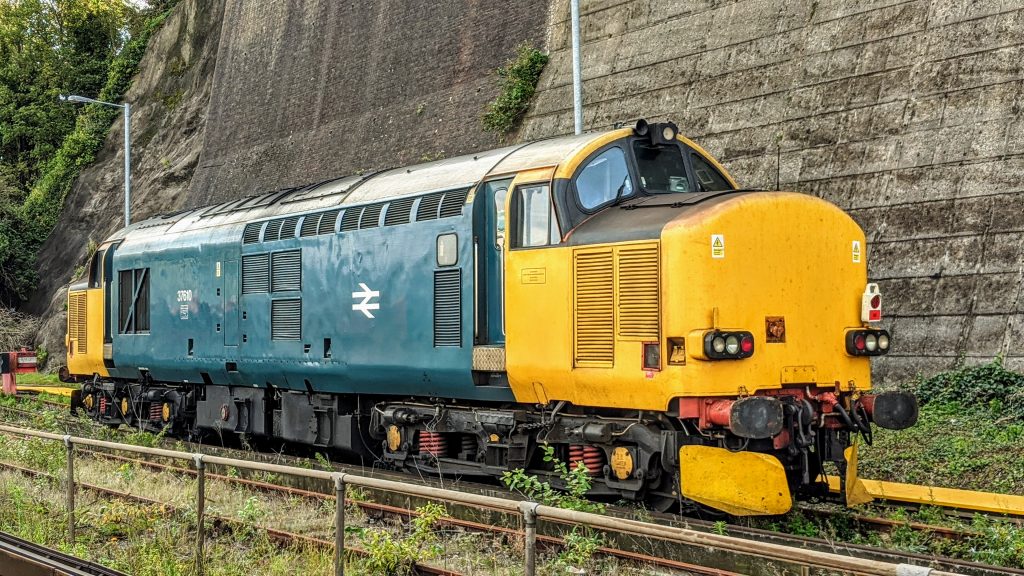 Above, 37610 rests in the Brighton Wall Siding. Many years have passed since a locomotive was stabled in the overgrown Brighton Wall Siding. As locomotives today, when required, are typically stabled in Lovers Walk depot.
Today, the sidings are used for stabling class 313 and class 377 electric multiple units, for use on the West Coastway services.
You can watch 37610s arrival into Brighton Wall Siding below.