RHTT season is due to start from next week across the Great British rail network.
See also: RHTT 2019
Whilst different parts of the UK will commence earlier than others, the southeast rail head treatment trains that cover Brighton and the Brighton Mainline including surrounding areas will start next week, running out of Horsham on 30th September 2018. Far southeast RHTT trains covering Kent run out of Tonbridge a few days after..
Southwest and Somerset RHTT trains run from Didcot and St Blazey. Hampshire trains run from Eastleigh Works and Effingham Junction covering Guildford, Basingstoke and South London area. London West RHTT trains run out of Bescot TMD and Acton Yard. London East and Essex RHTT trains will come from Broxbourme. Nothern RHTT trains run out of Carlisle, Wigan and other various yards in the north.
Rail Head Treatment Trains (RHTT) are either operated by Network Rail's fleet of Multi Purpose Vehicles (MPVs) worked by JSD and Balfour Beatty, or are operated by local railfreight companies. This year's Chiltern RHTT trains will be operated by Freightliner. Northern RHTTs are operated by DRS, Southwest by Colas and DB Cargo, and Southeast / Essex by GB Railfreight.
During autumn, leaf fall from trees causes rail adhesion issues and slippery rails. The RHTT trains, either run with MPV or a FOC's locomotives, will spray the rails and blast away leaf deposit from the rail head. Freight Operating Company's locomotives will work in top and tail formation, a locomotive at each end of 2 wagons each containing a series of tankers filled with water. MPVs will lay a sandite substance which also helps aid adhesion for other trains.
The photograph below shows a GB Railfreight Class 73, with a series of tanks behind it spraying the rails, operated by remote control.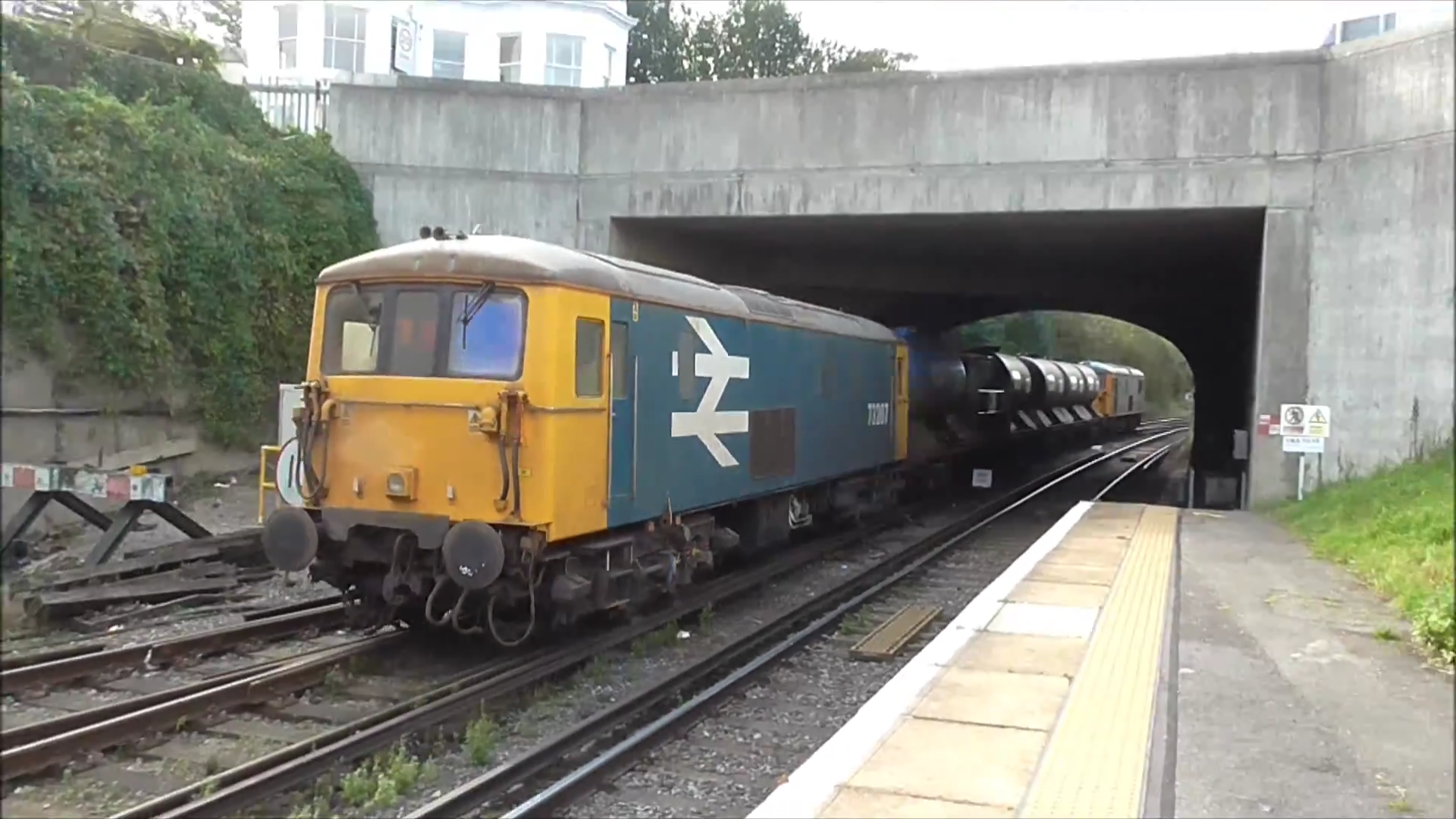 The autumn season is popular among rail enthusiasts as the frequency of diesel locomotives across the UK including places where diesel locomotives are not often seen, gives spotters more chance of sighting engines that they still need to tick off or get photographs of.
RHTT trains usually run between the end of September and the end of November. After November, SITT trains will commence, also worked by MPVs and diesel locomotives but have different wagons which treat railheads for ice and snow. The SITT trains usually run from November until late February but can continue into March if the poor weather persists.
RHTT and SITT trains can be identified on Rail Record easily because their timetables usually include very long paths and go all over the county. Once a schedule is activated, a RHTT or SITT train can also be identified by its headcode, which will usually start with a 3 or an 8 and start / end in the same location for example "Wigan L.i.p to Wigan L.I.P"
Update: 2018's RHTT is now coming to a close, with most lines now clear of leaves. RHTT will commence again next year same time (end of September). However the fun doesn't stop here, as SITT trains will start running during icy spells. These can be identified similarly to RHTT paths, operated by local freight operating companies or MPV and will have a class-3 headcode.
A video of a RHTT train service can be watched below. The video shows GBRf class 73 electro diesel locomotives at Lewes.