Westbury Trip Report 30/01/20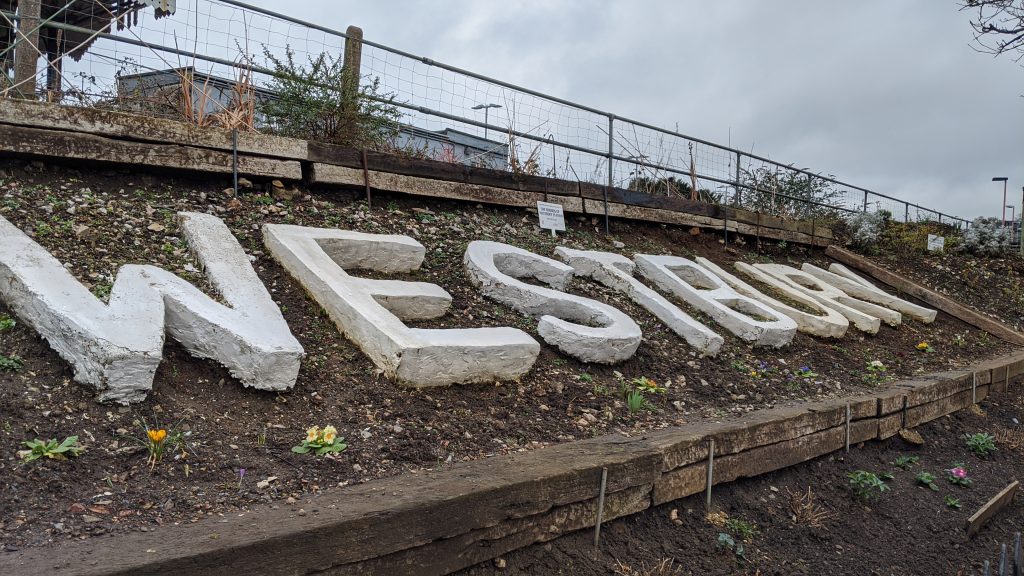 It has been 10 years since I last stood on the platforms of this popular station (although I did pass through in 2014 on a steam charter to Weymouth). The last time I stopped off was in 2010, it was a quick stop en-route to Devon on a Friday evening. Not a lot happened on my last visit although from memory there was 66623 (in Freightiner blue at the time) shunting a HOBC in the Up Yard, 59005 adjacent to platform 1, not to mention HST class 43s operating that way. 10 years on, not much has changed although the platforms have been lengthened and you won't see 43s there anymore unless there are diverts.
The day started off with the 0900 Brighton to Great Malvern, for a 2hr 40 journey which wasn't cheap. A quick run along the coastway passing Chichester and Fareham, where Freightliner 66566 resides having been blocked in due to the Eastleigh derailment earlier this week. 158951 provided the haulage for the duration of the trip to Westbury where arrival was 10L.
Upon arrival at Westbury for 1051, Colas rail 70805 stands alongside platform 3 with a rake of loaded IOA wagons to Cliffe Stud Farm on 6M40, soon to depart.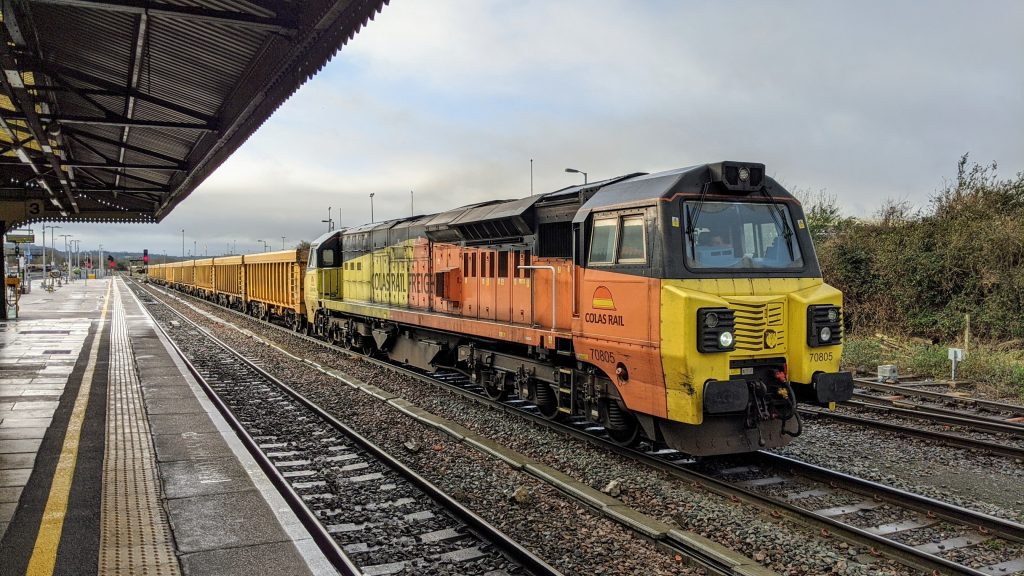 The majority of local workings, Westbury to Swindon, Cardiff to Portsmouth Harbour etc, were worked by class 165 and 166 DMUs. In the below photo, a class 166 stands in platform 2 working the Westbury to Swindon service having terminated, whilst in platform 1, a Cardiff Central to Portsmouth Harbour service.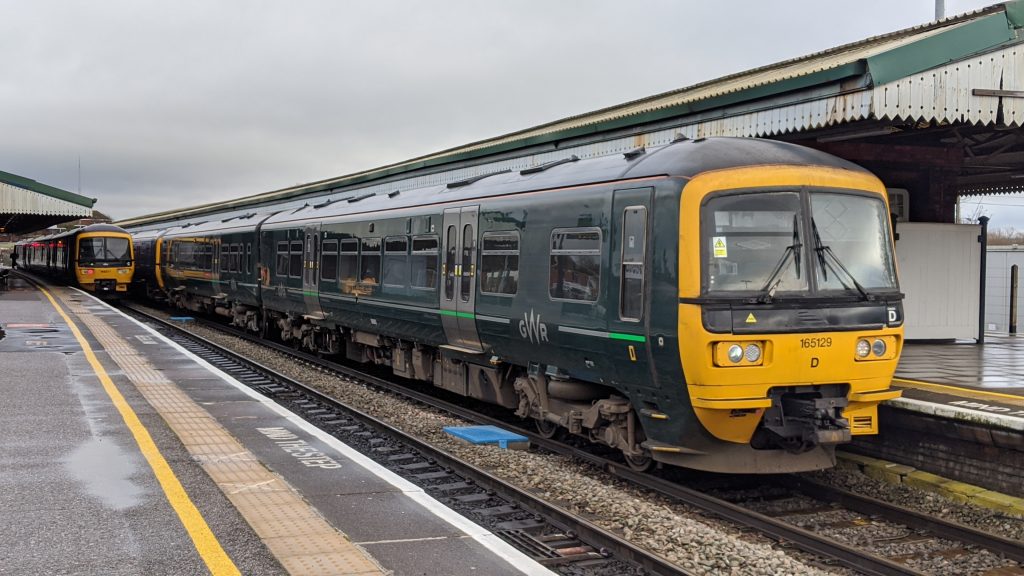 Back in 2010, these workings would have been class 150 and 158 although I only managed to see 3 class 158/159 sprinters – the Brighton to Great Malvern I arrived on; the return Great Malvern to Brighton; and the infrequent SWR class 159 service.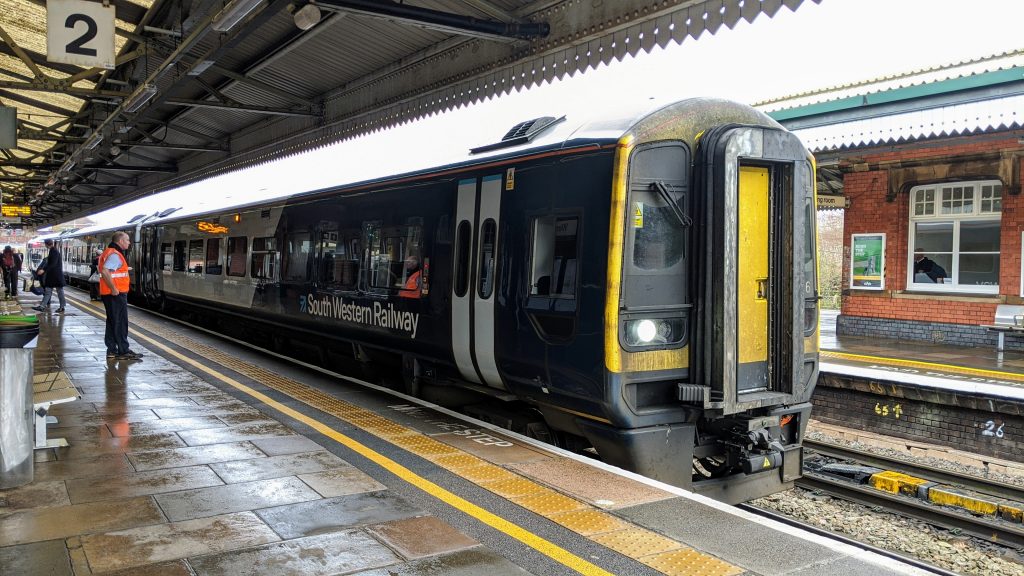 The 2V64 Weymouth to Gloucester service was worked by 150002, standing out from the rest of the modern units, this was the only 150 I saw. Back in 2010, I noted a Central Trains green livery in the DMU sidings.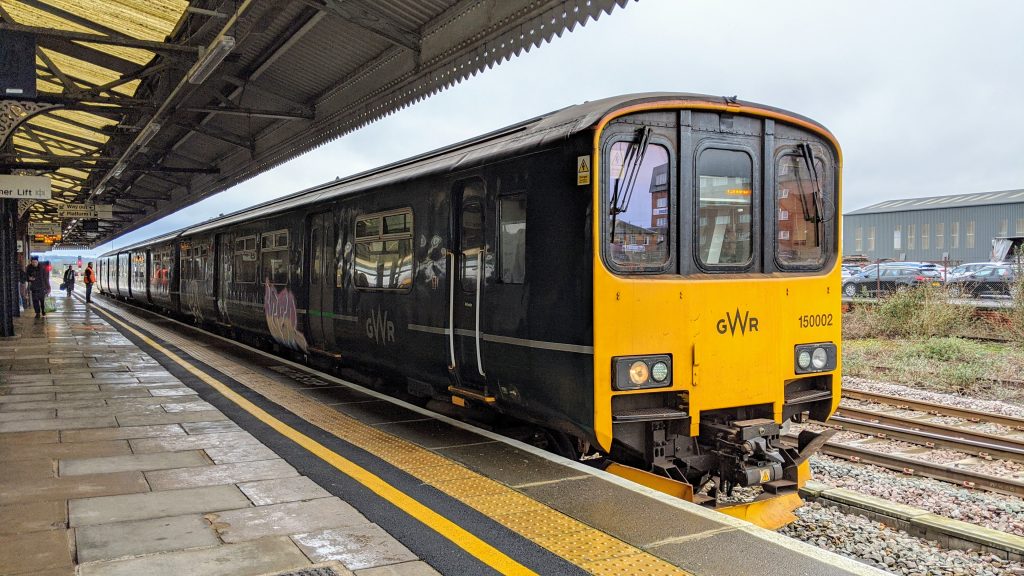 With a short break in railfreight traffic, I take a walk up to the road bridge and get a photo of 1A81 Paignton to London Paddington, a 5 car class 800.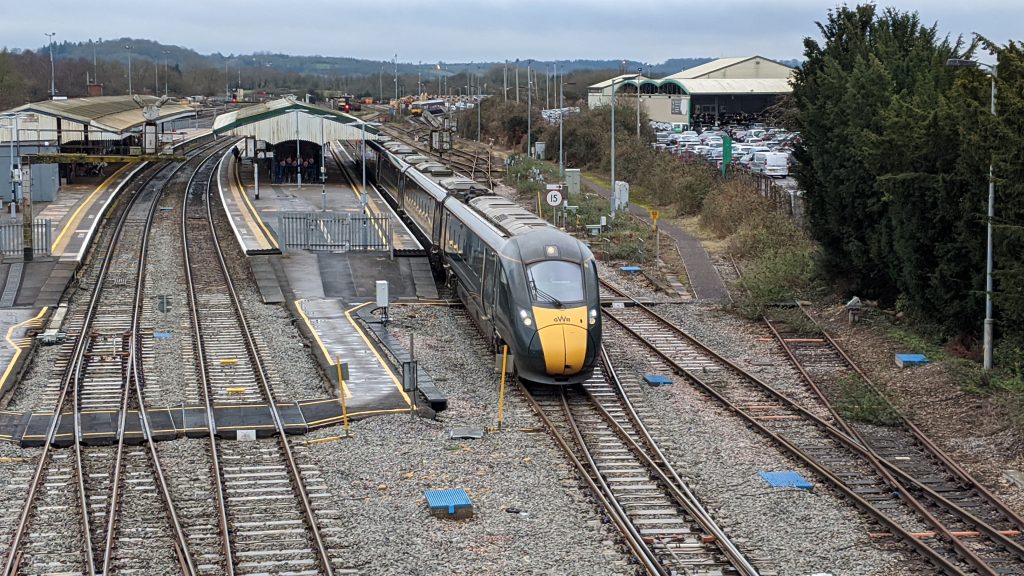 DB Cargo locomotives 66172 and 66183 were shunting around the Westbury Up and Westbury Down yards, occasionally pulling in alongside platform 1 where the train reversed. For the time I was in the station, 66172 was shunting coalfish wagons and 66183 was shunting autoballasters and JNA wagons.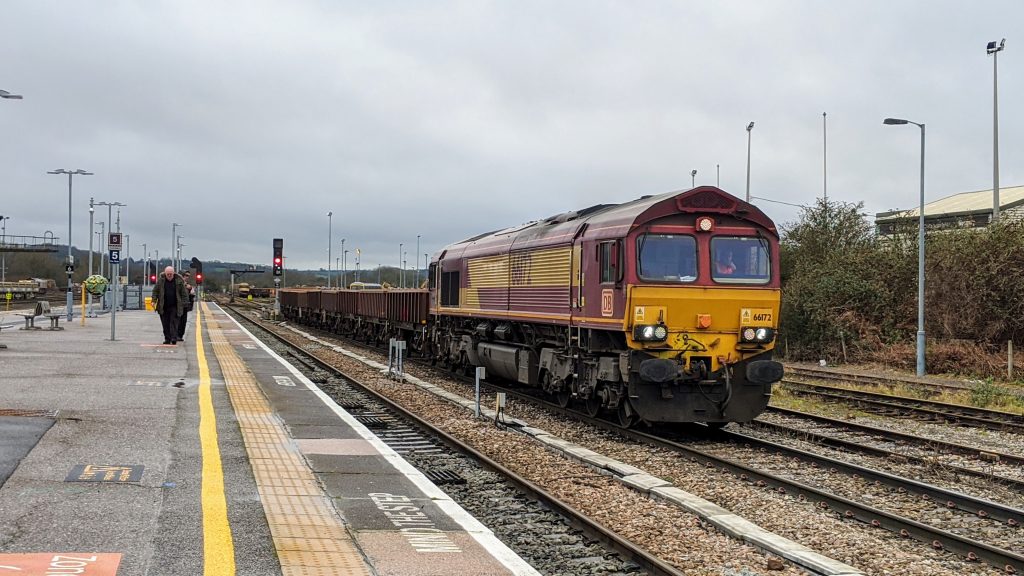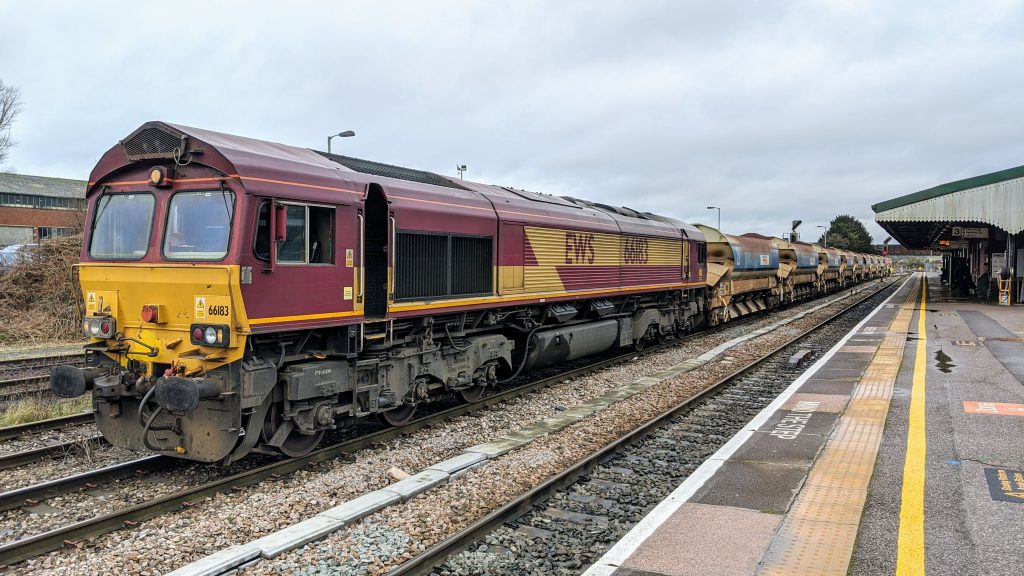 7A77 1139 Merehead Quarry to Theale Foster Yeoman, to my disappointment, passed 55L, down the Westbury avoider so I didn't manage to see this. 59001 hauled the 7B12 Merehead Quarry to Wootton Bassett train.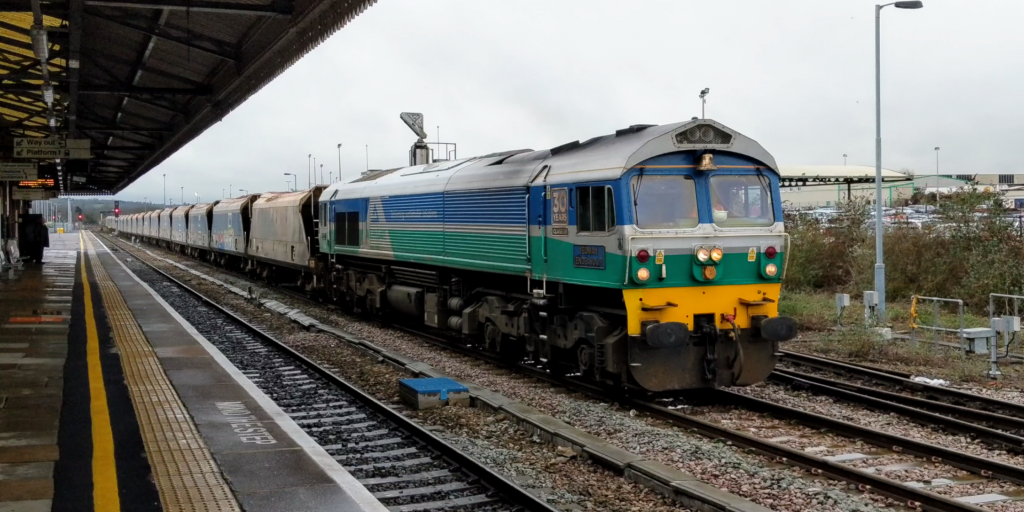 At the same time, 66598 makes a temporary stop in Platform 1 with an unknown working.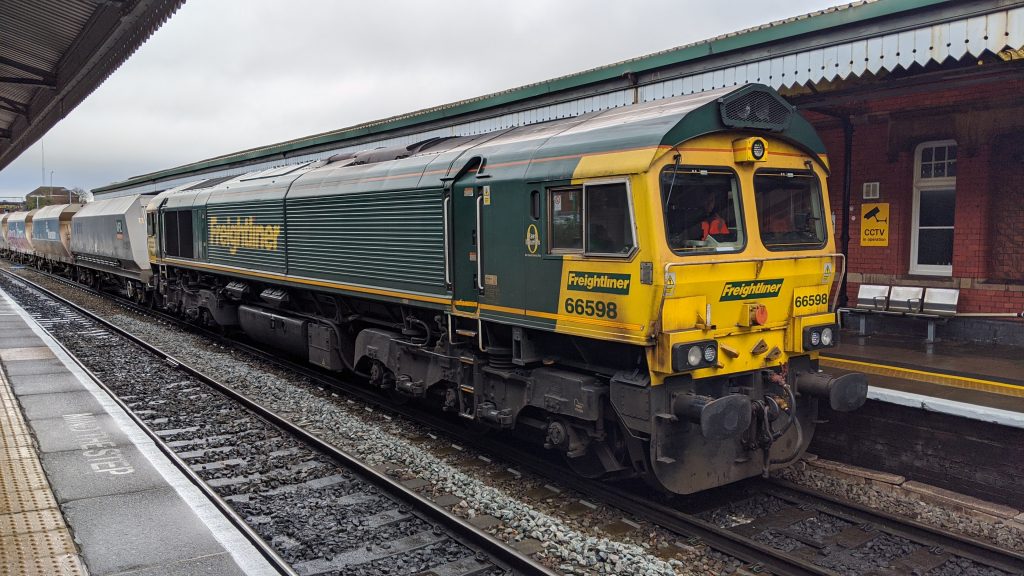 66623 in its orange G&W livery arrives into the down reception, working Avonmouth to Whatley Quarry. This was the same locomotive I saw in 2010, at the time in Freightliner Bardon blue livery shunting a HOBC.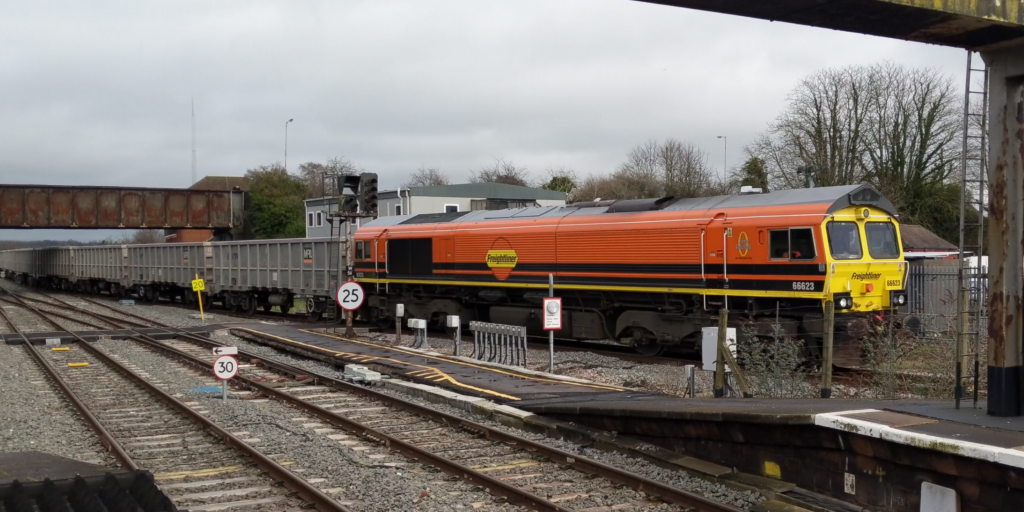 Shortly after the arrival of 66623, VSTP schedule 3Z01 Derby RTC to Westbury Down Yard, with 37116, arrives into Westbury adjacent to Platform 3. The DBSO was leading.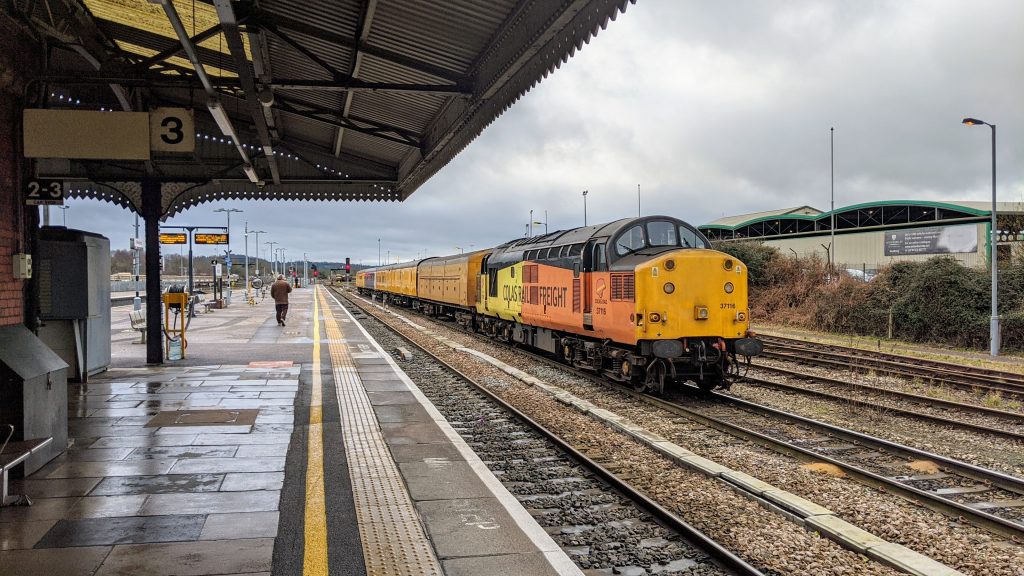 Following this 2 and a half hour visit to Westbury, the return back to Brighton wasn't as straightforward as the outward trip. I caught 166220 on the 1F17 Cardiff Central to Portsmouth Harbour as far as Southampton Central. The Eastleigh derailment meant that intermodal trains to Southampton Maritime were being diverted via Romsey. I eventually arrived into Southampton Central around 15L. This is where I caught the 1N27 back to Brighton.