Privacy outline
Privacy policy for Rail Record website (www.rail-record.co.uk including live.rail-record.co.uk and member.rail-record.co.uk).
What information we hold from you:
When you enquire through the website contact form on the Get In Touch page, your name, email and comments are sent to us by email. Your details aren't stored, and your email is deleted once read/replied to.
When you register for an account, we require your email address, a username and password. Your password is encrypted in our database and can be reset at any time. We recommend that you don't use any private information in your username, as this may be seen by users when you contribute to the website.
Your email address is not shared with any third parties when you enquire through an enquiry form. It is sent to Ionos webmail server where it will be stored until read and deleted by us.
Cookies are stored on your device. Some may be trackable if you consent on the Google Cookie Consent Popup.
Withdrawing Consent
Rail Record does not store any personal information in cookies, but if you have consented to ads, you can withdraw your consent by opening the consent popup at the bottom left of the page. In some cases this may be at the very bottom of the website.
(The below is an example, and not a functional consent popup)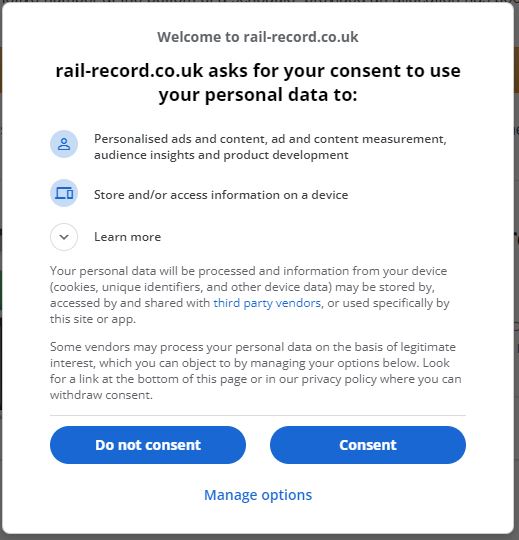 Android App Privacy Statement and Data Collection
The Android app collects and shares some information about you. This includes:
Your approximate location via your IP address. This can't identify your exact location but could identify the city you're in. This is shared with Google Analytics as part of app usage data so we can identify which pages of the app are used most/least frequently in order to prioritise development work and identify problems.
Crash logs from your device to fix problems with the app.
[Optional] A Firebase token is stored on the Rail Record servers only if you choose to set a push alert for a service.
You can request removal of your data by getting in touch.
Security
We encrypt passwords stored in our database. This website uses HTTPS secure encryption. The login and registration pages are secured with Google Recaptcha V3 to protect against bot attacks. The whole site is protected by Cloudflare which includes DDoS protection.
Members Area
We require from you, a username [which should not contain any personal info], an email address, and a password. Your password is encrypted in our database and is irretrievable.
Your email address is required for account activation to avoid spam accounts.
We don't send you newsletters, or sell your email address to anyone. We will send you alerts / email notifications, but only if you explicitly choose to receive them, by setting either a train performance alert on a schedule, or by setting a VSTP / Daily STP Alert in the member area.
Alerts can be set as one-off or on a recurring basis. Recurring emails have an unsubscribe link. It is also possible to reply to any alerts, which will come to us and we'll aim to respond in 24 hours.
Alerts – Members Area
Rail Record gives you the opportunity to get email and SMS alerts about train services. If you choose to receive these alerts, your telephone number and message will be sent through a third party sending service (SendInBlue).
You can close your members area account at any time by requesting deletion (please use the Contact button on the main menu above, or contact [email protected]. You can also request us to delete any log of your email from the above sending services, at no cost.
To view our cookie policy for the information about cookies we store on your device, and information about the Rail Record website, Click Here.